After school every Friday, my family enjoys a traditional Family Movie Night.
Our feature begins promptly at 4:30, and it's the one night of the week we let the boys eat in front of the television. It's super special to them, and I get several hours of snuggles out of the deal, so I don't mind it too much either! This past week, we enjoyed the movie Ratatouille, accompanied by a meal of Parmesan Crusted Chicken, rustic bread, and homemade Roasted Ratatouille.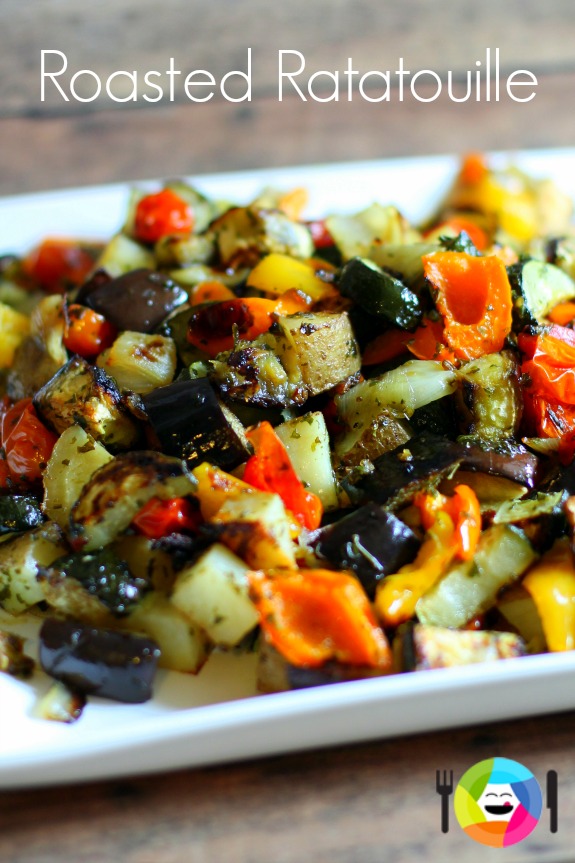 If you haven't yet seen Ratatouille, you should! My 4 and 6 year old boys enjoyed it, as it's about a French rat, Remy, who has a flair for cooking. On his journey, he meets a young chef in need of training. The pair of them become a great team!
Ratatouille is a traditional French dish that resembles a thick stew. Rather than stewing the vegetables for our Ratatouille, I roasted them in garlic-basil infused olive oil. Ratatouille, which can be enjoyed as a side or main dish, uses vegetables readily available from local farmer's markets or the garden, so it's perfect for summer!
Dinner and a Movie: Ratatouille
Author:
Melissa from Fireflies and Mud Pies
Recipe type:
Vegetable Side Dish
Fresh garden vegetables roasted in garlic-basil infused olive oil. Enjoy with the Disney Pixar film, Ratatouille!
Ingredients
1 small eggplant
1 medium zucchini
1 medium potato
4 garlic cloves, minced
1 medium onion, chopped
1 yellow bell pepper
1 orange bell pepper
1 container of grape tomatoes
¼ cup freeze dried or fresh basil
olive oil
Parmesan Cheese
Instructions
Preheat the oven to 350 degrees. Prepare two cookie sheets with parchment paper.
Drizzle a generous amount of olive oil into a small saucepan. Add the garlic and basil, and allow the ingredients to infuse over low heat.
Cube the eggplant, zucchini, potato, and bell peppers. Spread the vegetables, including the tomatoes and chopped onions, over the parchment.
Remove the oil from the stove-top and drizzle slowly over the vegetables. Gently fold the vegetables into the oil.
Roast the vegetables for 1 hour, or until lightly caramelized and sizzling! Enjoy with freshly grated Parmesan and salt and pepper to taste.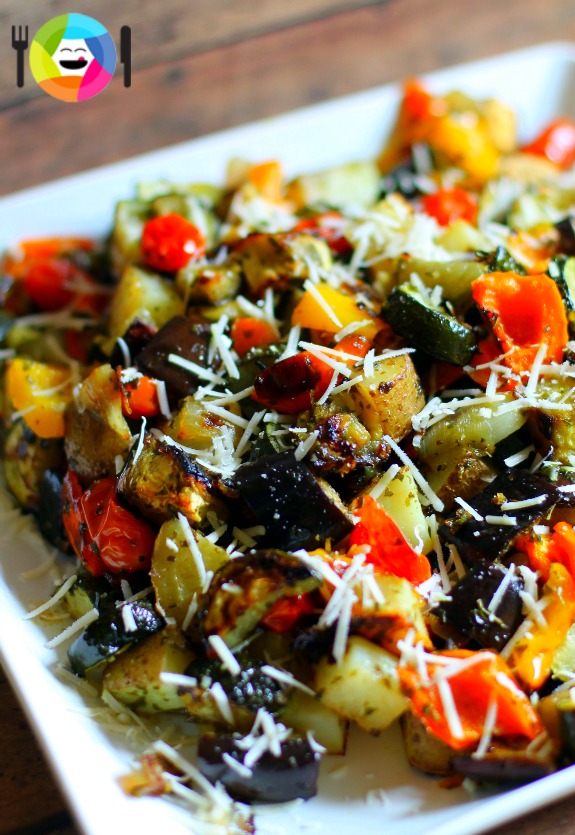 Leftover Ratatouille is delicious reheated or baked into an omelette or fritatta.
How does your family enjoy dinner and a movie?