This fairy garden table is a never-ending project for the kids this Summer! I love that this space provides: 1. plenty of inspiration for imaginative playtime fun, 2. learning opportunities about various plants, and 3. fresh herbs for our Summer recipes! Oh, and it is absolutely adorable!!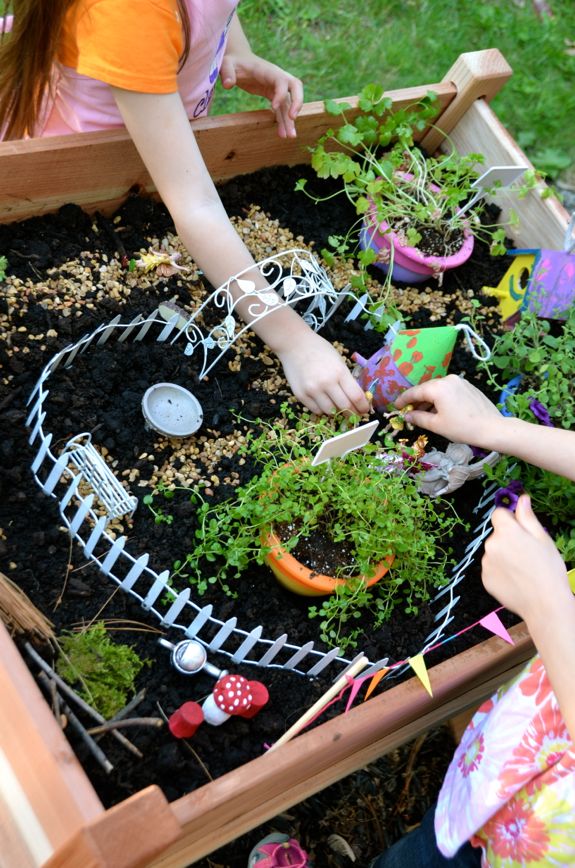 We started with a simple elevated garden bed kit found at a local hardware store (around $45). I have not been able to find a link online to the exact one we bought, but this raised planter
 from Amazon is sort of similar. Another suggestion would be to re-purpose an old water table, or perhaps a series of containers or pots. I did like the height on this one as it accommodates both my (almost) 5 yr old and 9 yr old very nicely! And yes, even though Emily is nine, she could not resist playing with this cute fairy garden table for long stretches of time!!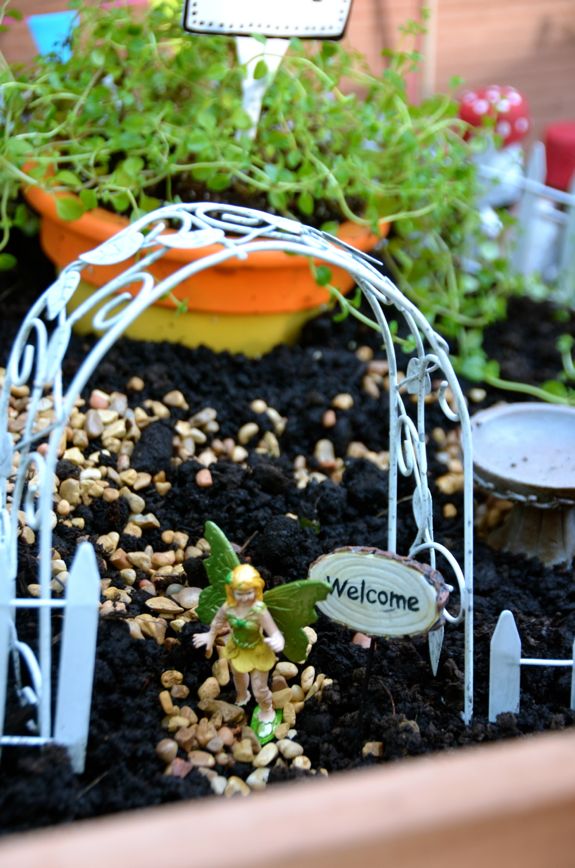 Some of our fairy accessories were free or very low-cost: a toadstool table and chairs made from a champagne cork, a bunting made with string and colored electrical tape, the girls painted wooden birdhouses (around $1) to look like fairy houses using outdoor patio acrylic paint. The herbs were re-purposed from this container herb garden project, and we transplanted some flowers and moss from other parts of the yard. The pathways were made using leftover aquarium pebbles. You may remember this post outlining some of the ways we built fairy houses or furniture using painted bark, twigs, sea shells, stones, or small wooden birdhouses.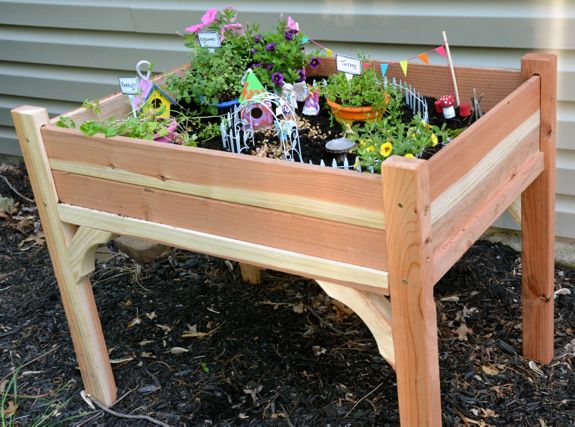 The other adorable accessories are part of this Fairy Garden Starter Accessory Kit
 that was an early birthday gift for Clara. It includes a tiny bench, arbor, fence, bird bath, fairy statue, welcome sign, and watering can — all for about $25. They are available at Home Depot, Target, and Amazon, and while they are totally optional, I can tell you that my girls were completely delighted with every piece from this set!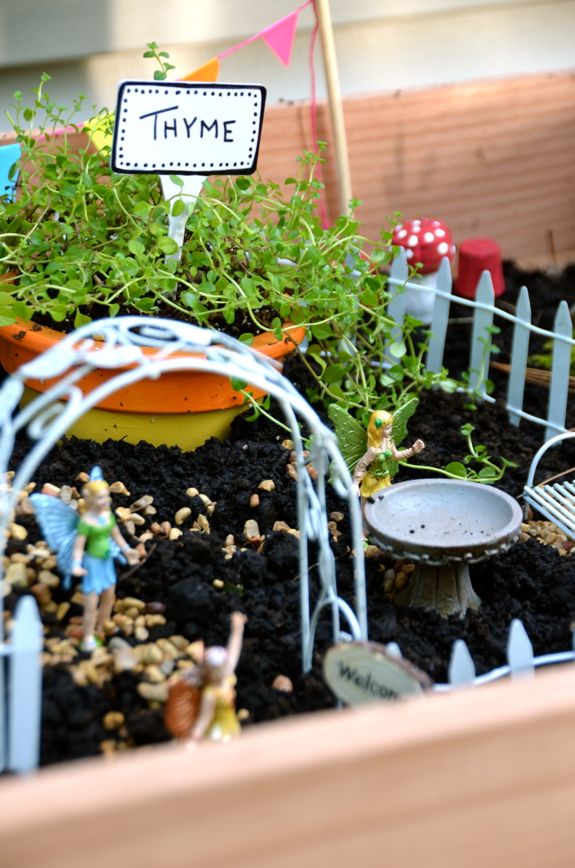 There seems to be a bit of a debate as to whether or not to include actual fairy figurines in your fairy garden or not. My kids opted to include them, since they already had the Safari Ltd LTD Fairy Fantasies TOOB®
which includes six beautiful fairy figurines.
I love that my herbs have a place to grow, and the kids can spend hours and hours playing here! It doesn't take them long before they are completely immersed in their own world of pretend play, and imaginative story telling.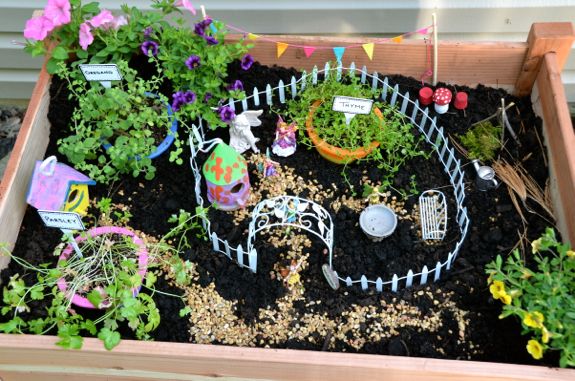 Both of the kids have been actively creating this fairy village together, with very little help from me. And they have been hard at work. Even earlier this afternoon when the weather was dreary and rainy outside, they were busy painting up tiny birdhouses or toadstool figurines, and wondering if the fairies would find these homes suitable.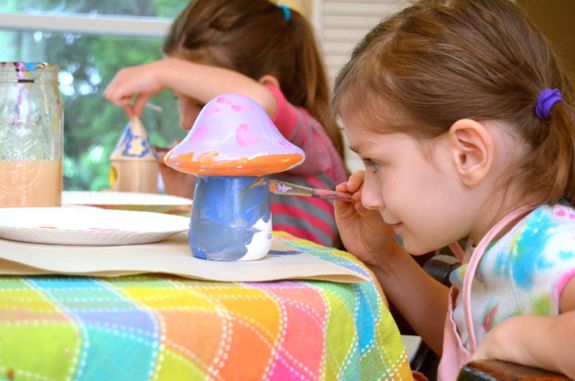 And when the weather does cooperate, it isn't unusual to find this little one has pulled up a chair, made herself comfortable, and has made plans to play until the sun goes down…..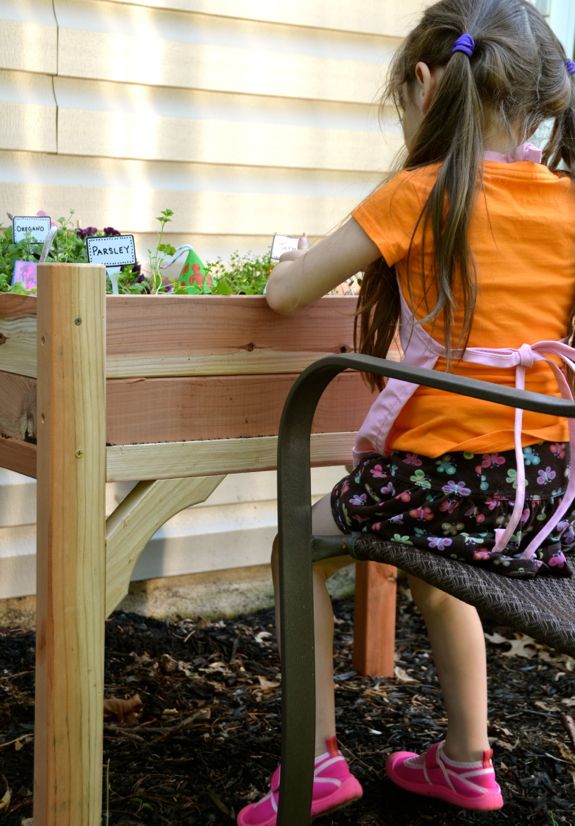 …. which made me think of a few glow-in-the-dark surprises, but that's a whole other post, isn't it?
Have fun!!