There's a lot of learning potential in the simple items you can either find around your home or make yourself with a little creativity. There are many benefits to making your own learning manipulatives. It can be a fun, rewarding experience that allows you to save some money and perfectly tailor the end product to your child and your lesson. And with so many parents and educators sharing their ideas, inspiration is just a click away! Here are fifteen favorites from around the web.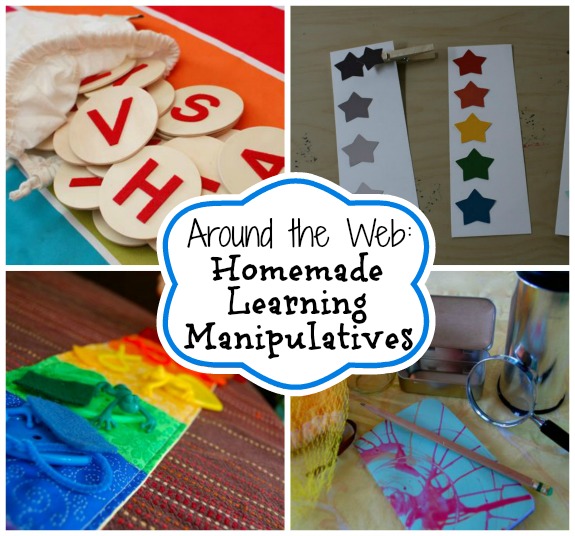 Create your own sandpaper letter set via Inner Child Fun
Practice colors and fine motor skills with paint chip clothespins via Homeschooling in the Rose Garden
Get in some more color recognition and fine motor skills practice with this apple picking activity via Fireflies and Mudpies
Fold your own chatterbox paper games for a variety of learning games via Childhood Beckons
Study fractions with printable fraction strips via Montessori Tidbits
Put together your very own nature study kit using recyclables found around your home via Inner Child Fun
Learn more about color mixing with ziplock bag painting via Homeschooling in the Rose Garden
Identify colors and explore nature with this simple color matching activity via Fireflies and Mudpies
Create your own set of story stones via Inner Child Learning 
Make your own homemade rain gauge from a recyclable via The Imagination Tree
Practice phonics with a car phonics file folder game via Crayon Freckles
Make writing letters fun and accessible with this letter-writing kit via Inner Child Fun
Making reading practice fun with this matching activity via Homeschooling in the Rose Garden
Learn letters with these fun alphabet fossils via Playdough to Plato
Practice sewing with homemade sewing cards via Collecting the Moments
Have you made your own learning manipulatives? We'd love to see what you've created! Please leave a comment and share your ideas with us!