This is the easiest way to bring a Mexican restaurant straight into your home – using your slow cooker! A Mexican dinner delight that's tasty and fun for the whole family.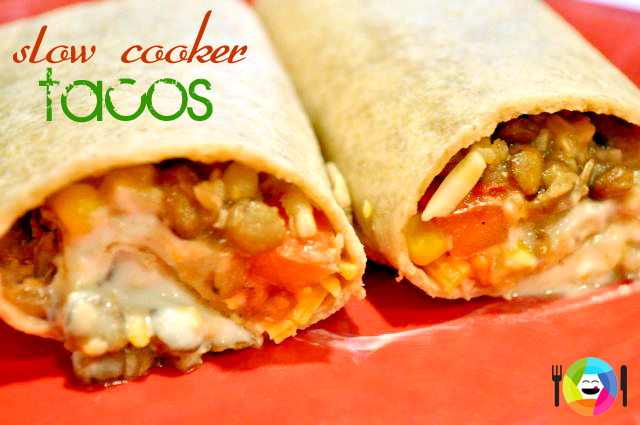 Know what I love more than Mexican food? Going to a Mexican restaurant with my girlfriends, sipping on a margarita, mindlessly eating chips and salsa, and listening to a mariachi band play while we gossip away. Ah, those kinds of outings are few and far between with small children underfoot, so most of the time, I must resort to making Mexican at home. It's so easy, tasty, and the way I make it, healthy, too! Here's a recipe that you can make in the slow cooker, and all you'll have to add after it cooks are the tasty condiments.
I'm never quite happy with sauteed chicken for tacos because it usually turns out pretty tough, and not so pleasant to eat. So, this is why I now use the slow cooker to make tacos – it makes chicken and steak meat fall apart into little shreds – just like in restaurants. The meat becomes so incredibly tender and juicy, you'll get up for seconds, thirds and maybe a fourth!
Healthy Taco Tips:
Use boneless, skinless chicken breasts or lean steak
Use low-fat sour cream
Use whole wheat tortilla shells
Use sharp cheddar cheese but less of it – sharp has much more flavor so you can use less
For salsa, skip the jars and opt for fresh, which can be found in the deli section of a grocery store. There are usually no preservatives or added sodium. Other salsa options –  chop up some fresh tomatoes or make your own from scratch using just diced tomatoes, red onion, bell peppers, cilantro, and spices.
Slow Cooker Tacos
Ingredients
For slow cooker:
2 lbs. boneless, skinless chicken breasts or lean steak, or a combo of both, cut into large pieces (don't need to dice)
1 red onion (white will also do, but red is more mild), diced
1 green bell pepper, diced
4 garlic cloves, minced or pressed
2 cups water, (The water is included simply to make the meat very tender and fall apart.)
1 tsp. cumin
1 tsp. coriander
1 tsp. chili powder
1 tsp. seasoned salt
1 tsp. pepper
To make tacos:
2 cups diced tomatoes or salsa
2 cups sharp cheddar cheese
1 cup sour cream
8 or more whole wheat flour tortillas or corn tortillas (gluten-free!)
Instructions
Dump all slow cooker ingredients in and set on high for 4 hours, or on low for 8.
One hour before it's done, whip up some homemade guacamole and enjoy with tortilla chips.
Once it is done, remove just the chicken from the cooker, being careful to leave the water behind so it doesn't make the tacos soggy.
Spoon the meat and condiments into your taco.
Eat and think of a mariachi band, the beach, and a margarita in your hand!
Getting the kids in the kitchen is so easy with this recipe – have them help dump all the ingredients into the cooker – hardly any mess. My boys LOVE to shake the spices into our dishes, so this is perfect for us. Then, around the dinner table, we like to put each condiment in a bowl and the kids spoon out what they like into their tacos. It's a little more messy that way, at least with two toddlers (ages 3 and 1), but it is great practice for them and really helps them to feel part of the family meal.
For me and daddy only, though, our drink of choice while eating these delicious tacos is a Corona with a lime stuffed down the neck. Makes my mouth water just to think about it, especially since I must abstain while 8 months preggo! Soon enough, mama, soon enough. Enjoy with some Tito Puente playing in the background and some delicious homemade guacamole and you've got your own family-style Mexican restaurant, without the bill!