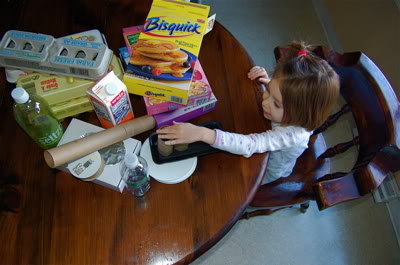 Several of the crafts Emily and I create are products of the Invention Kit.  We love recycling materials and finding new uses for things, so we set aside a separate box with things that might be useful for future projects.  
Here are some of the things we keep in the Invention Kit:
Egg Cartons — Great for holding paints, and we have several ideas for future craft projects using these.
Plastic Bottles — We have made bird feeders from these.
Empty Cereal Boxes — We never buy cardboard.  Instead, we use up cereal boxes. Click here and here for some inspiration.
Paper Towel and Toilet Paper Rolls —  Click here for instructions to make your own bird watching kit using paper rolls.  This was one of Emily's favorite projects!
Frozen Juice Concentrate Lids — We recently made a matching game with these.  They can also be made into magnets, or other ornaments.
Empty Margarine Containers —  We use these for holding water during painting projects.
Paper Bags —  I will cut these up and Emily loves to draw and paint on the non-printed side for free craft paper.
Junk Mail/Catalogs —  See Emily's recent collage project using flower catalogs. We have also used a hole puncher on different colored junk mail and made terrific confetti with it.  
Does your family keep an Invention Kit?  I would love to hear about it!  Leave us a comment and share your ideas with us!