Disclosure: This list of fun indoor learning activities is sponsored by our friends at Beaches Resorts. All opinions are my own.
These educational activities are a great way to make learning fun for kids without leaving your home! Scroll down for simple science experiments, a colorful & creative printable, an easy recipe, and more. For more creative and educational indoor activities, check out this list from Beaches Resorts of 30+ ideas here.
Here are some fun indoor learning activities for kids:
Go on a Rainbow Mission
This top-secret rainbow mission is a creative and active way to teach kids how to identify colors! Each activity card features a creative color-themed activity for the kids to do that is quick and easy. The free template makes it simple to print and play.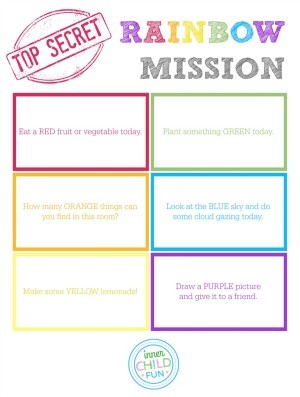 Download the Free Printable Activity Cards Here
Pretend Poem Shop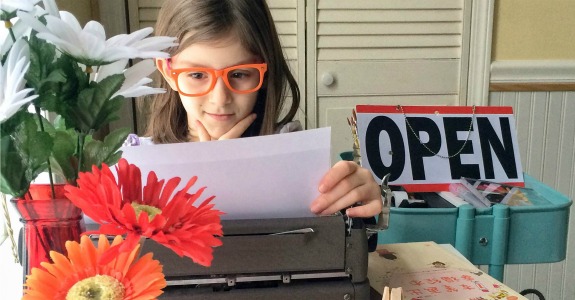 This pretend poem shop is an imaginative and educational way to spend a rainy day. Not only will your child work on developing important writing skills, but she can also work on beginning math skills by adding up the cost of the poems sold and calculating change. Once the poems are complete, mail them off to faraway friends and family for a special and unique surprise! A pretend poem shop is a great way to introduce your child to various forms of poetry. For those just starting out, I recommend haiku poems because they are short and simple to do. Magnetic poetry kits help to make this process even more fun, and together you can experiment with various poems!
Plan Your Next Adventure Together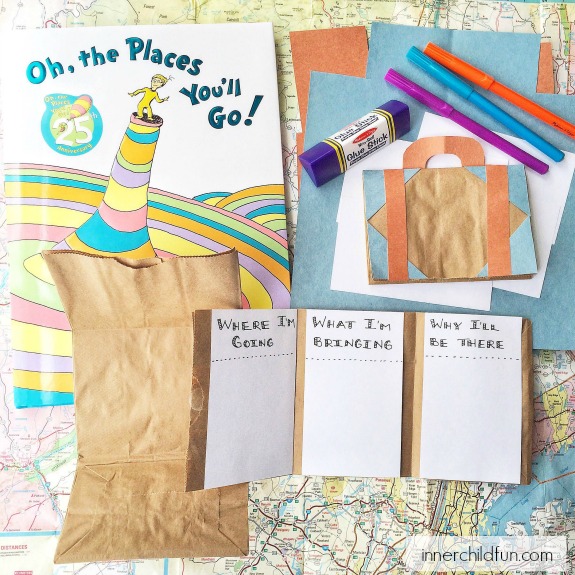 This craft and writing activity inspired by the Dr. Seuss book Oh, The Places You'll Go! was a big hit with my kids! They both enjoyed crafting up their own mini suitcases from brown paper lunch bags. Later, they added index cards to draw pictures and outline some of the details for upcoming adventures they are planning! While researching ideas for travel, be sure to check out some of the great options for all-inclusive family vacations at Beaches Resorts. They have some of the best toddler-friendly facilities with Sesame Street® character breakfasts, kids camp, nurseries with professionally certified nannies, and much more. Learn more about Beaches Resorts here!
Make a Special Treat Together
This EASY air fryer recipe for strawberry turnover treats is simple and quick to make! If you recently purchased an air fryer, this would be a great starter recipe to try. Perhaps the kids could help put these strawberry turnovers together to give to friends or neighbors? Only a few ingredients are needed, and you may already have them in your freezer or pantry.
Play & Learn with Water Indoors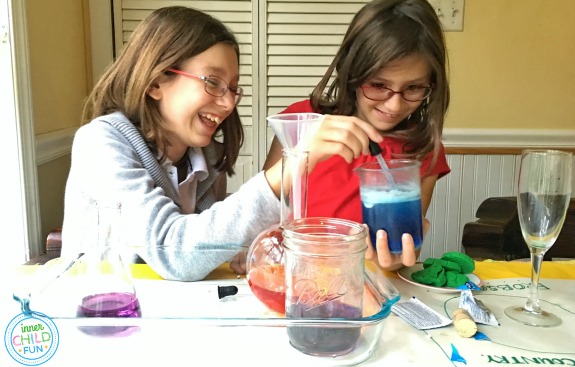 Water play has the power to keep kids entertained for long periods of time. It's just good clean fun! Whether they are washing toys in the kitchen sink, splashing in the tub, or even learning about the properties of water with simple experiments, these water activities are sure to delight kids of all ages! Get the full list here.