Most Easter egg hunts have been canceled as the world deals with a global pandemic. This social distancing egg hunt activity is a fun way to foster community while maintaining social distancing. Be sure to scroll down to get your free printable coloring page too!
Here's how a social distancing egg hunt works:
Share this post with your neighbors.
For the days leading up to Easter, participating neighbors print out a picture (or 2) of an Easter egg (get your free printable below). Neighbors would then tape the egg pictures up to their window facing outside. When you're out walking, count how many eggs you can find! This version of an egg hunt would give the kids a little something to do as they color and search for other eggs in the neighborhood. It is sort of like a neighborhood-wide scavenger hunt!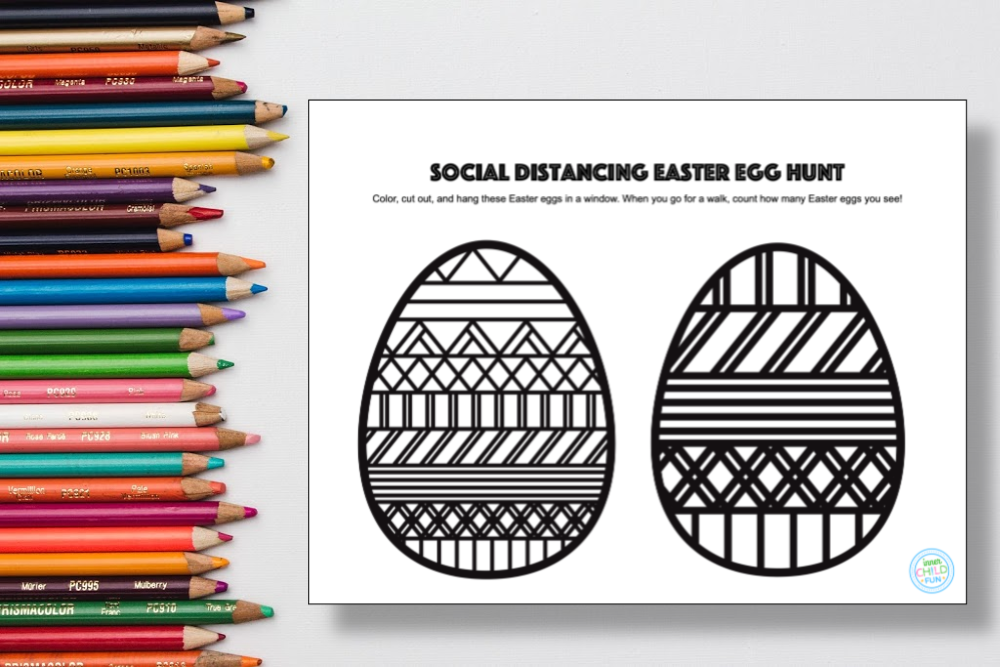 Get your free printable:
Here are two .pdf files to choose from: one for pre-colored eggs and a black & white version for the kids to color themselves.
Get the Pre-colored Social Distancing Egg Hunt Printable Here
Color Your Own Social Distancing Egg Hunt Printable Here
For a more open-ended version, check out Wunder-mom's printable egg here to create your own design!
More Easter Activities for Staying Home with Kids:
Easter Egg Learning Activities — These Easter egg learning activities are a cute and festive way to encourage plenty of learning fun! After reading this post, you won't want to throw away those leftover plastic Easter eggs. Here are some simple Easter egg learning activities that you can try at home!
10 Easter Crafts for Kids — Easter is right around the corner, and what better way to celebrate than with some adorable Easter crafts, activities, and maybe even a new recipe to use up some of those leftover hard-boiled eggs?
Homemade Alternatives to Easter Candy — Easter morning doesn't have to equal sugar overload, there are tons of awesome alternatives to Easter candy! Here are seven homemade Easter gifts for kids that are just as much fun to create as they are to receive.