Easter morning doesn't have to equal sugar overload, there are tons of awesome alternatives to Easter candy!  Here are seven homemade Easter gifts for kids that are just as much fun to create as they are to receive.
Spring means warmer weather and more time spent playing outside.  Which makes sidewalk chalk a perfect Easter gift!  Homemade sidewalk chalk is super easy to make, you only need three ingredients.  It can also be made small enough to fit into a plastic egg for an egg hunt or in your child's favorite shape or color.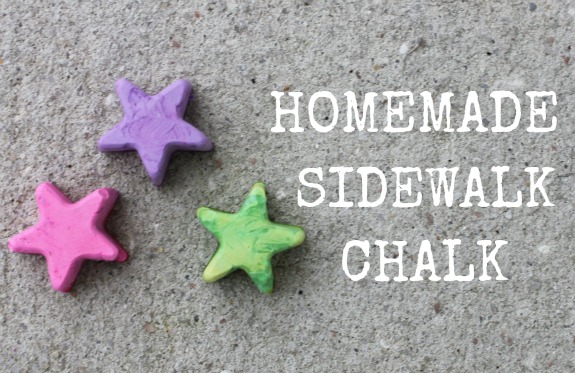 Homemade Sidewalk Chalk Recipe:
1 cup Plaster of Paris

½ cup of water

3 tablespoons of gel food coloring

Ice cube tray

Petroleum jelly

Bucket or jar that is about to be recycled

Wooden spoon
Spread a light coating of petroleum jelly on the ice cube tray.  We prefer the silicone type, but the plastic trays also work well.  There are so many fun shapes now that it's easy to find something you child will love.
Mix the Plaster of Paris and the water in the bucket. Then add the gel food coloring and mix well with a spoon.  The recipe makes enough to fill a standard size tray.  If you want to do 2 or 3 different colors at once divide up the mixture into different cups before adding the color.  Spoon the mixture  into the tray and wipe off any excess with a paper towel.
Set the chalk in a cool dry place overnight, or longer depending on the humidity, and wait until the chalk mixture has dried completely. Then place it in an egg or Easter basket and get ready for the smiles!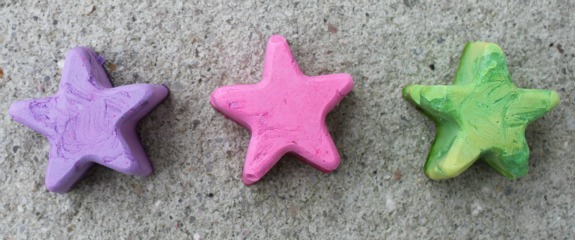 While you are waiting for the sidewalk chalk to dry there are many more cute Easter gifts you can put together!  
Six more adorable Easter gifts for kids:
 My kids would love to get (and play with!) all of these  homemade gifts.  Which ones would your kids adore?