After making our own pumpkin spice play dough and a second batch of cinnamon play dough, the kids were ready to make a pretend pumpkin pie shop! Our house smelled like an Autumn café, and this activity kept the kids happily entertained for a long time. I love that they were able to practice some basic Math skills too! The play dough can be stored in a plastic zipper bag for a few weeks.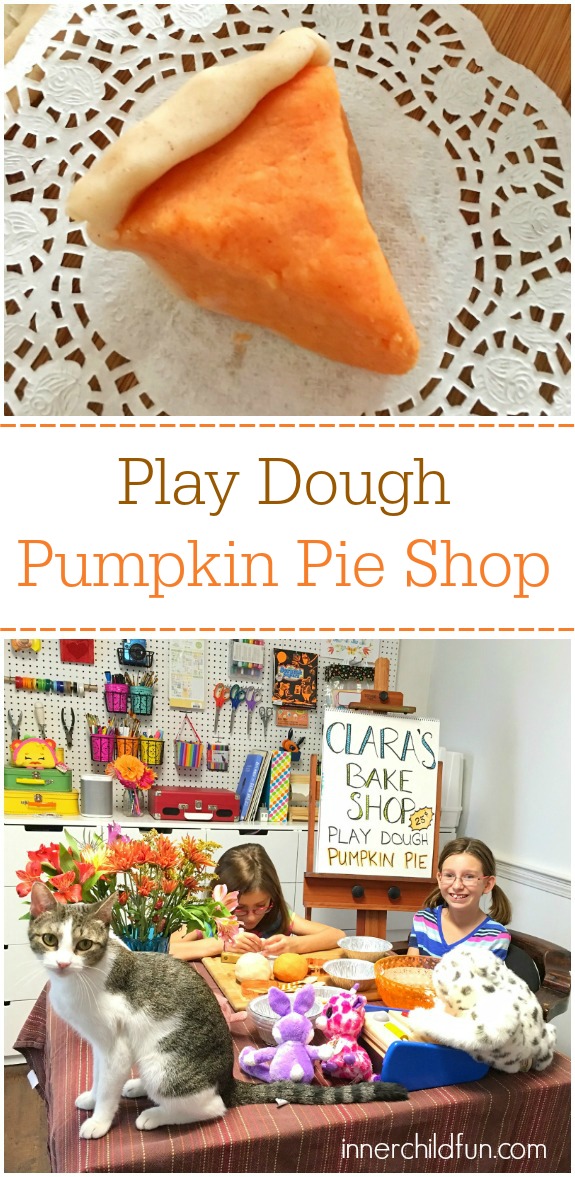 To make your own play dough pumpkin pie shop, you will need:
To make cinnamon play dough, you will need:
Heat the water, salt, and cream of tartar in a medium sauce pan on low heat. Add the oil, and slowly add the flour and stir. Soon the dough will begin to form, and you can transfer it to a lightly floured cutting board. Sprinkle with a dash of cinnamon and knead until it is well-mixed.
For the shop:
Gather your supplies. The kids may want to create their own signage using poster board and markers, but if they are not old enough adults can help create the signs and/or menu.
Invite your child to roll out the play dough pie crusts and fill the mini pie tins with play dough pumpkin pie. Other menu options include: pumpkin donuts, pumpkin croissants, pumpkin bread, and of course pumpkin cookies!
Add price tags to the items and take turns pretending to be the store owner or a customer. This is a fun way to sneak in a little Math practice (totaling up items and calculating change). Afterwards, you may want to indulge in some real pumpkin pie and settle in for some Fall-themed story time with these festive book recommendations!
Have fun!!
More Pumpkin Fun to Explore:
Disclosure: This post contains affiliate links. All opinions are my own.