Writing letters to Santa is such a fun Christmas tradition, and there are plenty of opportunities for learning too! For the past couple of years, I have picked one day in early December for the kids to write their letters to Santa as one of our first advent activities. I love surprising them with this invitation to create by having it all set up and waiting for them when they arrive home from school! Writing a letter to Santa is a great way to bond with your kids while they practice written communication skills and handwriting skills. I love to include a few cookies and milk for a special festive treat for the kids to enjoy as they work on their letters to Santa! We look forward to writing our letters year after year!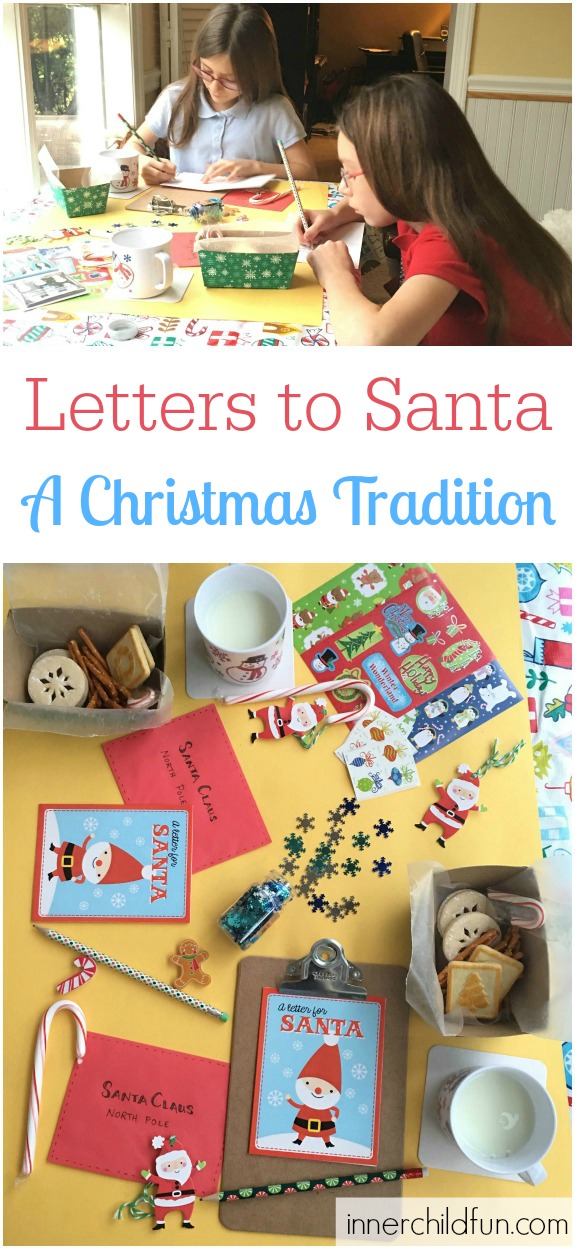 Write a Letter to Santa!
1. Gather Your Supplies
You will need a sheet of paper, a pencil, an eraser, an envelope, and a flat surface for writing. Your child may also want to add some artwork or festive stickers to your letter to santa. We used supplies from the dollar section of Target, but this Letter to Santa Kit is available on Amazon with Prime shipping and contains everything you need! Added bonus — it's currently on sale!
2. Write the Letter
Invite your child to write a letter to Santa and to include a holiday wish list in the letter. Younger children may need some help with this, and in the past we found that flashcards worked well for spelling frequently used words such as "Please", "Stocking", "Santa", "Reindeer", and "Family".
You may be surprised what items are listed. One year, my daughter asked for a homework machine, date night with daddy, and a rainbow cat that can grow wings and fly! These letters can be quite imaginative!!
3. Address the Envelope
Help your child address the front of the envelope to:
Santa Claus
North Pole
4. Parents — Optional for US Residents — Mail to the Postmaster in Alaska for an Official North Pole Postmark!
Letters must be received by December 15, 2015. See full instructions here.
More Christmas Traditions to Explore:
Disclosure: This post contains affiliate links. Thank you for supporting us!