Compensation was provided by BROOKSIDE Chocolate via MomTrends Media. The opinions expressed herein are those of the author and are not indicative of the opinions of Brookside or MomTrends Media.
Here's a fun idea for entertaining a few friends around the holidays with coloring and cocktails (or in our case wine from Clos du Bois)! The set up with chocolate treats, wine, and coloring supplies is quick and simple, allowing you to spend plenty of time socializing with your guests. Coloring for grown ups is always a hit and your guests will leave feeling relaxed and refreshed — ready to tackle the crazy busy-ness of the holidays! Be sure to scroll down for a chance to enter to win a super fun giveaway!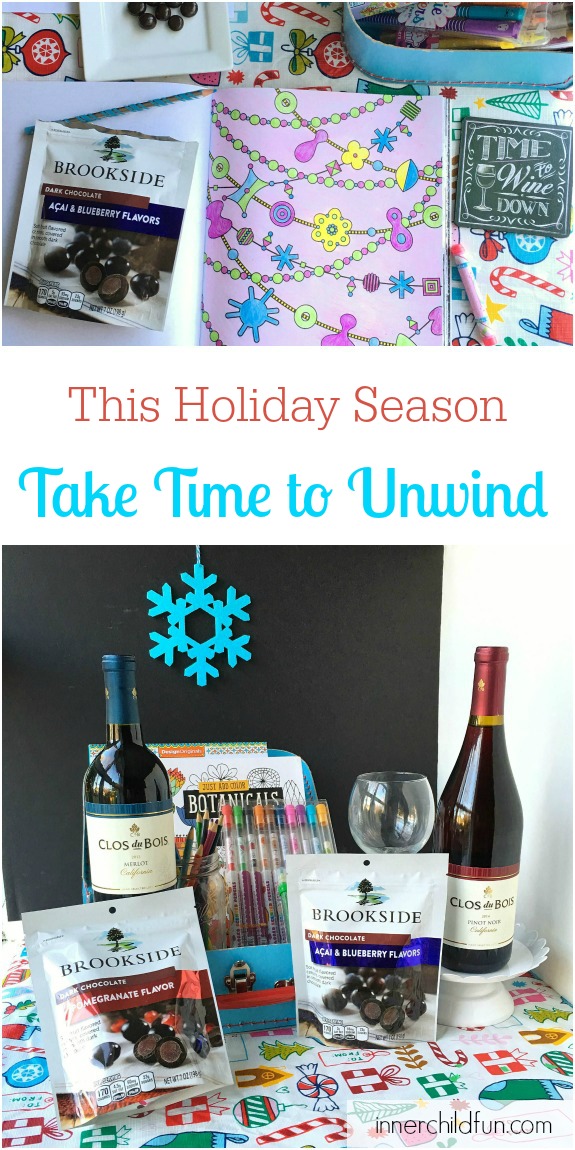 A colorful cardboard suitcase on a large flat surface is perfect for creating an invitation to color. You may want to provide a variety of coloring books, or encourage your guests to bring their own. See a list of some of our favorite coloring books for adults here. No interest in coloring? Hosting a card writing or gift wrapping party lets you spend time with friends and get some tasks off of your holiday to-do list at the same time! Or pop in a holiday movie and host a girls night in to recharge after a long day of holiday shopping.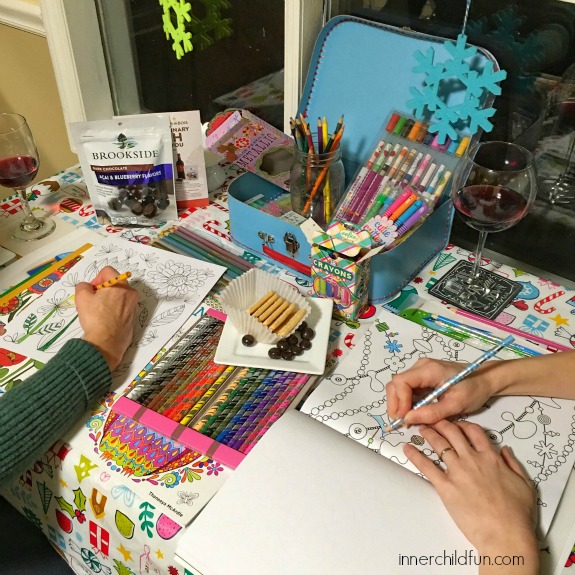 Not sure what chocolate and wine to serve? I recommend having a few bottles of Clos du Bois wines and some bags of Brookside Dark Chocolates to have on-hand for holiday get togethers or to offer to any last minute guests who may drop by during the holidays.
Here are some excellent pairings to do the trick this holiday season:
Clos du Bois Pinot Noir paired with Brookside Dark Chocolate Pomegranate Flavor
Clos du Bois Merlot paired with Brookside Dark Chocolate Açai and Blueberry Flavors
Clos du Bois Rouge with Brookside Dark Chocolate Crunchy Clusters
Clos du Bois Cabernet Sauvignon paired with Brookside Dark Chocolate Goji and Raspberry Flavors
My personal favorite was the Clos du Bois Pinot Noir paired with the Brookside Dark Chocolate Pomegranate Flavor! The wine was smooth and had flavors of sweet cherry fruit, and the chocolate paired quite nicely with its bright pomegranate flavor. Such a special treat!
Brookside Prize Pack Giveaway!
Now for the FUN part, one lucky Inner Child Fun reader will win a Brookside Prize Pack containing: Brookside Chocolates, red and white wine goblets, wine bottle caps and a winged corkscrew!!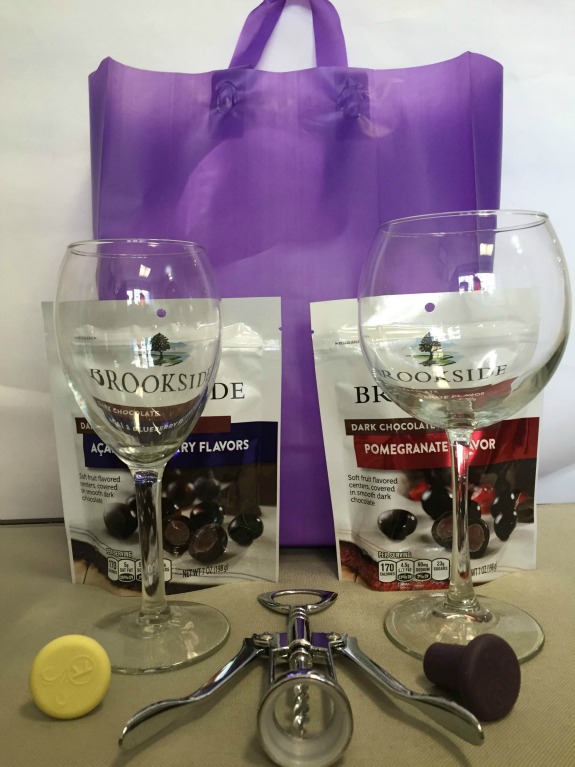 To enter for your chance to win, leave a comment on this post sharing which Brookside Chocolate or Clos du Bois wine you would like to try. This giveaway is open to US residents only and will close on December 15, 2015 at 6:30pm EST. Winner will be chosen at random and notified via email. (See Official Giveaway Rules here.)
Good luck!!