These botanical sun catchers look beautiful when displayed in a sunny window! This was a super quick craft, and took about 10 minutes to complete from start to finish. It is the perfect craft if the kids are looking for a little something to do during these last few days of Summer vacation, or for a rainy day project any time of year. These botanical sun catchers are a great way to reuse empty jewel CD cases you may have around your home. I think they would make lovely gifts for family and friends too!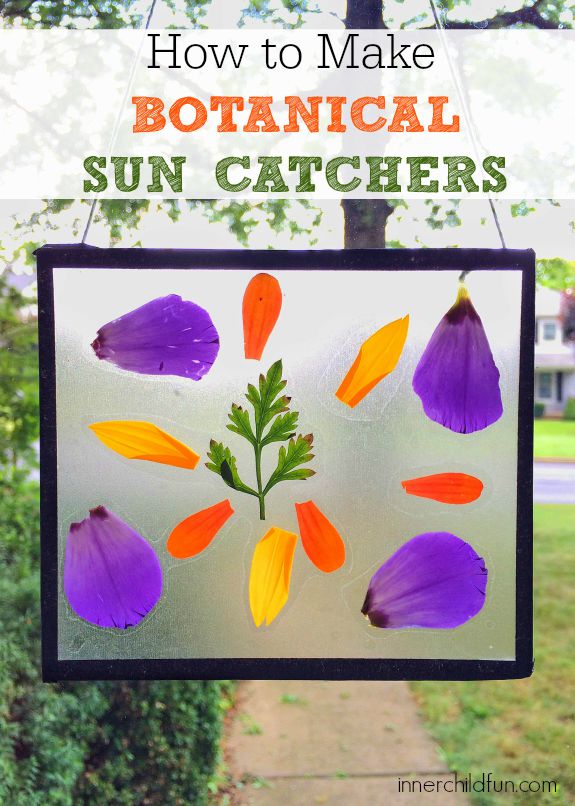 To make botanical sun catchers of your own, you will need:
Invite the kids to gather flowers from the yard, or use a bouquet from the farmers market or grocery store. I like to wait until the bouquet is near the end of its life and then use this sun catcher craft as a way of getting even more enjoyment out of the bouquet.
Kids can take the flowers a part and this would be an excellent time for a mini botany lessons to review and identify the parts of a flower.
Use the CD case to trace the outline on a sheet of clear adhesive shelf liner, then cut so that the shelf liner is slightly larger on all sides.
Remove the back of a clear CD jewel case, and invite the kids to arrange leaves and petals however they would like on top of the case.
Carefully layer a sheet of adhesive clear shelf liner on top of their botanical designs. Trim any excess shelf liner, and thread cotton string through the holes in the CD case for hanging.
Use colored masking tape to create a frame around the outside of the case (optional).
Proudly display your botanical sun catcher in a sunny window, or gift it to a family member or friend to enjoy!
Have fun!
More Nature Crafts to Explore:
This craft is part of the Nature Crafts 101 series hosted by Maggy at Red Ted Art with 20 different nature crafts from 10 different bloggers around the world! In case you missed yesterday's project, be sure to check out Bug and Buddy for a beautiful bookmark craft and Red Ted Art has featured a Musical Instrument Project too!
More Sun Catcher Projects to Try:


Disclosure: This post contains affiliate links. Thank you for supporting us!