Our favorite Spring recipes are full of color, flavor, and freshness! You may want to pin or bookmark this handy collection for future reference. The best part is that the kids could play an active role in preparing many of these Spring recipes, since they are quick and easy to make!
Here are some of our favorite Spring recipes to celebrate the season: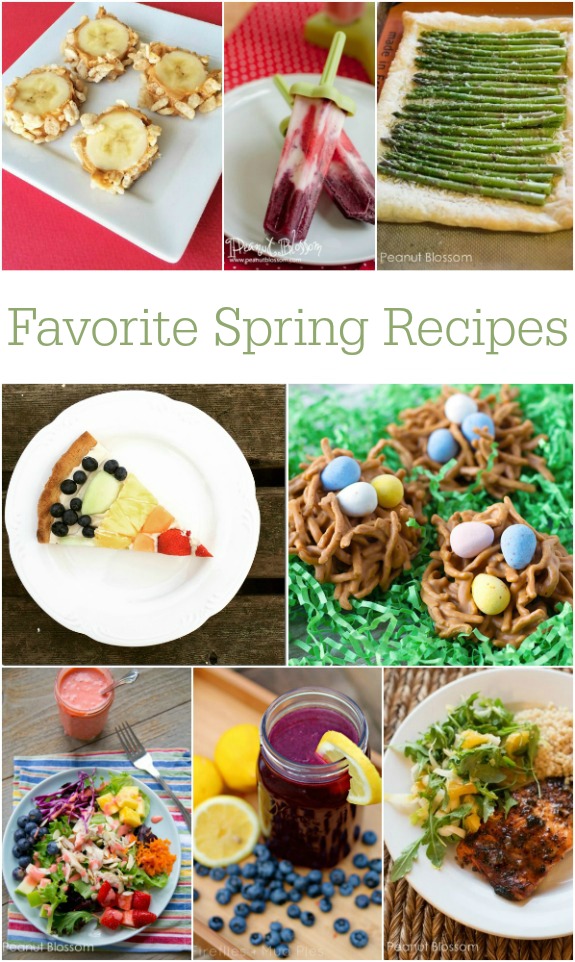 Mustard Glazed Salmon with Citrus and Arugula Salad — Love how easy this is to put together for a quick dinner that is full of flavor.
Rainbow Salad — This salad is super colorful and easy to make! Perfect for celebrating Spring!
Bird's Nest Cookies — What a cute treat to make with the kids. I can't wait to give this one a try!
Rainbow Fruit Pizza — Another great example of a recipe designed to invite kids to eat their colors. Simple and fun to make!
Wild Blueberry Lemonade — Making your own lemonade is one of the greatest simple pleasures of childhood.
Asparagus and Parmesan Puff Pastry Tart — This looks easy enough for kids to put together with very little help from a grown up. It would be a great side dish or appetizer!
Patriotic Ice Pops — How cute are these? This would be a great treat for Memorial Day!
Banana Sushi — What a fun after school snack to make with the kids. Yum!
For more Spring activities to do with the kids, check out our Ways to Play Spring 2015 Printable Calendar . It's full of fun and festive kid-friendly activities for March, April, and May!