March 14th, 3/14, is also known as Pi Day or  π Day.  It is a day where we celebrate Pi, the mathematical constant which represents the ratio of a circle's circumference to its diameter.  It's typically represented as 3.14159, and, as it turns out, it is also a great excuse to make and eat PIE!  Because, really, who doesn't love a reason for pie!
Today, we will share two Pi Day Pie Recipes that you can make with your kids to celebrate Pi day in a super delicious way.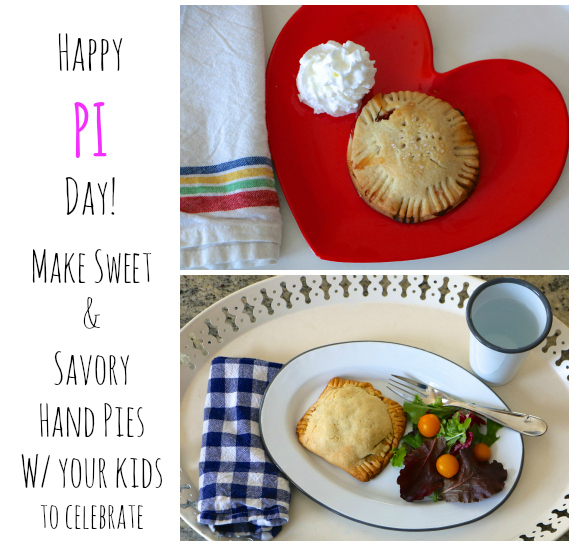 Kids will love the chance at making dinner and dessert.  They will enjoy measuring and mixing and rolling in these recipes.  There will be a few steps, however, such as slicing leeks and sauteing that will need to be performed either by an adult or with close adult supervision.
First lets begin with the savory!
Chicken Pot Pie Hand Pies
Ingredients
2 store bought roll out pie crusts (Trader Joe's pie crusts are our favorite)
1 C leeks (about 2)
1 TBSP olive oil
1 TBSP butter
3 C cooked chicken chopped (we used chicken leftover from a roasted chicken we made earlier in the week)
1 C frozen corn
1 C frozen peas
1 C shredded carrots
3/4 C softened cream cheese
Salt and Pepper to taste
Flour for rolling out pie crust
To make:
Preheat oven to 400°F.  Cut leeks lengthwise, cut of the tough dark green tops and discard then slice the white and light green parts of the leeks crosswise into 1/4-inch thick slices.  Put sliced leeks in a large bowl, fill bowl with cold water and gently agitate the leeks in the water to remove any dirt or silt hiding within the leeks.  Nobody likes a dirty leek!   Melt butter and olive oil in a pan over medium heat, lift leeks out of water bowl and add to pan.  Sauté leeks for about 10 min or until they are softened.
Once leeks have begun to soften, add corn, peas, and carrots to the pan.  Season veggies with salt and pepper to taste and cook for about 5 minutes more.
Add chopped chicken, cream cheese, and sauteed veggies into a large bowl, and mix well!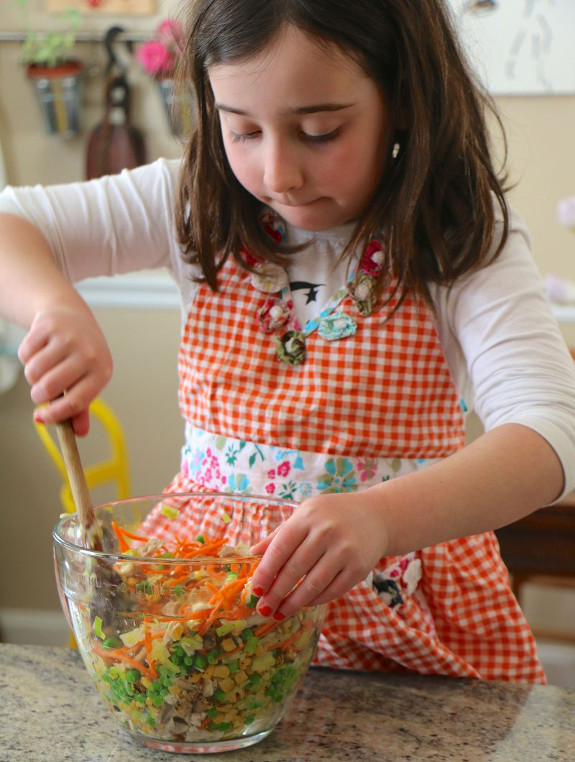 Once your filling is made, roll out your pie dough to ~1/4″ thick. Be sure to flour your work surface and your rolling pin.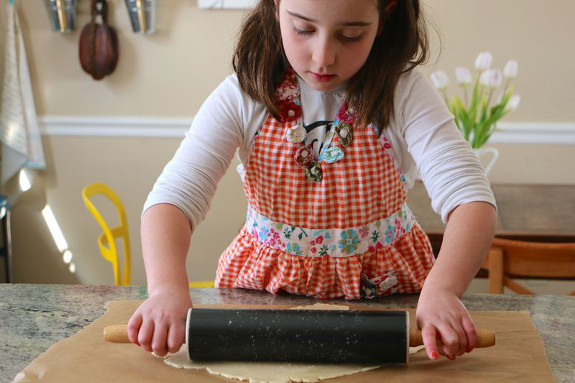 Cut dough into rectangles that are about 5″ x 8″ (give or take).  Add, 1/3 cup of the chicken and veggie filling to one side of the dough rectangle.  Gently fold over the other side of the dough over top of the filling.  Fold edges over and then press closed with the tines of a fork.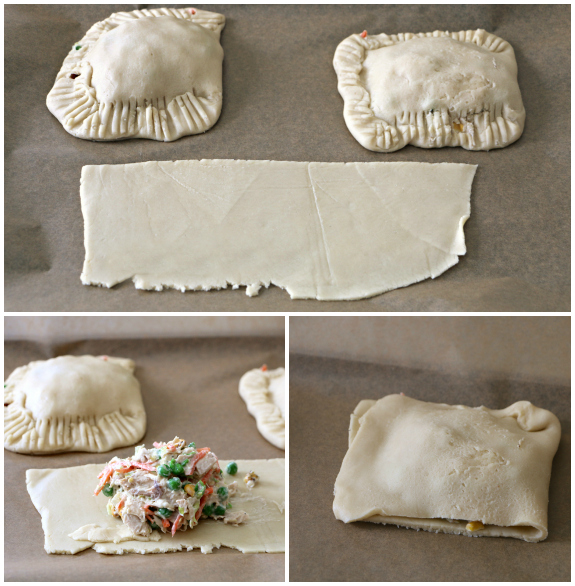 Place pot pie hand pies onto a parchment paper lined cookie sheet, bake for about 20-25 minutes, until the pie crust is golden and pot pies are bubbly.
We were able to make seven hand pies with two pie crusts, and had about one cup of the filling leftover, which is delicious when served as a chicken salad as well.
Serve pot pie hand pies with a side salad and enjoy!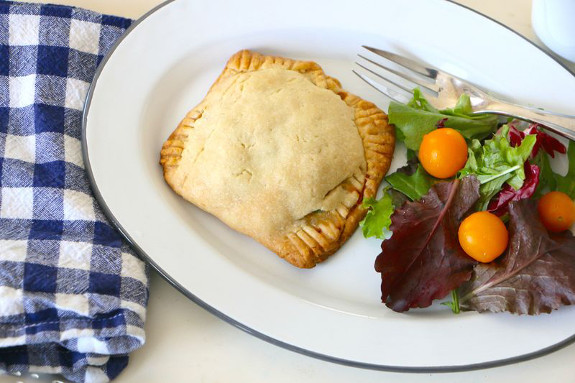 After your tummy is full of delicious and healthy chicken and veggies, it's time for a sweet treat!
Berry Filled Hand Pies
Ingredients
2 store bought roll out pie crusts (Trader Joe's pie crusts are our favorite)
Flour for rolling out pie crust
1 C blackberries
2 TBSP sugar (+ more for sprinkling)
2 TBSP flour
2 TBSP milk
Cherry Pie filling
Lemon curd
Fresh blueberries
To make:
Preheat oven to 400°F.  Roll out your pie dough to ~1/4″ thick, and be sure to flour your work surface and your rolling pin.  Use a cookie cutter, biscuit cutter, or even a glass turned upside down to cut circles (ours were 3.5″) out of the pie dough.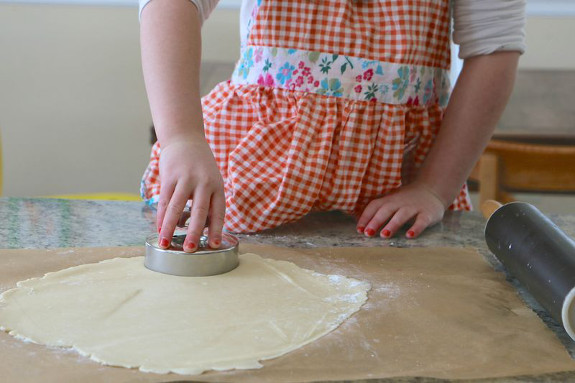 Place dough circles onto a parchment lined cookie sheet for filling.
Place 1-2 TBSPs of the filling of your choice in the center of your dough circles.  Here's some filling suggestions:
cherry pie filling
lemon curd (jarred, or make your own as well) with fresh bluberries
blackberry filling (1 cup fresh or frozen, but defrosted, blackberries mixed together with 2 TBSPs flour and 2 TBSPs sugar)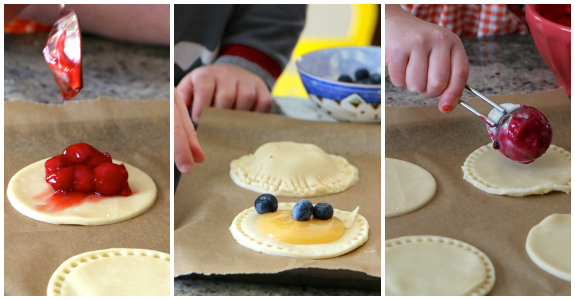 Place another dough circle on top of your fillings, and press the two together with the tines of a fork.  Poke a few holes in the top with fork tines as well.  Brush lightly with milk and sprinkle with sugar.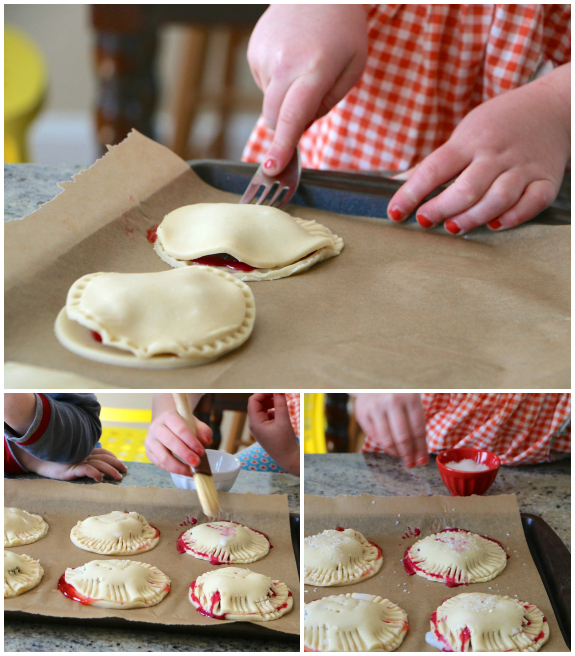 Bake for 15-20 minutes, or until golden brown.
If you want, you can serve them with whipped cream!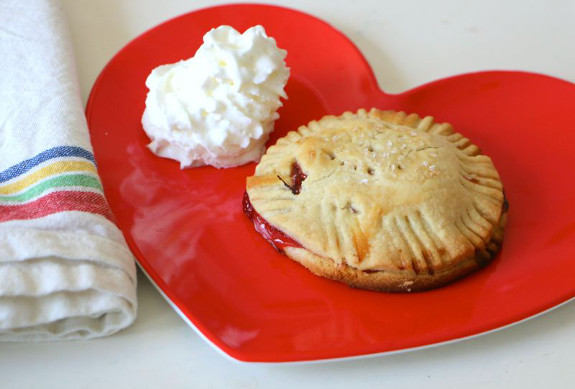 My kids enjoyed making these so much and even more so because afterward they got to eat them!
"We made them by hand and we ate them by hand!", proclaimed my son.
Both the sweet and the savory hand pies were a hit!  In fact, this might be the only way my son, age four, will agree to eat chicken pot pie.  I think these hand pies will end up in a regular rotation around here, since they are so simple and delicious!
Plus, hand pies are perfect to take along on picnics or to pack up and give as a gift to a family with a new baby, or new home!
Enjoy!
PS.  Looking for more easy to make with kids pie dough recipes, check out these heart shaped rollie pies, whole wheat mini apple pies, and these yummy chocolate chip mini pies!