Fresh corn is one of the essential ingredients of summer, without it, summer just wouldn't be the same.  There are tried and true recipes and ways to cook corn that have been passed down through generations; corn on the cob and corn bread immediately come to mind.  We have jazzed up old ideas with new, using time and space-savers such as making cooler corn on the cob for crowds of guests.  But, one thing remains the same… the fresh taste of corn taken straight from the cob.  It seriously doesn't get better than that.
If you're a summer soup fan, you'll want to cook up some Corn Chowder while corn on the cob is in season.  If you're cooking this soup out of season, just substitute a couple cups of corn (frozen if you have it) for the fresh corn on the cob kernels we use in this recipe.  Just like my Meat & Parsley Soup, my Corn Chowder recipe is a cream based delight that you can't go wrong with.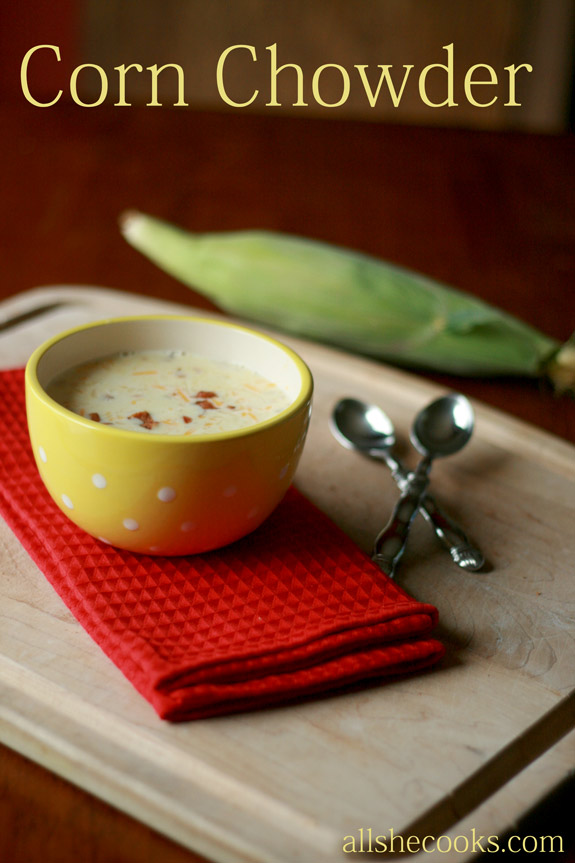 Bacon makes everything better, and Corn Chowder is no exception.  This recipe is super easy, and so simple to throw together for a quick dinner at home.  Ingredients like corn, bacon, chicken broth, corn starch, heavy cream, and salt and pepper.  Who knew something so great could be made with so few ingredients!  But yet, combine them all together and you have a perfect dinner or appetizer.
You've got to love a recipe that comes together so easily.  Enjoy every last bite of this delicious corn chowder… a taste of fresh summer, perfect for the cooler days of summer, beginning of fall, or any time you want.

Corn Chowder
Author:
Jessica, All She Cooks
Ingredients
Corn for 2 cobs of corn, sliced off the cob
¼ cup butter or margarine
¼ cup chopped bacon, cooked
2 cups chicken broth (reserve ½ cup to mix with corn starch)
2 tablespoons corn starch
1 cup heavy cream
1 teaspoon salt
½ teaspoon pepper
Instructions
Melt butter and saute corn for 7-10 minutes. Add cooked bacon. Combine corn starch with a ½ cup of the chicken broth, and add to corn. Add in the rest of the chicken broth, followed by heavy cream and spices. Bring to a light boil to thicken, and then reduce heat to simmer. Heat through and serve.