Every Monday, Wednesday, and Friday now thru August 1st, Michael's craft stores across the country will be hosting the Passport to Imagination program from 10am-noon. If you're not already familiar with the Passport to Imagination, it is a series of creative craft projects designed for kids ages 5 and up to do in the store (2 projects for every class), and for each class there is a recommended at-home project too. The cost is just $2 per child per class, and you can register for classes online! A big thank you to Michael's for providing us with a scholarship for Passport to Imagination this Summer!!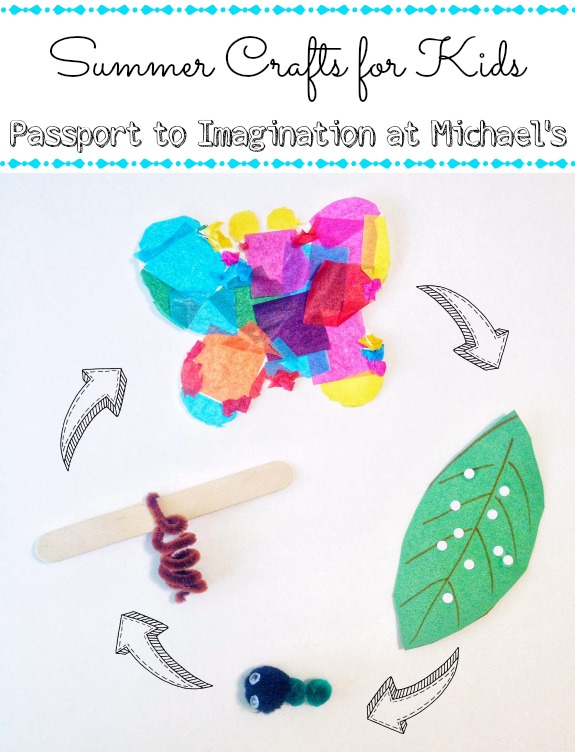 We have participated in this program last year, and you can read my review of that here. Recently, I took the kids to our local Michael's to try out the program, and they both had such a great time! They each made a butterfly lifecycle craft and a tree frog printmaking craft inspired by The Field Museum in Chicago. While they were happily crafting, I was able to get some kid-free shopping done inside Michael's, and ended up getting some inexpensive unfinished birdhouses they could paint up to add to their fairy garden table later this Summer. The kids keep asking me when we can go back to do this again!
To learn more about the Michael's Passport to Imagination program, check out upcoming classes, and register for a class near you, click here.
Disclosure: In order to write about the Passport to Imagination program, I was provided with a Michael's gift card. All opinions are my own.