Barbeque season is finally here!  While most of us have a favorite side-dish or two that no cookout is complete without, there is always room to experiment and add a new dish to your barbeque menu.  My favorites are Loaded Baked Potato Salad, Fruit Pudding, and Banana Split Kabobs with Hot Fudge.
Loaded Baked Potato Salad is complete with everything that makes a baked potato irresistibly good, but its served cold in salad form making it a perfect food for grilling out, a picnic or barbeque with the neighbors.  We've included the recipe below, so be sure to print off or pin so you can make this potato salad for your next barbeque.
Loaded Baked Potato Salad is so easy to throw together.  Simply wash the potatoes and throw them into a pot of water and let them boil until just fork tender.  Keep a close eye on them, because you want them to be firm, yet cooked through.  Next, drain the boiling water and then let the potatoes chill in the refrigerator.  Cooking the potatoes the night before is a big time saver.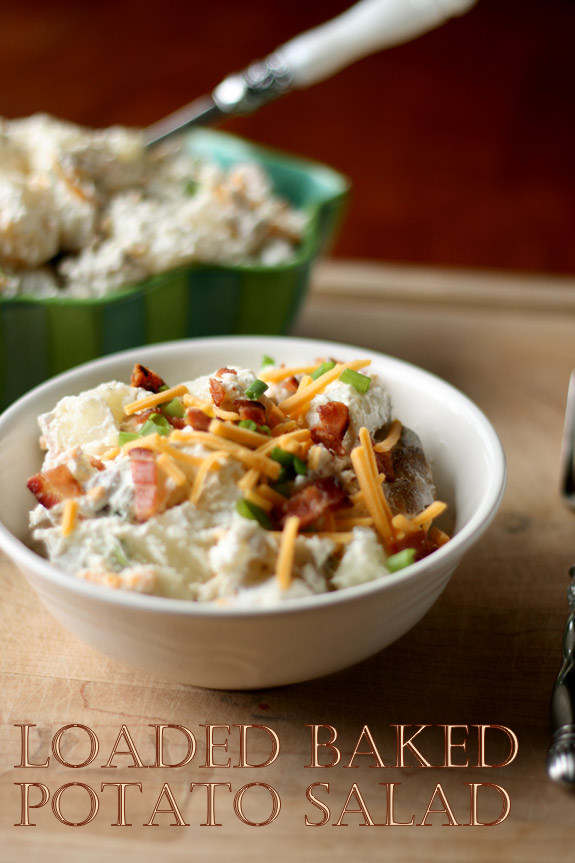 When you're ready to mix up the potato salad, all you have to do is cut the potatoes into chunks and throw them together with the remaining ingredients into a big bowl.  Mix everything together, chill and serve!  This is such an incredibly easy recipe to make.
What's your favorite cookout side dish? 

Loaded Baked Potato Salad
Ingredients
8 cups russet potatoes, boiled until just fork tender
8 slices cooked bacon, chopped
1½ cups light sour cream
¾ cup mayonnaise
½ cup chopped green onions
1 cup cheddar cheese
1 teaspoon pepper
½ to 1 teaspoon salt
Instructions
Wash potatoes and boil with skin on until just fork tender. Remove from heat, drain water, and cool in refrigerator. for a few hours or overnight.
To prepare salad, cut potatoes into chunks and toss into a big bowl. Add remaining ingredients. Stir everything together and then chill for 1-2 hours.
Serve and enjoy!