When I first learned about littleBits, I immediately put their Base Kit on Emily's wish list. You may have seen them featured on TED. For kids who are 8 years old and up and love to build things, littleBits kits allow kids to bring their creations to life using a variety of modules to build instant circuits. Add a few common household items, or things from the recycling bin, and there are so many possibilities!! So when I was offered a littleBits kit to review, I jumped at the chance!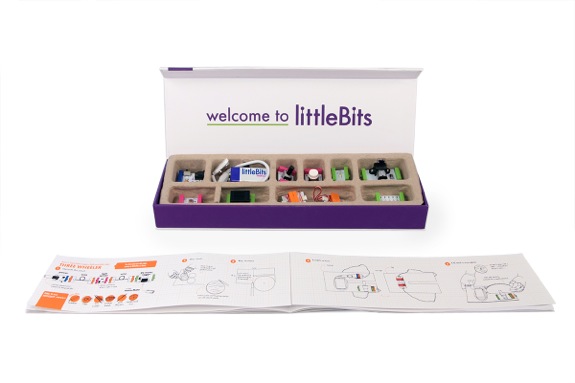 I was given a littleBits Base Kit to review, and the kit appears to be very well made. I love that it is packaged nicely with each component having its own compartment for easy clean up and organization. Also included is a project idea booklet with eight different project ideas using common household items or other basic building toys you probably already have on-hand.  Emily was very inspired by the project booklet, and has already made several of the projects listed! The instructions are clear, easy to follow, and fully illustrated, so Emily could build these with very little adult help.
One of the first projects she tried was making her own flashlight!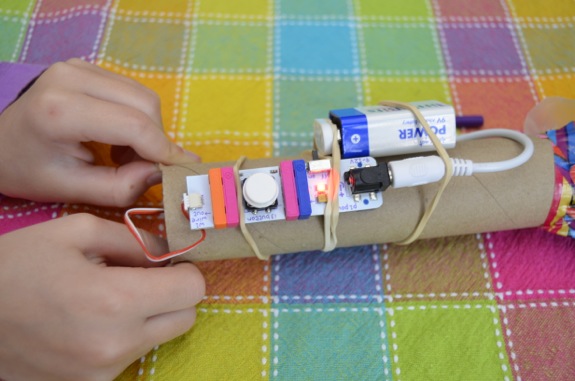 The littleBits components are magnetic, allowing kids to quickly and EASILY build circuits. Following the step by step instructions helped Emily to understand the importance of sequencing, and she was able to experiment and design her own projects in very little time! I love the open-ended possibilities of this kit! The software engineer in me loves that all littleBits modules are open source, making this a great educational tool for Emily to grow into. She can play with the modules now and then later she may be interested in viewing the open source library for a better understanding of electronics.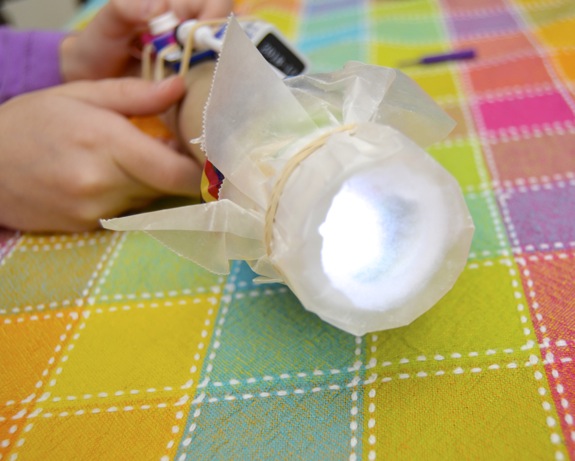 Emily was so proud of the flashlight she built, and she went on to complete several other projects from the booklet including a model car (with a little help from my hubby), a hand buzzer, and a doorbell. She has been enjoying this kit for the last several days and has lots of other plans for future projects in the works! I should also note that I've been using this kit as bribery for her to complete her homework. A real win-win!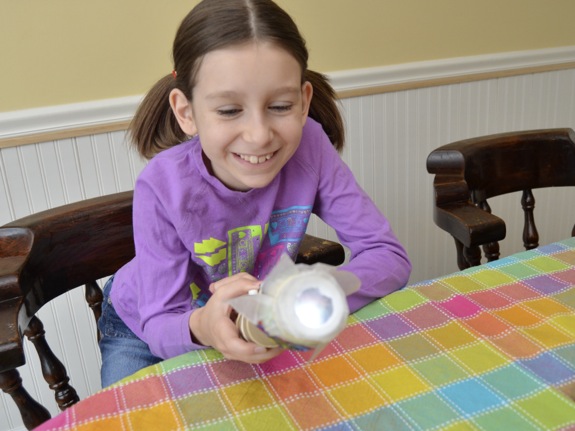 As an added bonus, littleBits is offering a special discount to Inner Child Fun readers!
Get 10% off any littleBits Base Kit with promo code Child10 (Discount expires 12/31/2013).
Disclosure: This post is sponsored by littleBits. All opinions are my own.