Searching for a way to bring a little North Pole magic wherever you go? Need a special toy to take on trips this holiday season?? Then a North Pole Travel Play Set is for you! The kids and I had such a great time putting this Winter play set together, and I love how it encouraged plenty of imaginative play time fun using mostly items we already had on-hand.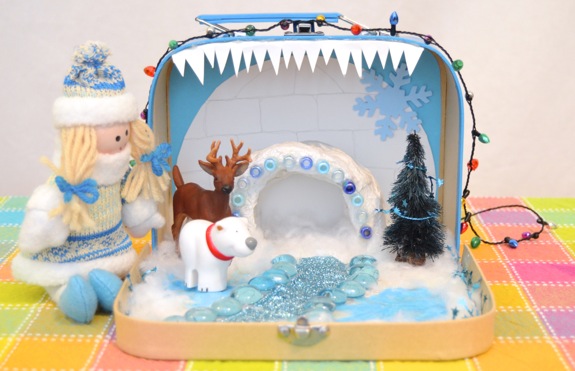 First, we gathered up the Winter or Arctic themed toys we already had around the house — (ie reindeer figurines, polar bears, santa claus figurines, fake snow, etc.) to place into our cardboard suitcase. No cardboard suitcase on-hand? An empty shoebox will work very well for this too!
Next, the kids wanted to add a skating pond, so together we made one by swirling around some acrylic paint with a craft stick on a sheet of parchment paper, allowing it to dry completely (overnight), then peeling it off. Clara loved swirling around the paint, and mixed in some glitter glue too, for a bit of extra sparkle!!
The dried acrylic paint is easy to cut into shapes with regular scissors, and we glued the shapes to the suitcase. Such a realistic skating pond!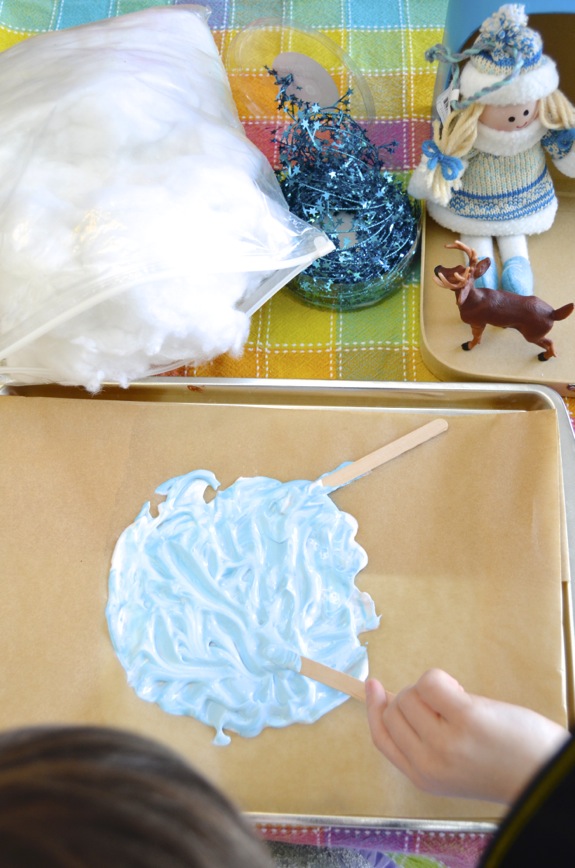 Another item on the list was an igloo, so to make our own, I shaped some tin foil into an arch, then invited Clara to add white tissue paper to it with a 50/50 glue and water mixture. Once it was dry, I attached it to the suitcase with hot glue.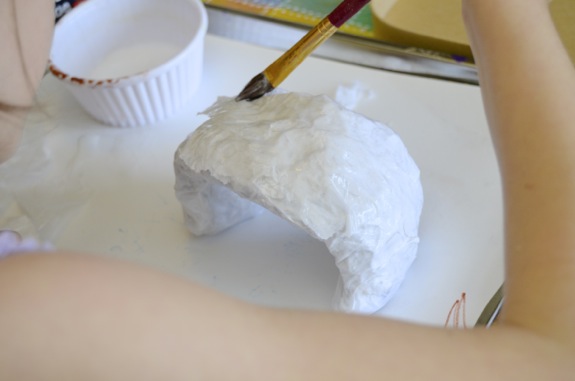 The walkway was made out of ribbon and glass gems, attached with hot glue. And some sparkly beads were added to the igloo for some more bling!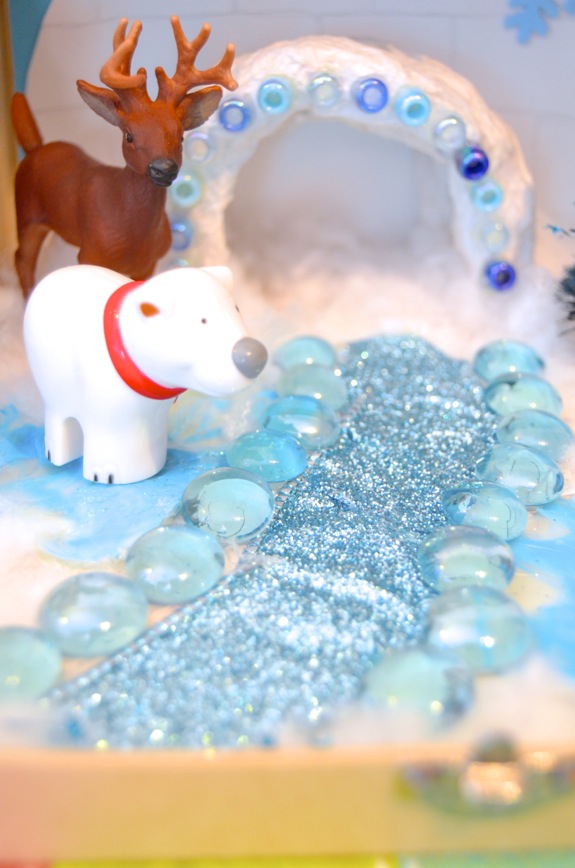 You can download the template for the North Pole sign here. For added strength, you may want to cover it in clear packaging tape. The sign was made by with a paper straw attached to a button with hot glue, then the sign was glued on.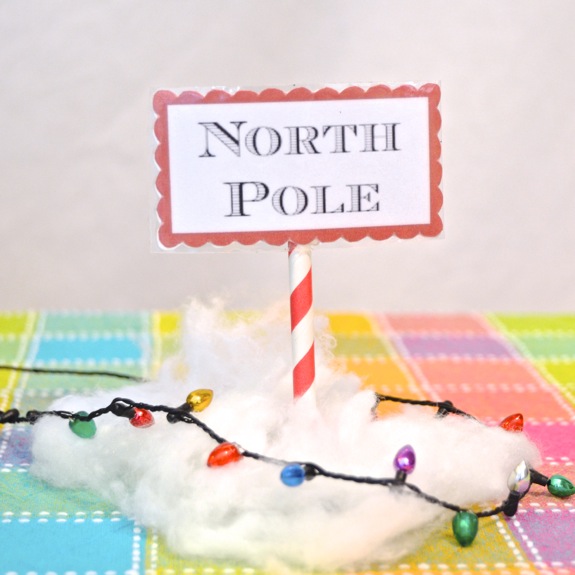 The kids love that the entire set can easily fit inside the cardboard suitcase, and have been taking their North Pole play set to various rooms around the house! They especially love introducing other toys to explore the set, pretending that the polar bear is getting lonely so he invites other friends from "out of town" to play in the snow and skate on the lake!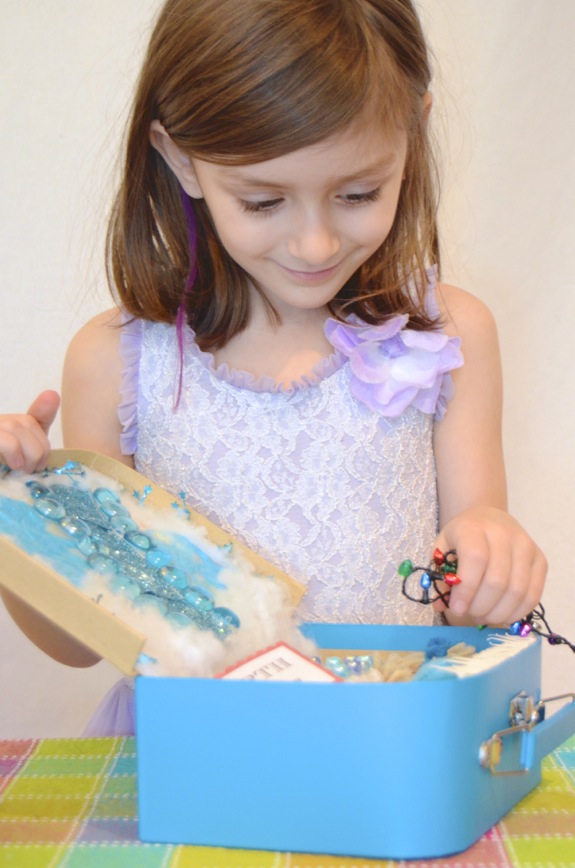 Some other fun additions — paper icicles, mini holiday lights, sparkly garland, or snowflake stickers. So many possibilities!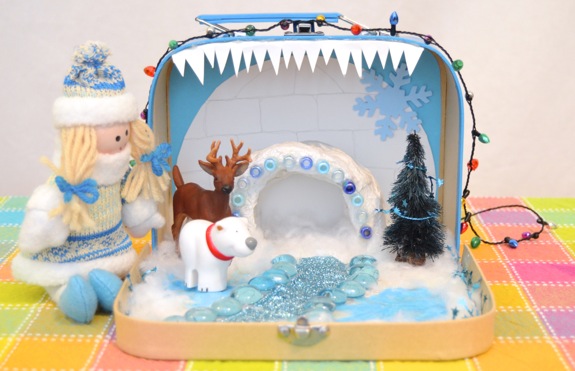 Have fun!!
For more DIY Toys, check out the Cardboard Toy Gingerbread House, and ideas for 10 Amazing Toys You Can Make for Your Kids.
* Disclaimer: This post contains affiliate links.