Hosting a Halloween party? Need a few last-minute crafts and Halloween activities for kids?? Here is this weekend's round up featuring some of the best posts from Inner Child Fun Media sites with festive Halloween recipes, party games, and more!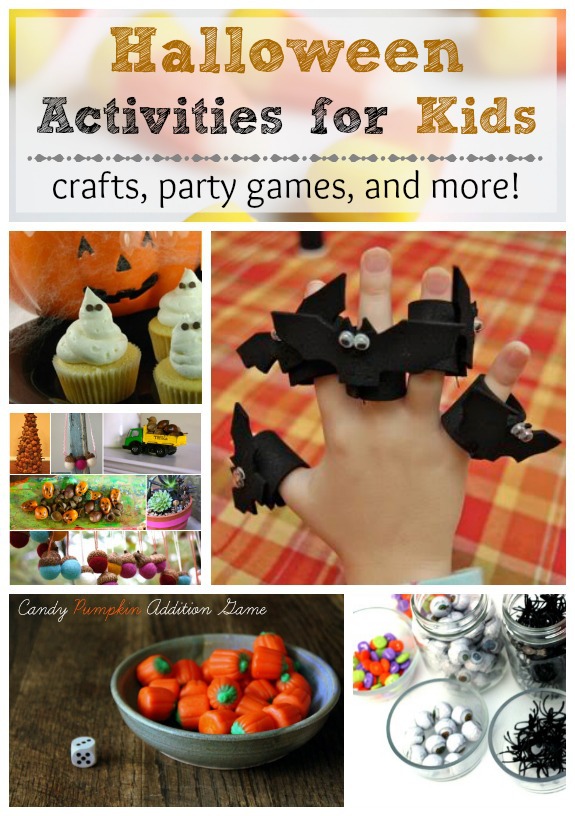 Inner Child Fun
Halloween Crafts for Kids — A great selection of Halloween crafts featuring common household items or things that can easily be found at the dollar store.
Getting Ready for Halloween with Pretend Play — Reinforce good manners and review important safety measures before trick or treating with these simple ideas for pretend play.
Ideas for Spooky Halloween Sensory Boxes — A festive ice breaker activity for a kids' Halloween party using common pantry items you probably already have on-hand.
10 Spooky Halloween Story Books for Kids — Combine craft time with a Halloween-themed story time for a festive party or play date activity!
---
Inner Child Food
Ghost Popping Cupcakes — These cupcake look so adorable, and they are super easy to make thanks to this post on Inner Child Food.
Popcorn Gift Bags — A quick and easy party favor, also a great candy-free alternative for giving out to trick or treaters.
---
Inner Child Learning
Candy Pumpkin Addition Game — Use some of that leftover candy for a fun and educational addition game for kids.
Monster Stomp Song — This monster stomp song is easy to learn and is sure to get kids moving and singing along!
How to Preserve a Spider's Web — Impress your kids with this awesome tutorial from Inner Child Learning to preserve a spider's web. Really cool!!
Estimating with Halloween Goodies — Introduce the concept of estimation with this simple and fun learning activity using Halloween goodies.
---
Inner Child Giving
Fall Photo Props (free printable) — A free printable with photo props for some impromptu photo booth fun!
Free or Low-Cost Fall Family Fun — A list of free or very budget-friendly activities to help you make the most of the Fall season with the family without breaking the bank.
Alternatives to Halloween Candy — Alternatives to Halloween candy are a great way to surprise trick or treaters! They are fun, inexpensive, and there are many options that can easily be purchased in bulk online. A list of 10 non-food treats to delight!
Have fun!!
I linked this post to the After School Activities Linky Party