Need an easy way to keep the kids busy while preserving some of their favorite Summer memories? Here is a very simple scrapbook project the kids can make, just in time for back-to-school when many teachers begin the school year asking what the kids did over Summer vacation. A big thank you to Melissa & Doug for sponsoring today's creative craft project!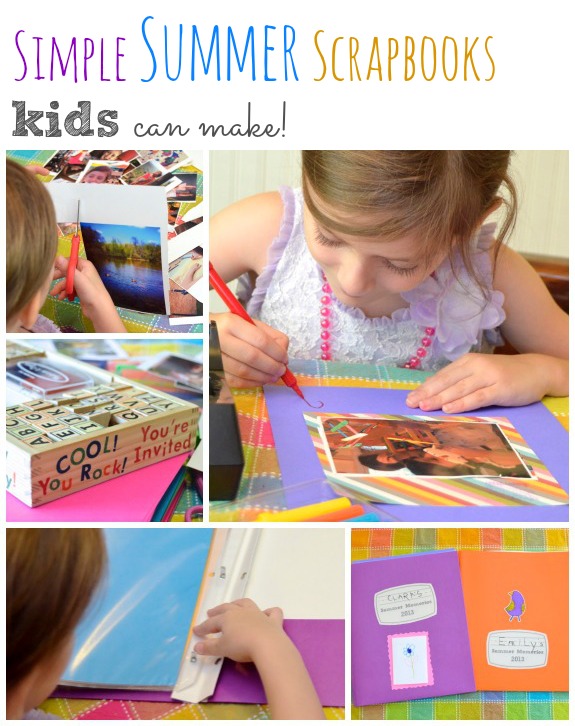 To make your own Summer scrapbook, you will need a good assortment of photos. I printed many of these from my Instagram account. I love that Instagram makes documenting special moments so easy and convenient! Once the photos were printed, I invited the kids to cut them out carefully while I gathered up the rest of the supplies.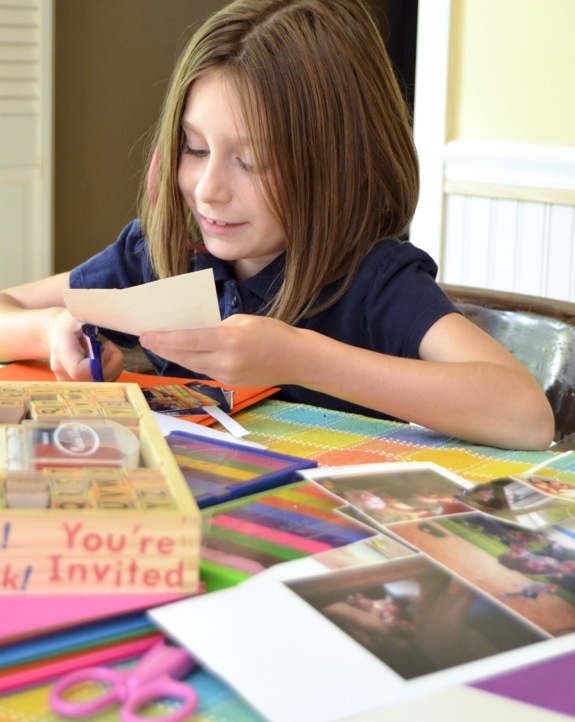 Some of the materials we used for this project were the Melissa & Doug Alphabet Stamp Set (we love this and have used it for many different craft projects!), Melissa & Doug crayons and non-roll markers, some colored paper, leftover scraps of patterned paper, page protectors, scissors, glue and/or double-sided tape, and simple report covers.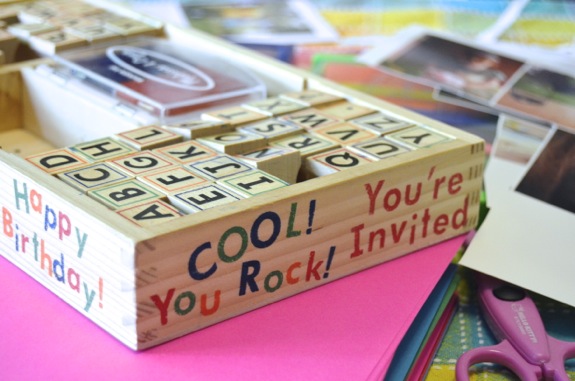 My five year old really loved having the opportunity to practice using her safety scissors! This is such a great activity to work on developing those ever important fine-motor skills!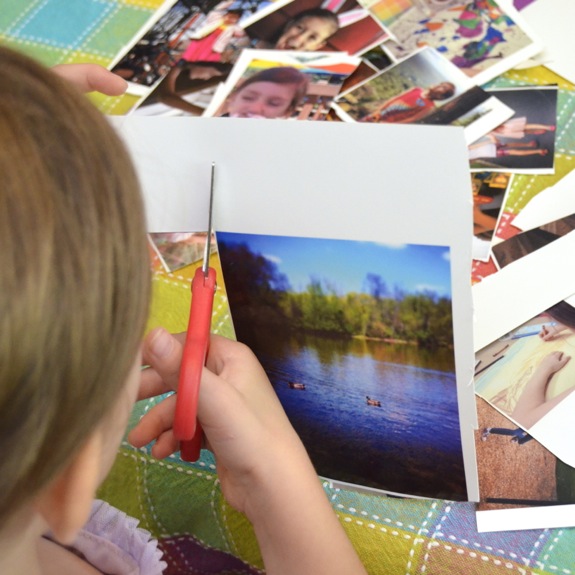 Next, it was time to add the patterned paper to a background sheet of paper with a bit of double-sided tape, then arrange the photos on top as desired. No double-sided tape on-hand? Washable glue stick works very well for this too!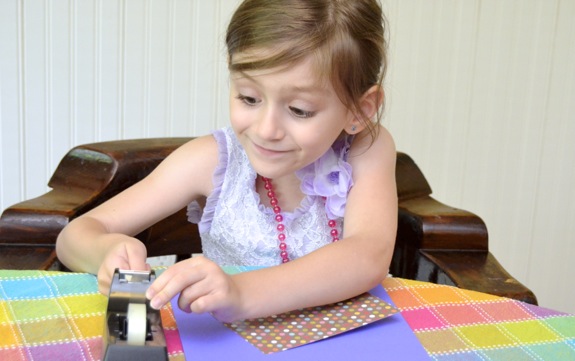 Then, I invited the kids to decorate their scrapbook spreads with markers or crayons to add a bit of a personal touch! This was probably their favorite part, and they spent a long time doodling around their photos to draw frames or write down important points about the photos they wanted to remember. They also used plenty of stamps to decorate their scrapbooks too — especially ones from the Melissa & Doug Classroom Stamp Set because they love all the encouraging words on those stamps!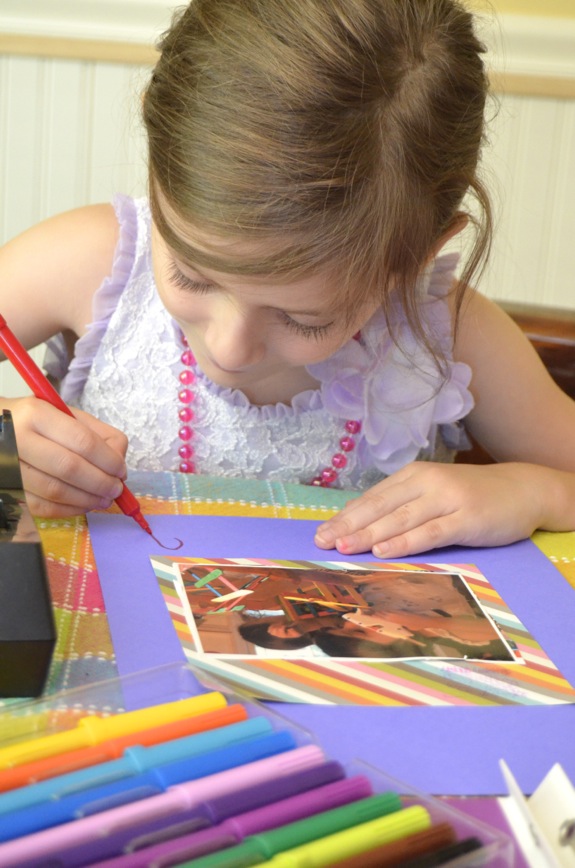 Next, the kids carefully placed each of their scrapbook sheets into page protectors, then added them to the report covers. My 9 year old mentioned that the folder pockets could also be used to store envelopes with ticket stubs, or other mementos, and I couldn't agree more!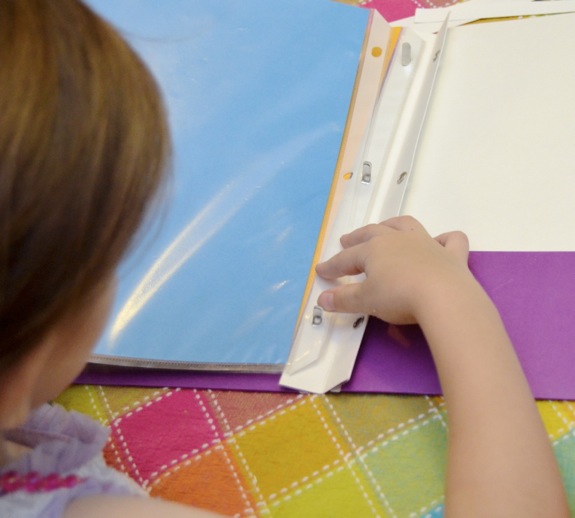 Here's a little peek at how my 5 year old's scrapbook turned out….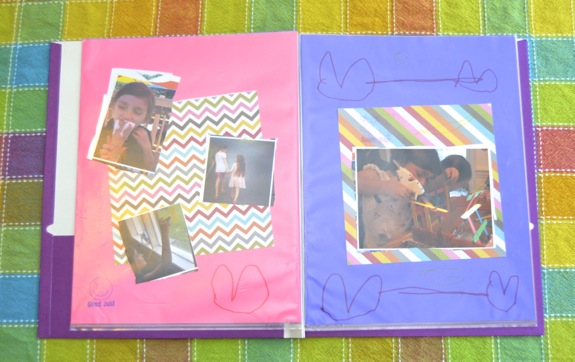 And here's a look at how my 9 year old did hers!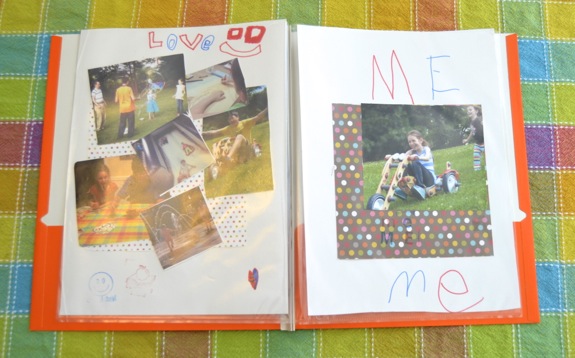 For the scrapbook covers, I made a simple label for them, printed them on a sticker sheet, and cut them out. You can download the free label template here. Then the kids wrote their names on them, and stuck them on the covers. Easy peasy!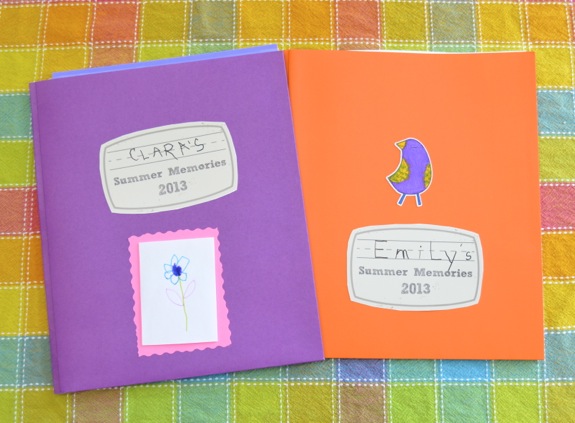 This would be a great project for a rainy day, or anytime you need a boredom buster on these last few days of Summer!
Have fun!!
(Disclosure: This post is sponsored by Melissa & Doug. There are a ton of other kid-friendly crafts, activities, and creative play ideas on the Melissa & Doug blog, so be sure to check out their blog too! All opinions are my own.)