Kids' Culinary Passport — Cook and Craft Around the World
What better way to kick off our Kids' Culinary Passport series than by visiting the good ole American south during Independence Day week?!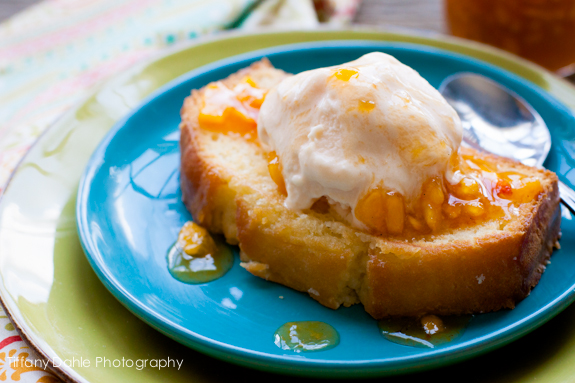 As a midwestern girl relocated to the sunny state of North Carolina, in the past year I've learned to embrace all things biscuit, grits, and of course peaches!! Our peach season is in full swing and I was thrilled to take my girls on an adventure to a local fruit stand to stock up on the fuzzy beauties that are the key to this amazing, creamy summer dessert. You can read more about our visit here.

I knew I wanted to make some home made ice cream using a shiny new ice cream maker we recently invested in but once we got to The Peach Stand in Fort Mill, SC, I discovered they sold homemade pound cake! I didn't hesitate for a second before grabbing a container. The ice cream on it's very own is delicious, but if you're looking for an over-the-top awesome dessert to serve at a barbecue this week look no further!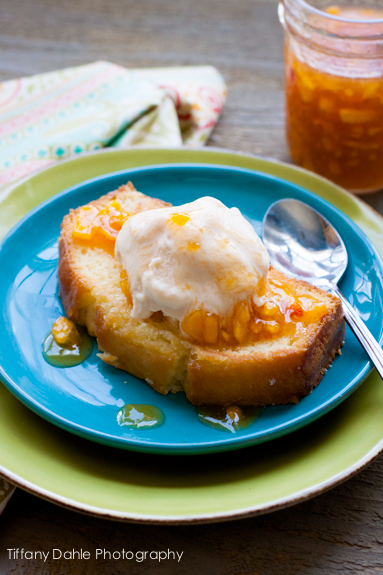 Peach ice cream & griddled pound cake sundaes
Inspired by "The Perfect Scoop" by David Liebowitz
Ingredients:
4-5 large fresh peaches (as ripe as you can find)
1/2 c water
3/4 c sugar
1/2 c sour cream
1 cup heavy cream
1/4 tsp vanilla extract
few drops of fresh squeeze lemon juice
1 pound cake
butter for the griddle pan
1 jar of peach vanilla bean freezer jam (optional)
Method:
For the homemade ice cream:
Peel the peaches: With a paring knife, mark an X on the bottom of each peach. Bring a large pot of water to boiling. Fill a large bowl with ice water. Boil the peaches for 20 seconds and then using a slotted spoon transfer them to the ice water bath. Let cool. The skins will slide right off.
Remove the peach pits and cut the fruit into chunks. In a medium sized sauce pan combine the peaches & water. Cook over medium heat covered for 10 minutes until they are soft, stirring 2-3 times.
Combine the peaches with the sugar and let stand until it reaches room temperature.
In a blender or food processor puree the peach mixture with the sour cream, heavy cream, vanilla, and lemon juice. Chill completely and then freeze according to your ice cream maker's instructions.
To assemble the sundaes:
Heat a non-stick griddle pan to medium-high heat. Melt a generous pat of butter to coat the griddle. Slice the pound cake into inch-thick slices and griddle on both sides until golden and toasty.
Layer the pound cake with scoops of peach ice cream and a heated drizzle of the peach jam.
NOTE: If you don't own an ice cream maker, try serving the toasted pound cake with just the peach jam and some whipped cream. It would be even easier and super tasty!
---
Quick Craft for the Kids
Bandana Friendship Bracelets — USA Inspired Craft
These bandana friendship bracelets are quick and easy to make! Use just three bandanas to make several of them to give to your friends!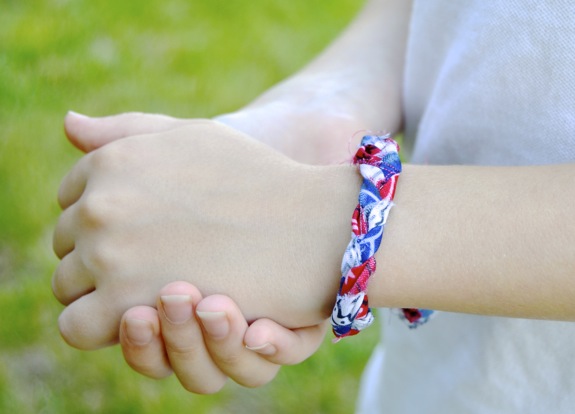 To make your own, you will need:
1 Red Bandana
1 White Bandana
1 Blue Bandana
Directions:
1. Cut bandanas into strips about 1 inch wide. (Tip: Begin each cut with scissors, then tear the rest of the bandana for a more rustic look!)
2. Gather one strip of each color, and tie into a knot near the top.
3. Braid your bracelet, then tie another knot to finish.
4. Tie around your friend's wrist to form the bracelet. Make another one for yourself, and you'll each have a bracelet made from the same bandanas!
---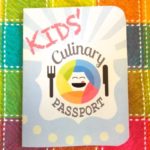 This post is part of our Kids' Culinary Passport series, designed for parents and kids to cook and craft their way around the world together! Every week this month, we'll feature a new country with a recipe and quick craft project. It's FREE, fun, and educational. Share photos of your kids' creations on Instagram using hashtag #KidsCulinaryPassport, or on our Inner Child Food Facebook Page.
Join us, and get your free printable passport with stamps here!