Learning manipulatives (items that are used to engage a child in hands-on learning) are used for problem solving and to help increase understanding of a concept, such as counting. There are literally thousands of incredible learning manipulatives available for purchase through education websites and catalogs; making a choice can be very overwhelming! But did you know that many items from around the home are very useful learning manipulatives? With a little creativity, it is easy to help your child learn with ordinary household items!

Beans, Noodles, Candy, Cereal, and Fruit Snacks
Beans, noodles, candy, cereal, and fruit snacks an be used for counting, sorting and patterning. Take the lesson a step further with a short lesson on graphing.
Kitchen Tongs
Children can use kitchen tongs to move an item to a different location. Using tongs improves hand-eye coordination and fine-motor skills.
Paper Tags
My son, Owen, loves to lace paper tags onto a cotton string. I love that he is exercising his hand-eye coordination and staying focused on a task!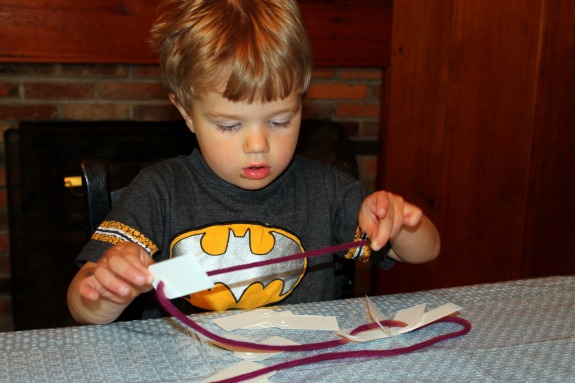 Plastic Containers
Plastic containers are great for stacking and placing in order from smallest to largest. Make a simple learning game for your child by placing an object inside of the box and giving them three clues about it. Can they guess what's inside?
Bubble Wrap
Invite your child to exercise those tiny muscles in their finger (this will help develop strength for writing) by squeezing the tiny bubbles on a sheet of plastic bubble wrap.
Spray Bottles
Spray bottles exercise finger muscles and can increase hand-eye coordination if you give your child a specific target to spray.
Toys
Can you give your child's toys another purpose? In the picture below, my son uses Lego Duplos for a sorting activity!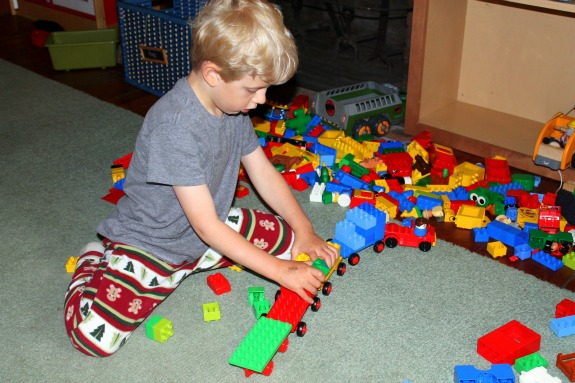 Measuring Cups
Give your child a bowl of water with measuring cups. As he practices his transfer and pouring skills, he might also catch onto fractions!
Cotton balls
Cotton balls can be used for counting. It is also fun to put them on the ground and blow them from one side of the room to another (blowing improves abdominal strength, which in turn, will help your child with their speech and language development).
Learning at home doesn't have to be expensive. Just about anything can be used as a learning manipulative if you train yourself to see it in a different way.
What's your favorite homemade learning manipulative?