In honor of Cinco de Mayo, we are making nachos today! Nachos can be made healthier by using real cheese (not processed), fresh tomatoes, salsa, and beans. I chose to make it vegetarian as well, just because it's faster and easier to make that way. This post is sponsored by our friends, The Little Partners, who make The Learning Tower and are part of our Kids in the Kitchen series.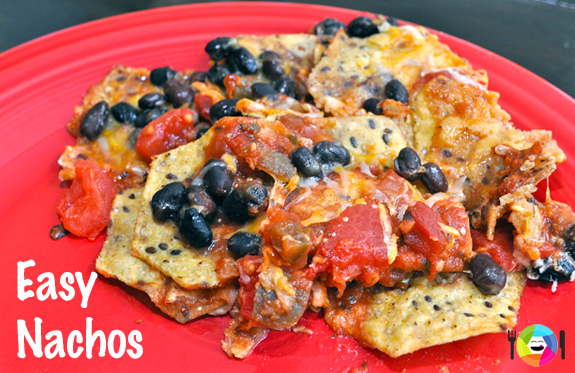 To make this more of a learning opportunity, I turned this into a lesson about Cinco de Mayo. Since my kids are very young (two, almost four, and a newborn), I made it very simple since most of the information is hard for them to relate to. Here's how you can teach young toddlers about Cinco de Mayo, too!
Show them a map and where you live in relation to Mexico (I did it at the computer, which makes it really fun for my kids). You could make it fun by pretending to travel there – act out driving a car or flying a plane! This is especially fun for boys like mine.
Explain that Cinco de Mayo means the Fifth of May in Spanish
Tell them that people who live in Mexico speak Spanish, which is a different language
Show them the date on a calendar, teaching the day, month, date and year
Teach them a few Spanish words – Hola = hello, Adios = goodbye, and maybe even count to five in Spanish! Uno, dos, tres, cuatro, cinco!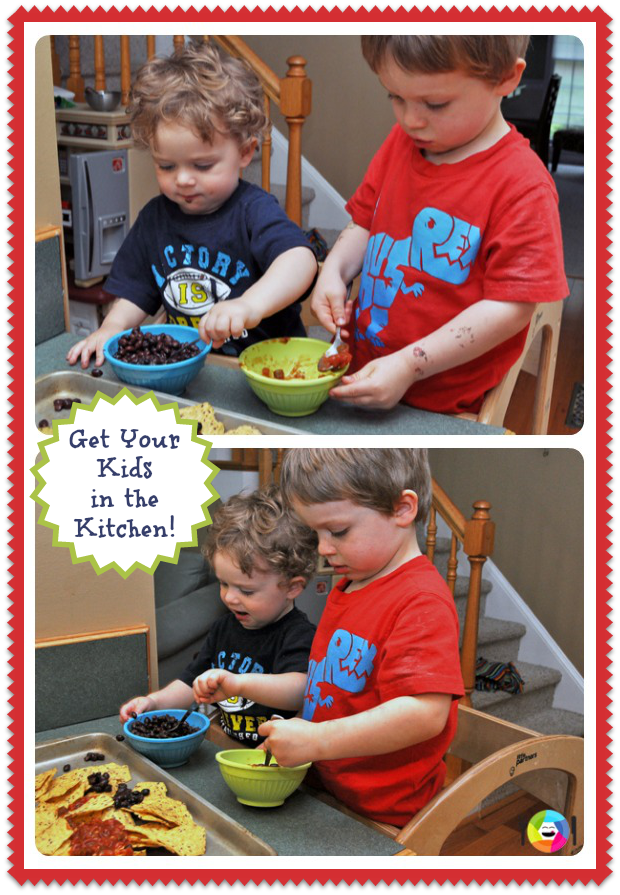 My husband and I used to dance and teach salsa together (which is what we did on our first date!), so I have tons of salsa music. I turned on some tunes and showed them some basic salsa steps. The kids love to watch me dance, so that was a lot of fun! Then, we went to the kitchen to make this super simple, easy nacho recipe together.
I put all the ingredients in little bowls and had them scoop and sprinkle the ingredients on the nachos themselves. That way, I could easily control the ingredients to make sure they didn't use too much or make too much of a mess (of course, there was still a mess!). Messes are just part of being small – I've learned to accept that even though it can still drive me crazy sometimes! You can see my kids using our Learning Tower in the picture above – it makes cooking with them so much easier and safer than using chairs or a stepstool.

Kids in the Kitchen: Easy Nachos Recipe
Author:
Sara - My Merry Messy Life
Recipe type:
Lunch or Dinner
A super easy recipe that's perfect to involve your children for a delicious Mexican favorite!
Ingredients
1 cup mild salsa
1 cup or can black or refried beans, drained
1 cup tomatoes, drained or squeezed
2 cups shredded cheese - I love the Mexican blends
Several handfuls of tortilla chips
Instructions
Preheat the oven to 350 degrees.
Spread the tortilla chips in a thin layer over the whole pan, at least one handful per person you're serving.
Sprinkle all the ingredients on top, ending with the cheese.
Bake for 10 minutes, or until the cheese melts and starts to bubble.
Enjoy while listening to salsa music!