Are you hosting an upcoming Mom's Night In event? Looking for an excuse to serve Shepherd's Pie…. as an appetizer? Need an inspiring (but EASY) "secret ingredient"?? Then these delicious shepherd's pies of bite-sized proportions made with malbec-soaked raisins are for you! They are quick and easy to prepare, elegant to serve, yet made with simple wholesome ingredients. This recipe is part of the Amazing Apps Culinary Challenge, and my assigned ingredient happens to be California Raisins! A big thank you to the upcoming Eat Write Retreat being held in Philadelphia in just a few weeks for inviting me to participate in this exciting challenge and providing me with plenty of delicious raisins!
I recently discovered that raisins love to be included in savory dishes with rich, bold flavor, as well as sweets. And soaking them in bold Malbec wine softened them up and added a hint of exotic flavor to these adorable mini Shepherd's Pies. Here is how to make your own Shepherd's Pie Bites:
For the potatoes:
4-5 large baking potatoes, peeled, boiled, drained, and mashed
1 cup milk
3/4 cup plain Greek yogurt
2 Tbsp butter
1/4 tsp. nutmeg
Salt & pepper to taste
To a large mixing bowl, add the potatoes, and butter. Slowly add the milk, stopping to mash the potatoes occasionally. Stir in the Greek yogurt, and butter until smooth. If needed, add a bit more milk 1 Tbsp at a time for smooth consistency. Season with the nutmeg, add salt and pepper to taste. Set aside.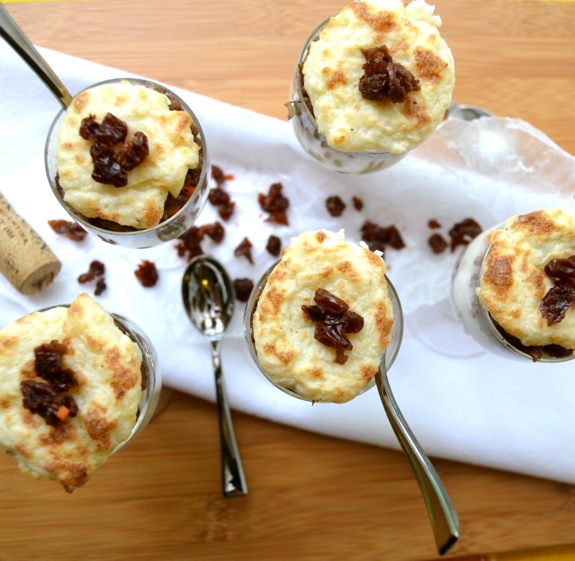 Soak 3/4 cup of California raisins in a small bowl of Malbec wine for at least five minutes. Set aside.
For the meat:
1 pound lean ground beef
4 Tbsp olive oil
1 small onion, finely chopped
1 carrot, finely chopped
1/4 tsp. nutmeg
1/4 tsp. oregano
Salt & pepper to taste.
To a large skillet over medium high heat, add the olive oil, and sautee the ground beef, onion, and carrot until the beef is well done. Season with nutmeg, oregano, and 1/2 cup Malbec-soaked raisins (completely drained and finely chopped). Reserve 1/4 cup of the raisins for garnish. Salt and pepper to taste.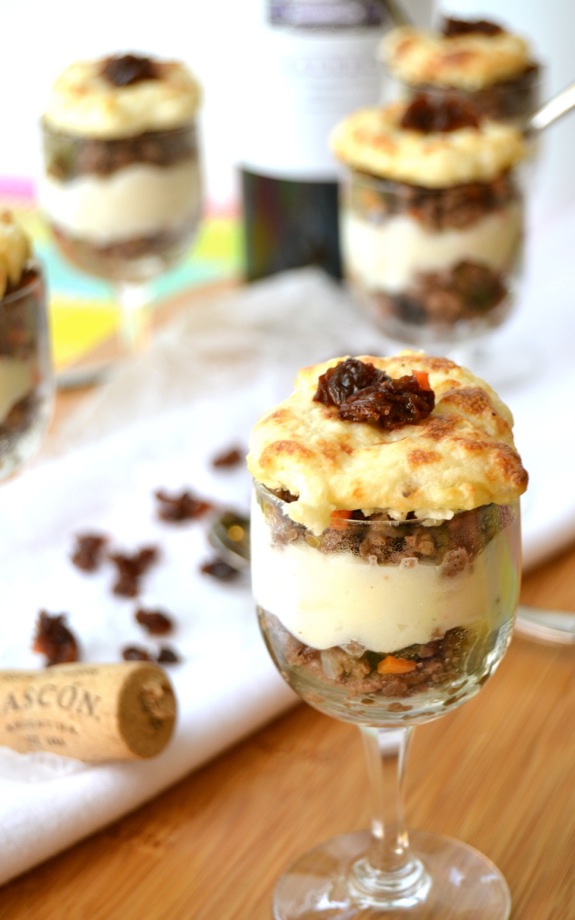 Potato Toppers:
On a pair of un-greased baking sheets, drop 15 small spoonfuls of mashed potatoes about 1 ½ inches in diameter. Broil on low until golden brown.
To Assemble:
Alternate layers of beef mixture and mashed potatoes, topping with a potato topper. Sprinkle with finely chopped Malbec-soaked raisins.
Makes about 15 individual servings in aperitif glasses.
Serving suggestions:
Nicely complimented with a glass of Malbec wine, a fresh loaf of sourdough bread, spiced olives, and plenty of good friends.
Bonus Trivia:
Did you know raisins are high in antioxidants, fat & cholesterol free, and low in sodium? Find out more at LoveYourRaisins.com