Last week, we all caught the flu. Not the stomach flu, but the real flu. With body aches, headaches, restless sleep and rather awful coughing fits that lead to more body aches. I had armed myself with a few essentials for this season and luckily we all got over it pretty quickly, but soup was in order. The good hearty stuff.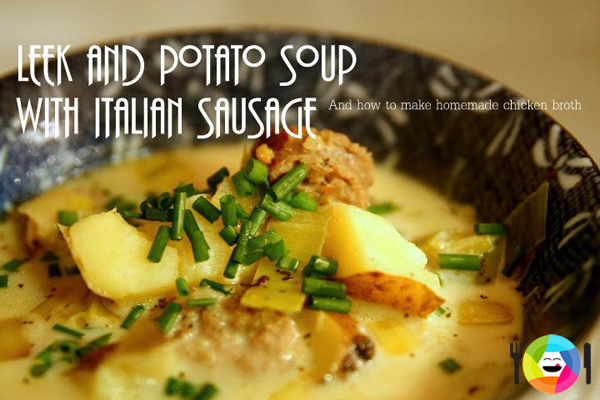 Whenever my children start catching the bugs that are going around I turn to my kitchen as well as my medicine cabinet. I do not always hold off the nasties completely, but many times we have lessened the symptoms with this approach. The secret is good homemade broth. I spend a few easy hours making this liquid gold every few weeks. It is my cure-all. And man, does it work! The recipe I have used for many years comes from the cookbook, Nourishing Traditions.
As Sally says in this article for the Weston A. Price Foundation "Good broth can resurrect the dead." It's like nature's best medicine in a mason jar. It helps your nails and hair grow strong and healthy, it staves off illness from the minerals and vitamins that are tucked into that beautiful golden liquid, which are all made more available to the healing body because they have been boiled down to their most digestible form. I use it often as the base of my tastiest soups. This is one of those soups. For those of you who are interested in making your own chicken stock, here is the link to the recipe.
This soup is one of my very favorites. It works well with or without the sausage, but the added protein gives it even more of an immune system boost.

Leek and Potato Soup with Italian Sausage Recipe
Ingredients
2 Tbs butter
2 leeks (sliced into ½ inch rounds)
2 teaspoons Italian Seasoning, Trader Joe's 21 Seasoning Salute, or a mixed herb mix like Mrs. Dash
1 lb mild Italian Sausage
3 cups chicken stock (see recipe below)
3 cups milk
1 lb baby potatoes, cut into quarters
Salt and pepper to taste
Fresh chives for a tasty garnish
Instructions
Parboil the potatoes.
Slice the Italian Sausage into rounds and fry until cooked through.
Sauté the leeks in the butter until tender (about 5 minutes).
Add in the seasoning.
When potatoes are fork tender, drain and add in the milk and stock.
Turn to med heat and add leeks.
Cook for 7 to 10 minutes while stirring frequently... do not boil.
When the soup is very hot, add in Italian Sausage and salt and pepper to taste.
Serve with fresh crusty bread.