Last week, I turned 35 years young. And like all birthdays, I used the time as an excuse to reflect on the year before and make plans for the year ahead. But this year was unlike any other birthday.
I did 35 acts of kindness. In one day. With 90 minutes to spare! Throughout the day, I took photos and kept a running list of good deeds. My husband, kids, and a few friends helped along the way, and it was the BEST. Birthday. EVER.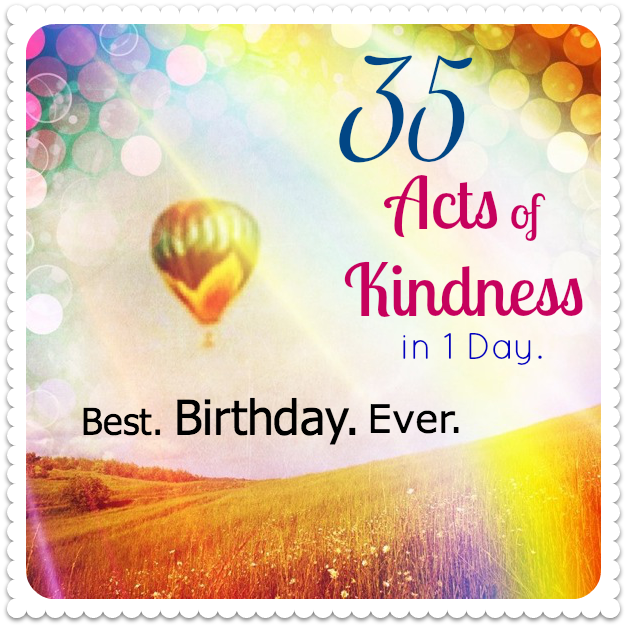 Each act of kindness had a corresponding element of my life for which I am grateful, and I've outlined them below. Some of these cost money, but many were absolutely free and very easy to do. Here they are, in the order I did them:
Grateful For: A Husband with a Great Sense of Humor.
1.Took the Liberty of Updating Hubby's Facebook Status for Him — I noticed that Mark hadn't updated his FB status in a very long time. So I did it for him. So thoughtful of me, no??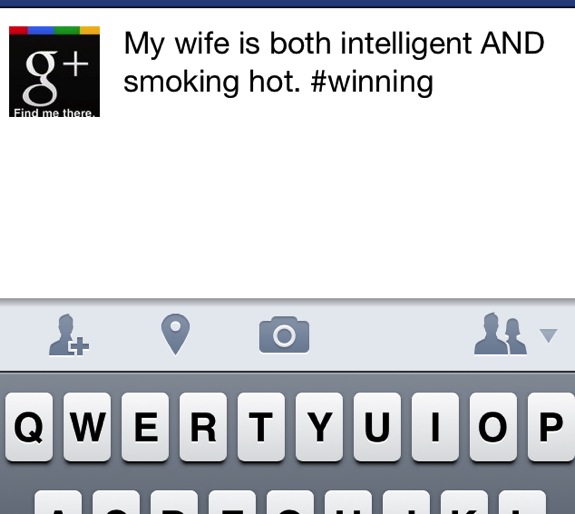 Grateful for: Safe Transportation.
2. $10 Starbucks Gift Card for the Bus Driver — Emily thought of throwing in an air freshener from Southwest Airlines that featured "New Plane Smell". Then laughed hysterically at the idea of her school bus smelling like an airplane. [Update — He informed us later that he enjoyed some tasty coffee!]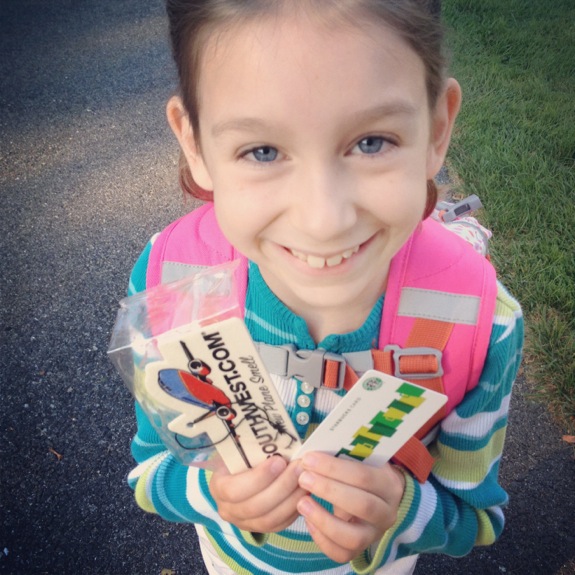 Grateful for: Awesome Teachers
3. Special Treat for Emily's Teacher — Emily had mentioned that her teacher was fighting a sore throat. So together we put together a little "feel better soon" treat with tea bags, sugar packets, a napkin, stirrer, and some cough drops. [Update — Note from teacher said it, "certainly brightened" her day!]
Grateful for: Amazing Kids.
4. Packed a Special Treat in Emily's Lunch — A special note and a few mini marshmallows made Emily smile!
5. Took Clara Out for Breakfast — Thought my little girl could use some one-on-one time at the diner. While we were there, we did several more acts of kindness. We were in the car to leave, and she complained that she was tired, wanted to go home, and had "enough with the kindness". I explained I was just getting started, this was item number 5, and I had 30 more to go. Thankfully, she came around pretty quickly.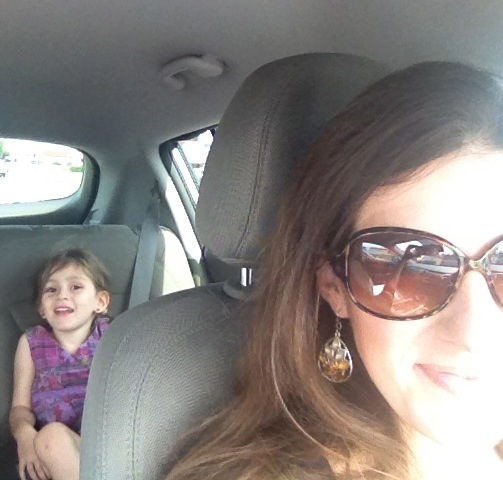 Grateful for: The Wisdom of Elders.
6. Held the Door Open for an Elderly Woman.
Grateful for: Hot Coffee.
7. Paid for Someone Else's Coffee — At the diner, anonymously. The look of surprise was pretty funny!!
Grateful for: Service with a Smile!
8. Left an Extra Big Tip — Little known fact about me is that I worked as a waitress for a few years prior to leaving for college to help pay for some of my books and other living expenses. Waitressing is hard work, and a great restaurant server can make a meal so much more enjoyable.
Grateful for: My Husband's Job
9. Muffins for Everyone at Hubby's Office — Since I can't bake, I ordered a box of muffins while I was at the diner. These things were HUGE!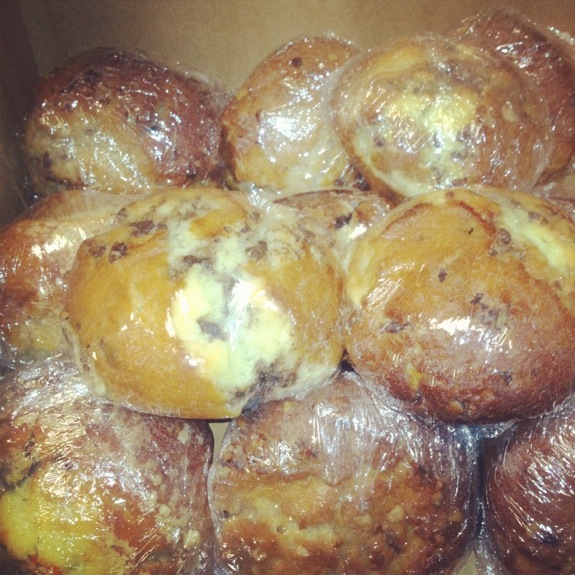 10. Complimented Everyone — While I made deliveries to everyone at Mark's office, I gave sincere compliments to every person there.
Grateful for: Good Health
11. Delivered Copies of Highlights High Five for the kids in the Hospital's Waiting Rooms.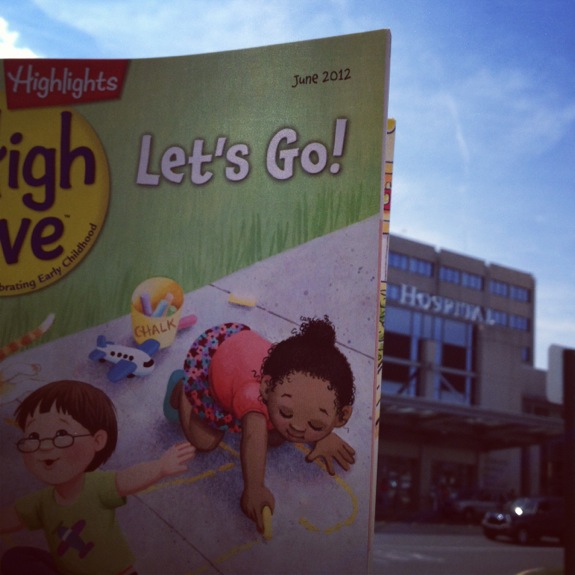 12. Organized Donations of Items for the Pediatric Cancer Foundation of the Lehigh Valley — More on this event to come later. A very special thank you to our awesome sponsors: Stonyfield, Honest Tea, Melissa & Doug, and Highlights. Their generous donations of organic yogurt, drinks, coloring books, crayons, toys, and magazines completely blew me away.
Grateful for: Our Beautiful Planet
13. Picked up Litter on the Sidewalk.
Grateful for: Business Opportunities Available to Me
14. Made a Kiva Loan — Kiva.org is an organization that provides micro-loans to entrepreneurs in developing countries. Lenders can choose what amount to donate, and once the loan is paid off, you can either withdraw your funds or re-loan to another entrepreneur. [Update — this loan has now been completely funded!]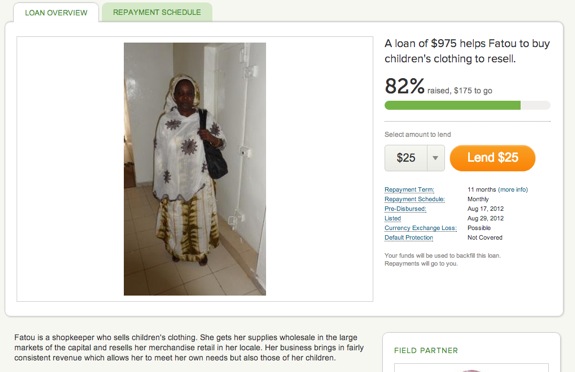 Mark and I have loaned and re-loaned the same $25 over and over again to various Kiva accounts! Of course, every loan carries some risk that it may not be repaid. If you're interested in learning more about Kiva, click here.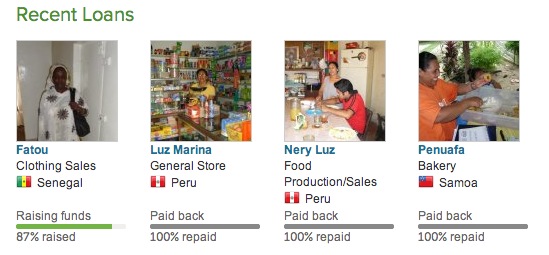 15. Helped a Friend with a Computer Issue.
Grateful for: Our Reliable Mail Service.
16. $10 Starbucks Gift Card for the Mail Carrier — left in the mailbox for a special surprise!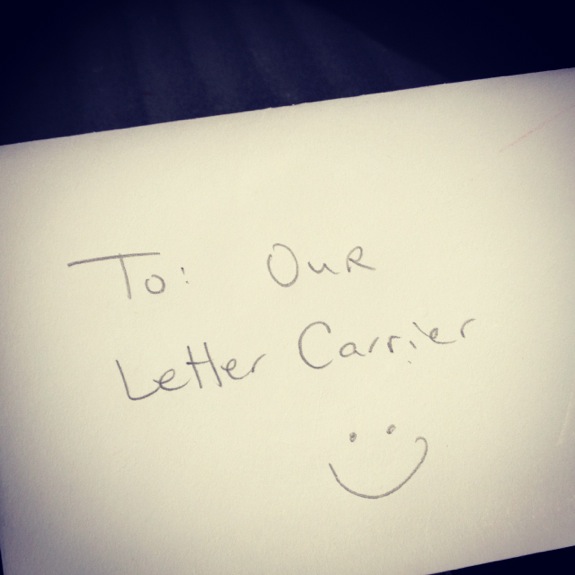 Grateful for: Unexpected Compliments
17. Complimented a Woman on Her Lovely Shoes.
Grateful for: Witnessing Creativity in My Kids
18. Paper Marbling for a Girl's Birthday Party — I couldn't have planned for this, but it worked out perfectly. I got a text message from a friend who was hosting a birthday party for her daughter in just two short hours. Managed to put together some supplies for paper marbling as an ice-breaker activity for ten 5th graders. [Update — Text from my friend 2 hours later said it was a "huge success!".]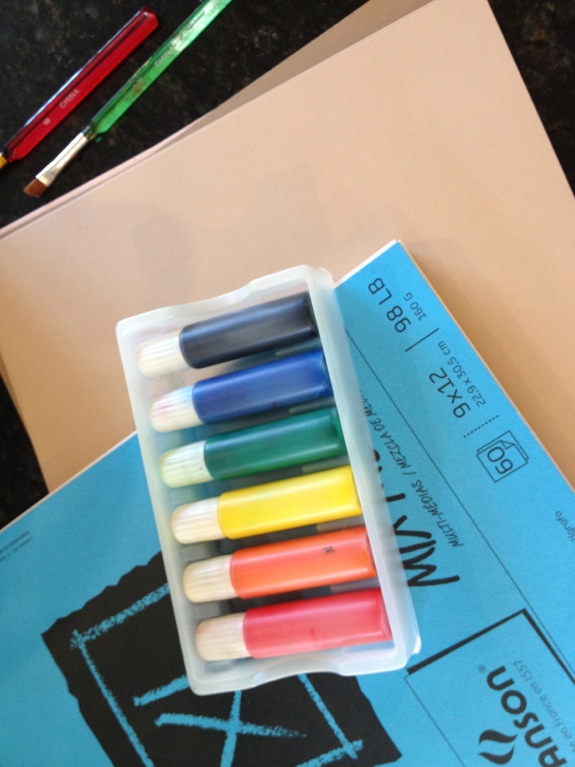 Grateful for: Amazing Parents
19. Complimented a Mom and Dad — On their very well-behaved children at the café. The kiddos were amazingly patient while they waited for their sandwiches and really made me smile.
20. Called My Parents — On Facetime. And shared a laugh with my mom.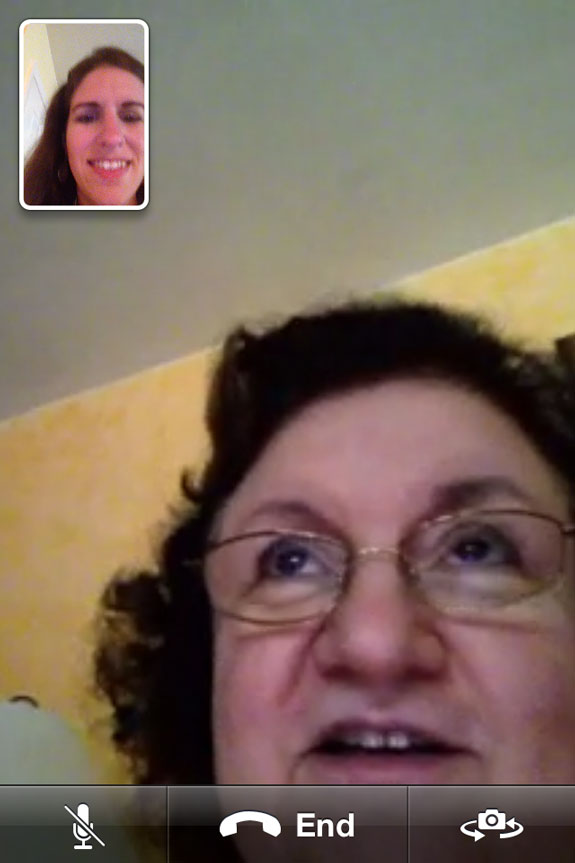 Grateful for: Healthy, Organic Food
21. Surprised a Shopper with Stonyfield Vouchers — Shhhhh! I hid them at the store!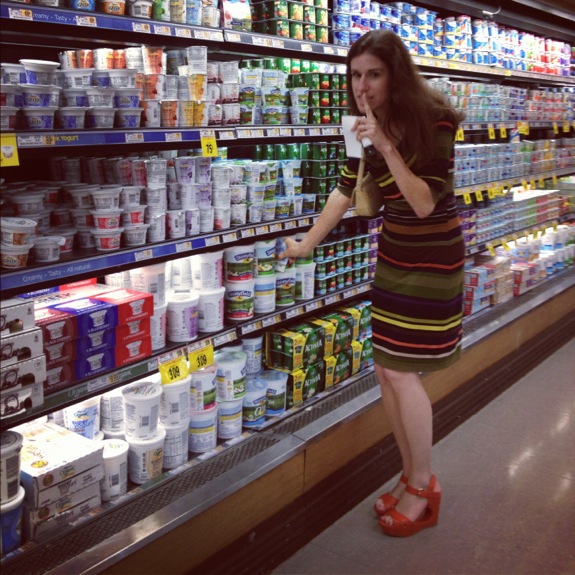 Grateful for: Back-to-School Supplies
22. and 23. Paid down two separate layaway contracts at Kmart down to $0.01 — While this was the most costly item on the list, it was totally awesome. Kmart allows anonymous donors called "Layaway Angels" to donate funds towards someone else's layaway contract. Recipients' names are never disclosed, and donors can opt to have their funds donated toward accounts with children's clothing or toys. Recipients must make their final payments to pick up their merchandize, but Kmart allows donors to take down someone else's layaway to just $0.01.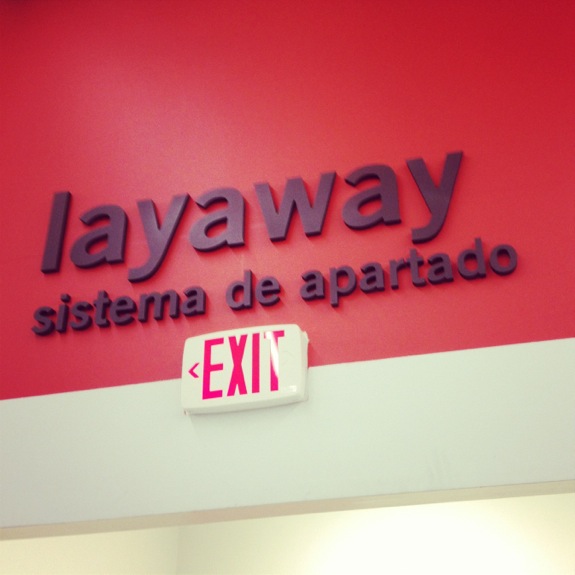 Once a donation has been made, Kmart gives the donor the option of leaving a little note for the recipient. Here's mine!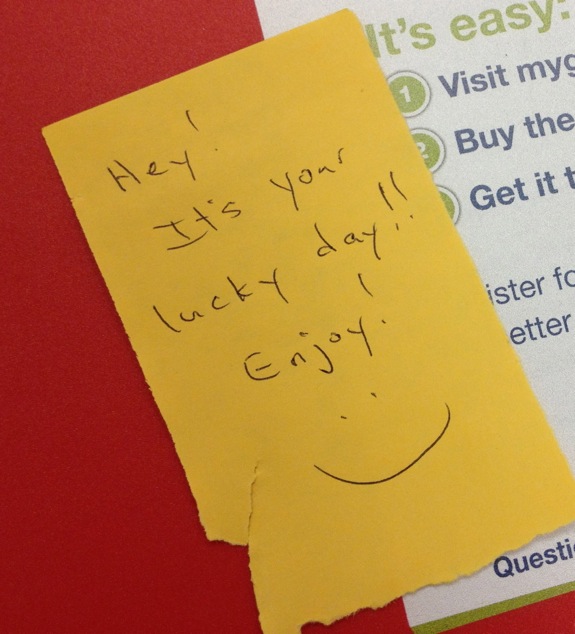 The hardest part of this was in choosing which accounts to pay off! I went with two which had lots of back-to-school items, new shoes, toys, and children's clothing.
And then I cried.
Because the act of buying new shoes for my kids, is something I had been taking for granted. And we have so so so much to be thankful for. If you'd like to learn more about how you can help pay down someone else's layaway account, USA Today wrote a great feature article here. It will bring tears to your eyes!
Grateful for: Amazing Friends
24. Ran a Simple Errand for a Friend — This was easy, but one of those things she had been putting off for awhile. And I was happy to help!
25. Gave Hugs to Friends.
26. Gave a $10 iTunes Gift Card to a Friend — A spontaneous delivery to family friends who love music and apps!
Grateful for: Caring Neighbors
27. Muffins and Hugs to the Neighbors — The elderly couple who lives across the street from us have been like a third set of grandparents to our kids and I appreciate them!
Grateful for: Dinners with My Family
28. Paid for Someone Else's Dinner — Did this anonymously when I went to pick up our order for Chinese takeout and paid for the dinner that was sitting there waiting to be picked up.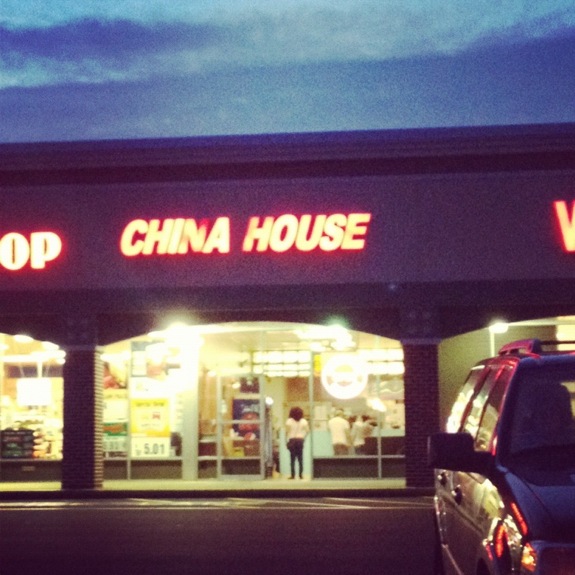 Came home from the Chinese place, ate dinner, then opened my fortune cookie to see this: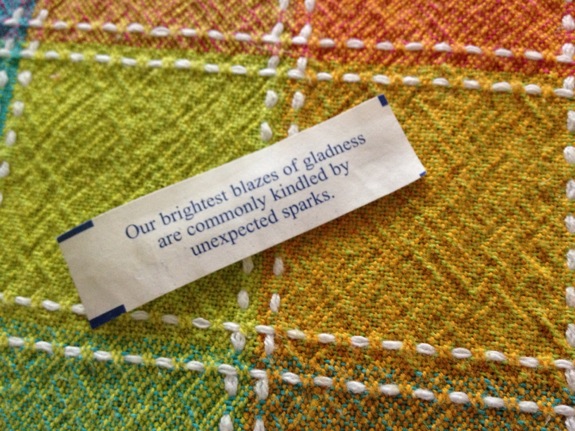 And I couldn't agree more!
29. Donated to the Lion's Club — in the change jar at the checkout counter. Easy peasy.
30. Let Someone Go Ahead of Me — love doing that because it's such an easy way to make someone's day just a bit better.
Grateful for: Men and Women Who Fight Bravely for Our Country
31. Adopted a Soldier — Registered on AdoptAUSSoldier.org and was paired up with a soldier to send letters and packages.
Grateful for: Smiles!
32. Uploaded a Silly Pic to a Friend's FB Page — for a smile! [Update — it worked! And got a laugh too!]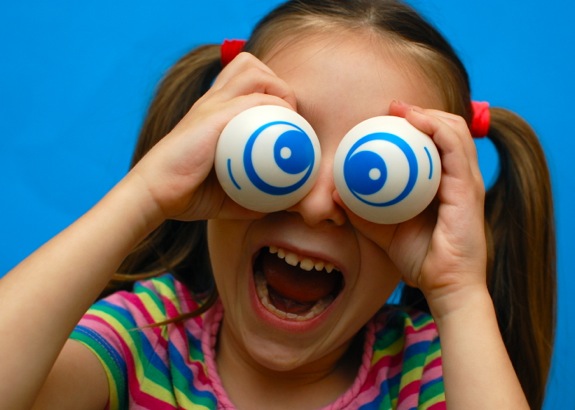 Grateful for: Community Safety
33. Cookies to the Police Station — The look of confusion on the officer's face made me giggle, but I made it a point to say "thank you". Also, my good friend Kimberly supplied both the idea to do this (when the idea of visiting the fire station fell through because no one was there. oops!), and the cookies to donate (which she baked herself). She is totally awesome and accompanied me for the last few items on the list.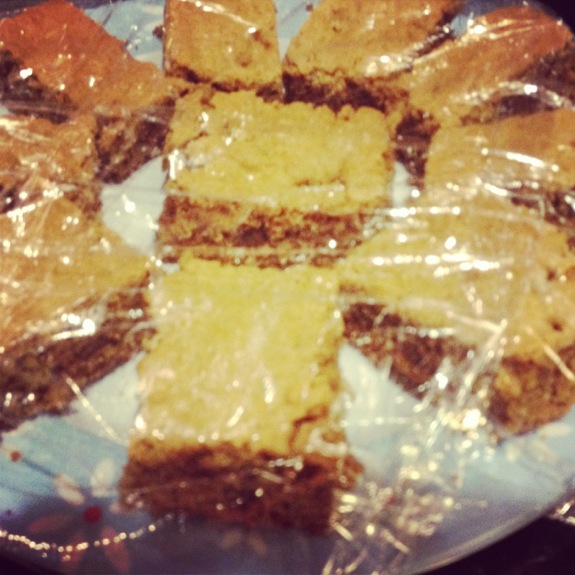 Grateful for: Unexpected Awesomeness
34. Paid for Person Behind Me at the Grocery Store — Had already made up my mind to do it, but the store was practically empty. Was just about to finish checking out, when a disabled man got in line behind me. This was the first time I stopped to explain that for my birthday I was doing 35 acts of kindness. Have I mentioned how much we have to be thankful for???
35. $10 Gift Cards to random diners at a family restaurant — This last one was a LOT of fun!! Surprised three groups of diners at Red Robin w/ gift certificates and every one of them smiled!
And making lots of people smile…??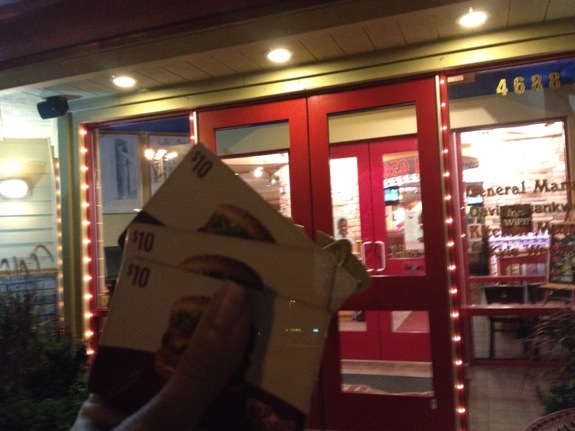 ….well, that's all I really wanted on my birthday.