Update: Giveaway is now closed.. See below for winner announcement!
I am SO excited to be hosting this giveaway, for what I consider to be the BEST toy EVER!!! When I first came across makedo, an Australian toy company, I contacted them to see if they would be interested in sponsoring a giveaway. Not only did they agree to sponsor a giveaway (Yay!!), but their distributor in the US also generously sent us three sets. We were thrilled!!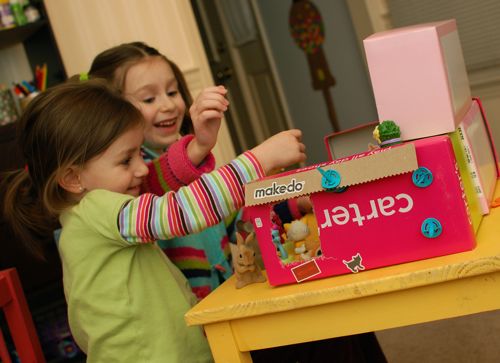 Makedo makes and sells re-useable safe-saws, connectors, and cardboard hinges — allowing kids ages 5 and up to create amazing toys and spaces from recyclables! It's sort of like our Invention Kit, on steroids. They have a Free Play kit, and also several "find & make" kits that give kids a bit more direction for building. For this review, I received a dollhouse find & make kit (pictured below), a play house find & make kit, and a free play kit. They were all fantastic!!
First up, the girls and I tried the dollhouse kit….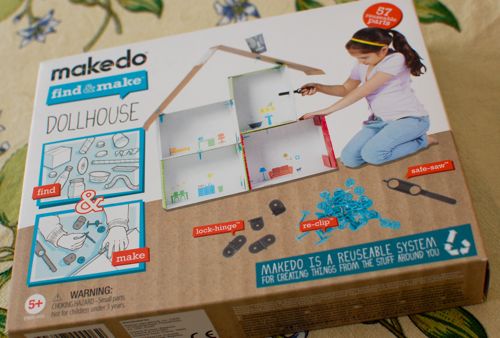 It contains 57 reusable parts, and dollhouse stickers for furniture and accessories. We had several shoeboxes in our Invention Kit, so Emily and I put together this FUN dollhouse in just a few minutes!!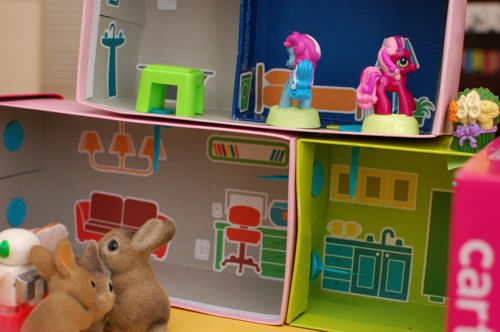 While Emily and I did the building, Clara got to enjoy the finished product almost as much as Emily did — making Emily feel super-proud for making a toy they could both enjoy!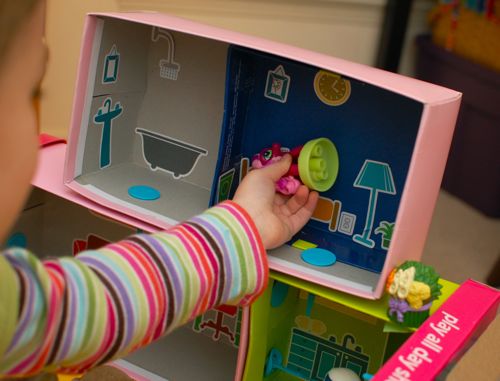 I love how a robot made his way into the kitchen! Who wouldn't want a robot to do cooking for them??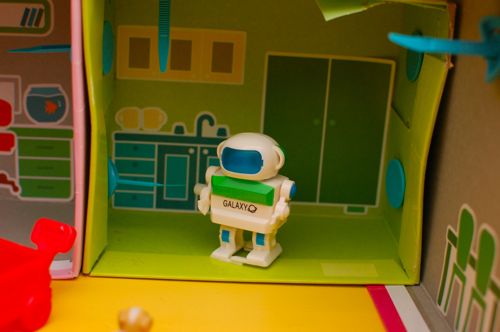 Next up, we used the Free Play kit to make a super-fun playhouse!!!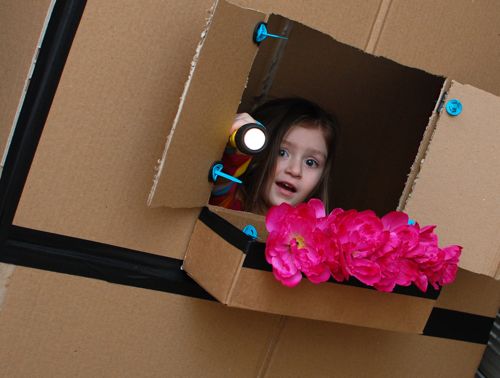 It's hard to say who had more fun with this…. the kids playing with it, or Mark and I while we helped Emily build it! For a couple of engineers like us, we both remarked how incredibly awesome it would have been to have had a toy like this when we were kids. Kids are SO lucky these days!!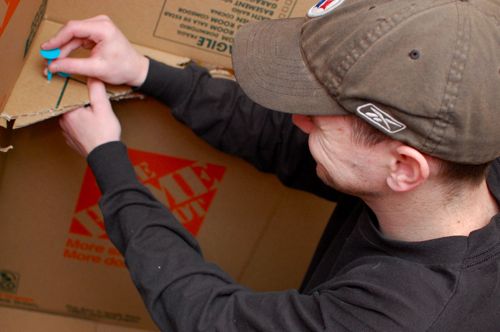 We used four large moving boxes, taped together to form one very large box. If you don't have large cardboard boxes on-hand, they cost around $1.50 each at Home Depot.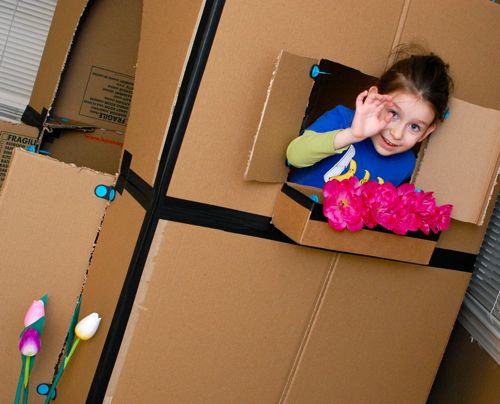 The Makedo connectors made the box very sturdy, and the hinges made shutters and doors that really open and close — so much fun!!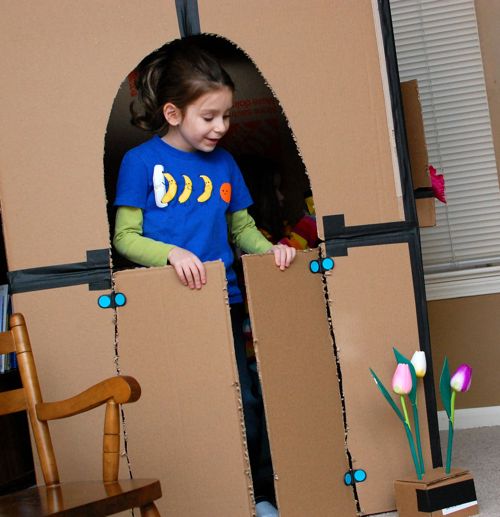 So much imaginative play — and all from recyclables!! I love, love, love this product and its potential for creative fun!!!!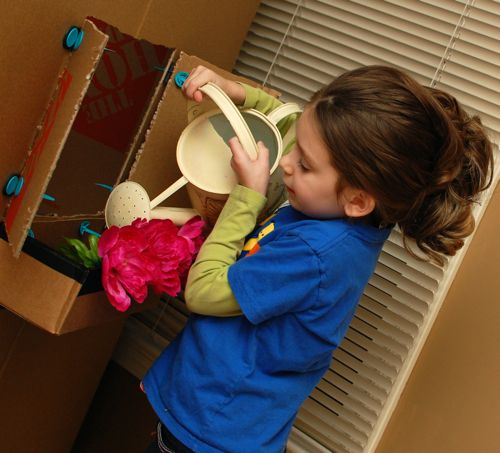 Disclosure: We are a participant in the Amazon Services LLC Associates Program, an affiliate advertising program designed to provide a means for us to earn fees by linking to Amazon.com and affiliated sites.
Now the fun part — One lucky reader will win a Free Play Makedo kit (pictured below)!!!! Giveaway is open to U.S. residents only. Kit includes: 1 safe-saw, 6 lock-hinges, 29 pins, and 29 clips — all of which are reusable! You can buy Makedo Free Play kits for $25.00 each, and they ship anywhere in the world with free standard shipping! For those of you in the U.S., they are available through Amazon for just $15.08 and eligible for free shipping on orders over $25!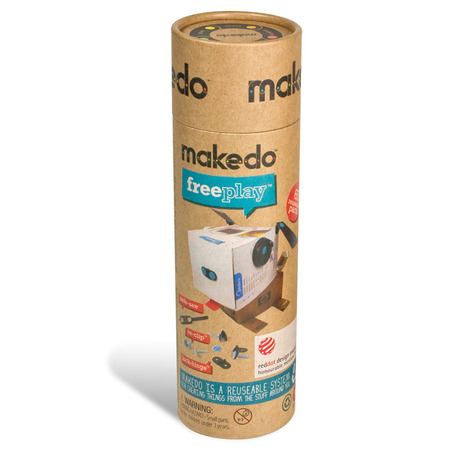 To enter for your chance to win, leave a comment on this post (be sure to include your email address). Easy, peasy!!!
For extra entries, you can blog/Facebook/Tweet about this giveaway, follow us on Twitter, Like us on Facebook, and/or subscribe to our feed. Just leave a comment for each one for your extra entry/entries!!

Giveaway ends Saturday, February 26, 2011 @ 6:30pm EST and winner will be chosen by random.org
Good luck!!
Update: Giveaway is now closed! Congratulations to Martha (comment #348, chosen by random.org)!!! A big thank you to everyone who entered — another FUN giveaway starts soon!!