Happy New Year!!
It's time to feature the number 1 post on FFFB for 2010!! This one was such a hit that in a separate post, I just had to share a few of the other versions done by our wonderful readers! The number 1 post of 2010 is……… Owl Family Play Set!!!! If you haven't already done so, go round up some toilet paper rolls and craft up some adorable owls with the kiddos! 🙂
We have LOTS of exciting things planned for this little bloggy blog in 2011! Fun!!
---
It is good to be home again, and we are back to our usual fun crafty selves! Before I left for NYC, I had left a few paper towel rolls on the kitchen counter to be used for a some upcoming craft projects. Turns out, a certain someone (aka Mark) got a little too trigger happy with the recycling. No recyclable is safe from the crafty-afterlife at our house! Not to worry though, as we happened to be nearing the end of another roll by the time I got home, plus Mark did a great job keeping the house clean, the girls fed, and the cats from killing each other while I was gone. Yay for awesome husbands!! We turned the paper towel roll into this fun owl family play set……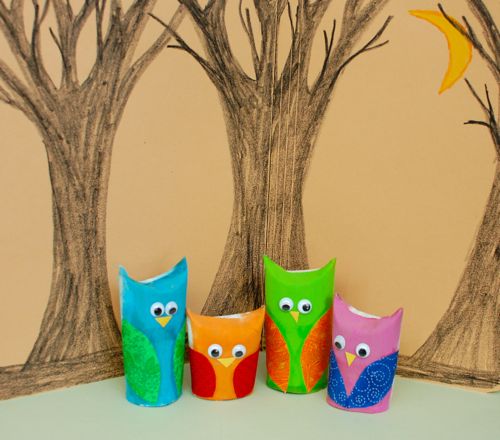 Aren't they adorable?? I couldn't resist playing with them myself! In mind were these fun animals by matsutake. I cut the paper towel roll into different sized segments for Emily to paint. I love the bright colors she chose!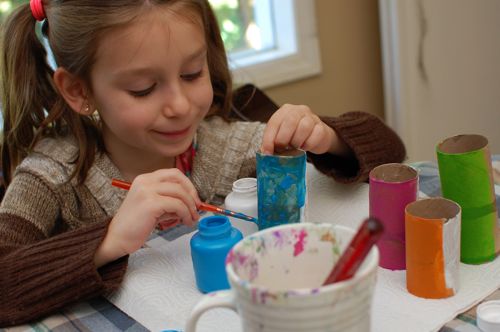 While the rolls were drying, we got to work on the scenery. I did the drawings, and she colored an inexpensive file folder (pack of 10 – $1) to make the scenery for the owls. We even did a day time scene and a night time scene.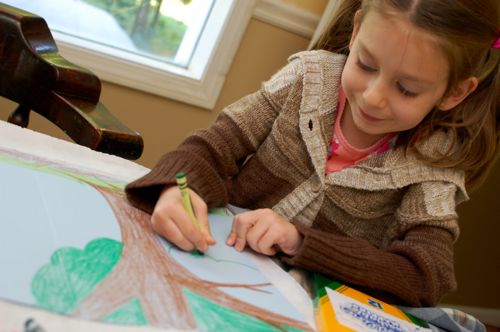 Once the paint was dry, we folded the top of the tubes as shown to make the ears for the owls.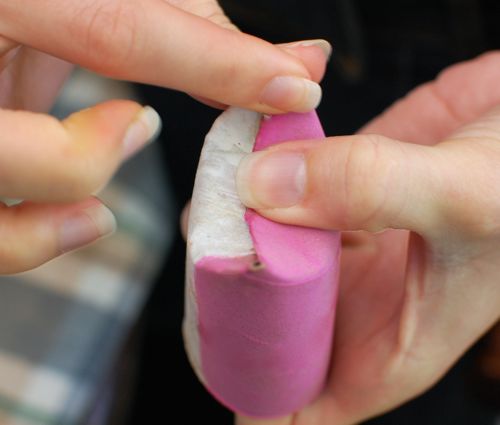 We added some googly eyes, (or you could draw on some eyes), a beak, and we used some glued-on scraps of fabric for wings.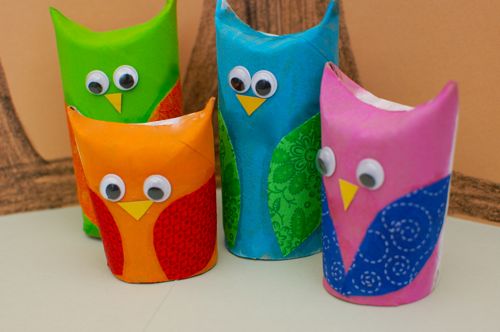 Allow to dry completely (this was difficult, since Clara could barely keep her hands off of them) and play, play, play!!!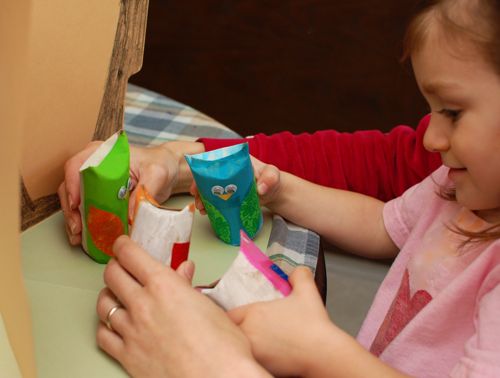 I love how both of the girls enjoy playing with these, and making up all sorts of stories about them!
Have fun!!