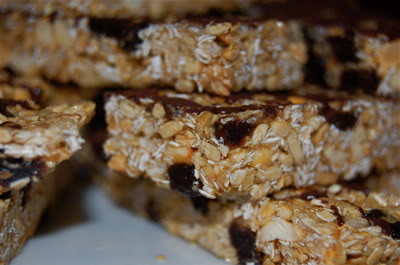 Mark and I took the girls sledding this afternoon, and everyone had a blast! Afterwards, Emily and I whipped up a batch of these delicious homemade granola bars while Mark visited a friend to watch the football game. We go through several boxes of granola bars every month in our household, so by learning how to make our own we save about $16-$20 a month. Have you seen how much granola bars cost recently? Mark will take some to work with his lunch, and I usually grab a few for a quick snack on-the-go.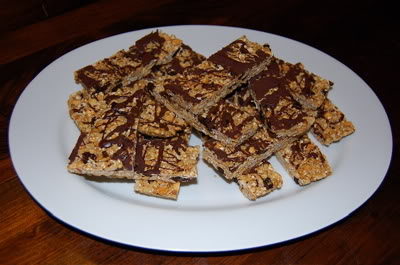 Since these turned out so well, I plan to only make my own from now on.  No high fructose corn syrup in this recipe!
To make your own homemade chewy granola bars, you will need:
For Granola:

2 cups oats

3/4 cup puffed rice cereal

3/4 cup sunflower seeds, salted and roasted

1 cup crushed peanuts, salted and roasted

1/2 cup raisins

2/3 cup brown sugar

1/4 cup honey

4 Tbsp. butter

2 tsp vanilla extract

For Chocolate Sauce:

1/4 semi-sweet chocolate chips

1 tsp. shortening
Spread oats on a baking sheet and toast in a 400 degree oven for about 10 minutes.  Be sure to stir them every few minutes to avoid burning.  Once oats are done toasting, set aside and turn off the oven.  Line a 9 x 13 inch glass baking dish with wax paper and lightly spray with non-stick cooking spray.  
In a small sauce pan over medium heat, mix the brown sugar, honey, butter and vanilla.  Stir frequently, until butter is melted and brown sugar is dissolved. Mix all dry ingredients in a large bowl.  Add the melted butter and sugar mixture and mix all ingredients very well.  
Spread the granola out into the bottom of the prepared baking dish.  Add a sheet of wax paper to the top and press down firmly to make sure your bars are well compacted.  Let cool completely (about 2 hours).
Add chocolate chips and shortening to a double boiler and stir constantly until melted. Drissle chocolate over granola.  Allow to firm up (about 20 minutes).
Carefully transfer granola onto a large cutting board and cut using a very sharp knife and pressing down firmly to make a clean cut. Store in an air-tight container.
Here are some more pictures from this afternoon's sledding adventure: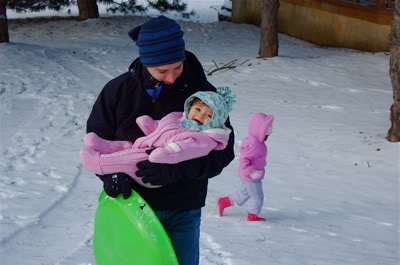 Mark brings Clara back up the hill from her first sled ride.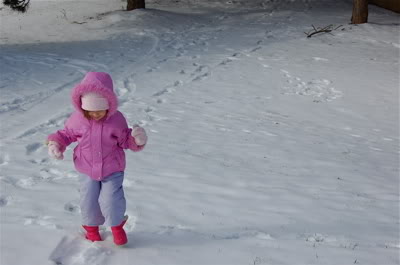 Emily enjoys running around in the snow.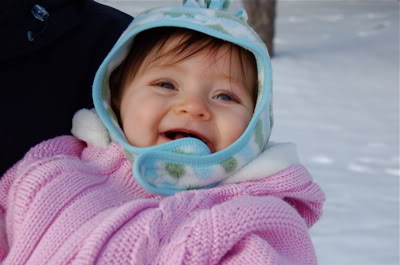 Clara is enjoying her first snow experience!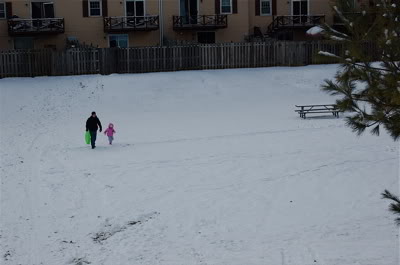 Mark helps Emily make her way back up the hill after a long (and very fast) sledding run.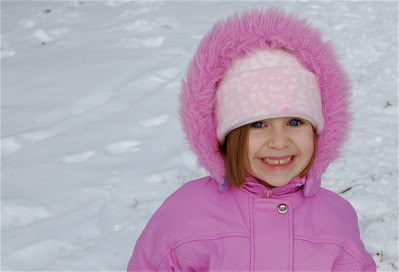 Emily wanted to keep sledding all day long, but was lured back home with the promise of some hot cocoa.
Did your family enjoy a frugal fun-filled weekend?  I would love to hear about it! Leave a comment and share your ideas with us!