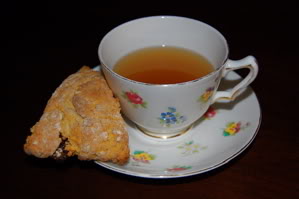 These homemade scones were a fabulous frugal breakfast treat! Mark left for work early this morning, but I was kind enough to save some for him.
No high fructose corn syrup in these scones! I am not much of a baker, but I am so proud of how these turned out.  They are so simple to make, and Emily enjoyed helping me with all the stirring and measuring. We had all of the ingredients on-hand in our well-stocked pantry. After serious taste-testing, Emily and I found that they go great with strawberry preserves and cranberry sage tea.
I love tea!!  
To make your own Orange-Cranberry Scones, you will need:
Nonstick cooking spray

1 3/4 cups all-purpose flour

1 cup rolled oats

1/4 cup sugar

1 Tbsp. baking powder

Finely grated zest from 1 orange

2/3 cup sweetened dried cranberries

1/4 tsp. salt

1/2 cup evaporated fat free milk

3 Tbsp. vegetable oil

1 large egg
In a large bowl, mix all dry ingredients.  In a separate smaller bowl, mix together the milk, egg, and oil.  Add wet ingredients all at once to dry ingredients and stir just until moistened.
On a lightly floured surface, knead dough and gently roll or pat into an 8 inch circle about 3/4″ thick.  Cut dough into 12 wedges.  Coat baking sheet with cooking spray and carefully transfer wedges to prepared baking sheet.  Bake at 400 degrees for about 15 minutes or until golden brown.  Remove from baking sheet and let cool on a wire rack for 2-3 minutes.  Serve warm.  
Here are some pictures of our slow scone morning: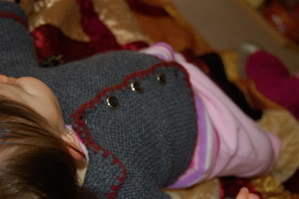 I knitted this jacket for Clara.  The grey matches her eyes beautifully.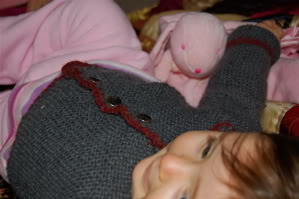 She is growing so fast!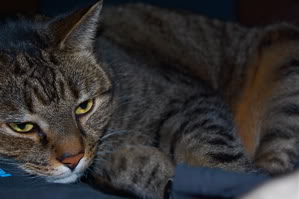 Samba is taking things slowly too.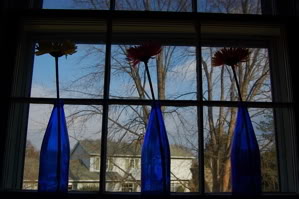 Flowers on the windowsill in Emily's school room.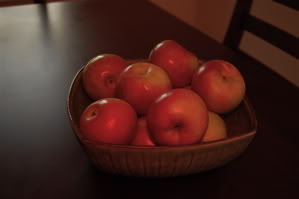 Early morning sun shining through the dining room window on the bowl of apples.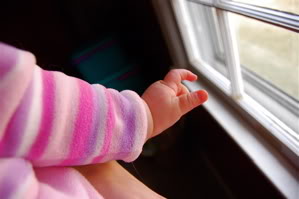 Clara's tiny hand.
Have a frugal breakfast treat idea that your family enjoys?  Leave us a comment and share with us!