For some parents, homeschooling is a new experience! We're not accustomed to being a teaching resource for our kids, and schooling at home has become a little stressful. If you have kids at home who are homeschooling or distance learning, you can use this time effectively without letting your child's education suffer! Here is how to effectively school at home during a quarantine.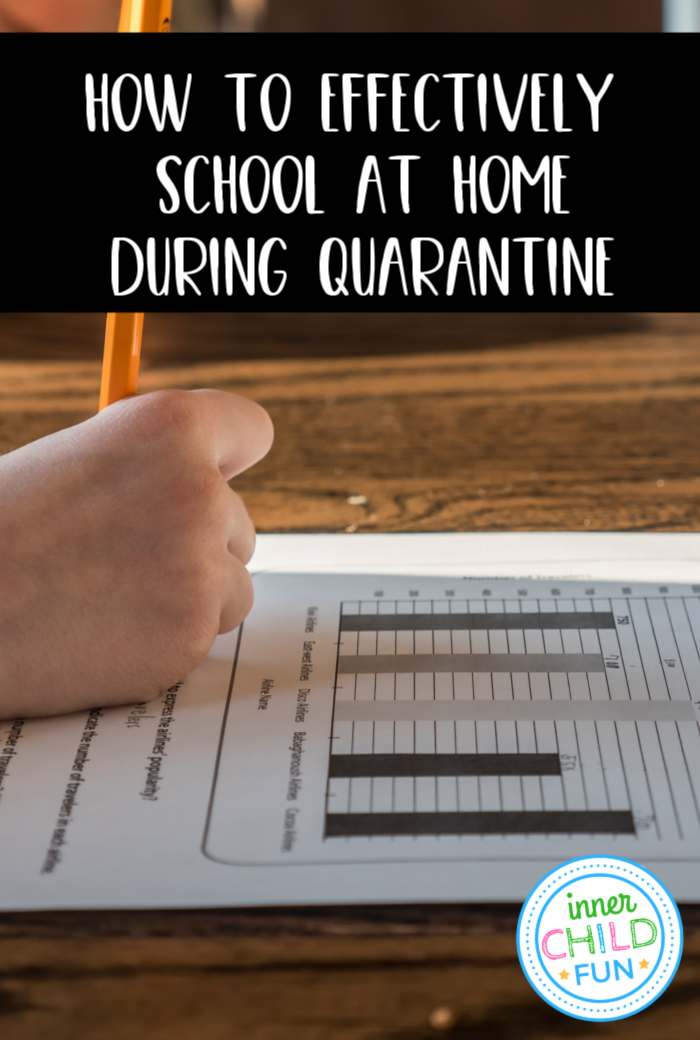 Set up a dedicated learning space
If you are not accustomed to homeschooling, then you might have a small space for homework, and that's about it! You don't necessarily need to create a home classroom, but you should have a dedicated space that is only for learning. If you have a family room or dining room table that's not getting a lot of use right now, you can easily transform this into a learning space for your kids! This will also make it easier to separate the classroom learning time from the rest of their day. See also: Creating Inviting Learning Spaces at Home and a Super Easy DIY Homework Station.
Use the resources available to you
There are so many apps, websites, and other resources that can enrich your child's homeschooling experience. You can let them tour museums, explore mars, and even see the actual exhibits they're learning about in their history lesson from your home computer. Don't be afraid to use an app or website when setting up a school at home during a quarantine.
When in doubt, read
Not only is reading together a great way to bond with your child, but it can also help with writing, vocabulary, and spelling skills as well. The more your kids encounter words in their daily life, the better spellers they will be! If you are at a loss for what to do, let your kids take some time to read. This will be a great relaxing activity for when they're stressed and it doesn't require a lesson plan. See also: How to Create the Perfect Book Nook.
Take breaks, often
Daily schedules and routines are likely a jumbled mess at this point. You may find that you may need more or less time to do schooling activities than you think. To break up the long days, make sure that you are taking frequent breaks to avoid burnout. This isn't just for you, but your kids as well. Taking a quick ten-minute break can help them burn some energy, so they're ready to learn. See also: 10 Sanity Saving Activities for Quiet Time.
Be available to help but don't get in their way
Being a teacher from a distance is a stressful job! Be there in case your kids have a question or need help, but let them try to figure things out for themselves first. If you get in their way, you may end up keeping them from learning and having the opposite effect of what you intended. Instead, let them try things on their own first before you step in.
Remember to give yourself some grace, my friends! This experience will make your children stronger learners, and you are giving them a unique opportunity at home! I know how stressful this can be, but remember to give yourself some grace and do the best you can.
More School at Home Resources to Explore: