This Top Secret Rainbow Mission is a creative and active way to count down the days leading up to St. Patrick's Day, or anytime you want some colorful fun! Each day features a creative color-themed activity for the kids to do that is quick and easy. The free template makes it simple to print and play. I love how the kids looked forward to completing their rainbow missions after school each day! The Top Secret Rainbow Mission has now become one of our family's favorite St. Patrick's Day traditions.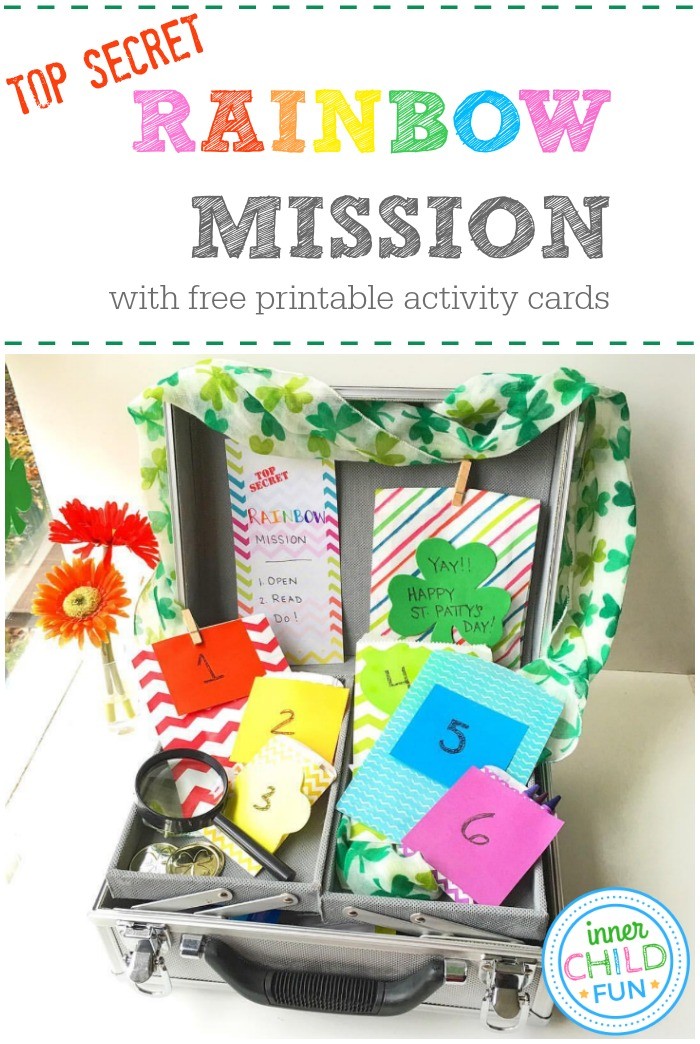 Here are the activities we did together on our top secret rainbow mission:
RED — Eat a RED fruit or vegetable today.
ORANGE — How many ORANGE things can you find in this room?
YELLOW — Make some YELLOW lemonade. (attach a packet of lemonade mix)
GREEN — Plant something GREEN today. (attach a seed packet of green beans, peas, and/or lettuce)
BLUE — Look at the BLUE sky and do some cloud gazing today.
PURPLE — Draw a PURPLE picture and give it to a friend. (attach purple crayons and/or purple colored pencils)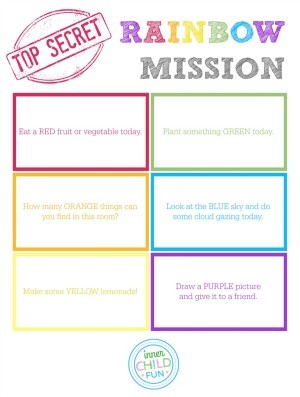 Download the FREE Printable Activity Cards Here
Print the activity cards onto thick card stock paper and cut them out. You can hide them around the house for a color-themed scavenger hunt! You may want to leave a small treat to be opened on St. Patrick's Day — a new pack of crayons and a coloring book would go perfectly with the rainbow theme. If you use our free printable activity cards, be sure to share your colorful adventures on Instagram — tag us @InnerChildFun and use hashtag #RainbowMission to join in the rainbow fun!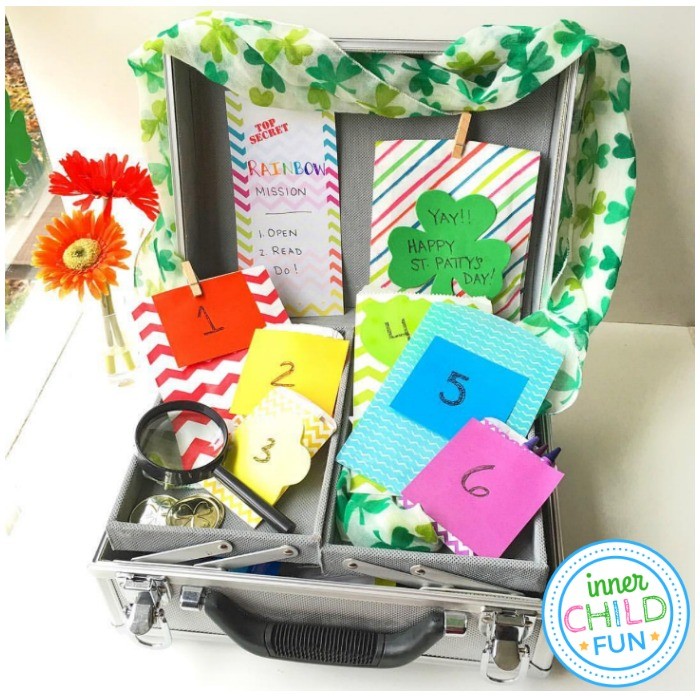 Favorite Rainbow Picture Books:
Disclosure: We are a participant in the Amazon Services LLC Associates Program, an affiliate advertising program designed to provide a means for us to earn fees by linking to Amazon.com and affiliated sites.
More Rainbow Activities for Kids: