Here are some St. Patrick's Day treats that kids are sure to love!  This dye-free Rainbow Fruit Pizza is part cookie, part short bread, part fruit salad, and all yummy. It is the perfect non-candy treat for St. Patrick's day or, well, any day!  This Rainbow Fruit Pizza is a great way to encourage kids to try to eat a variety of colorful fruits.  Invite the kids to join you in the kitchen for some quality time together while they prepare their own snack!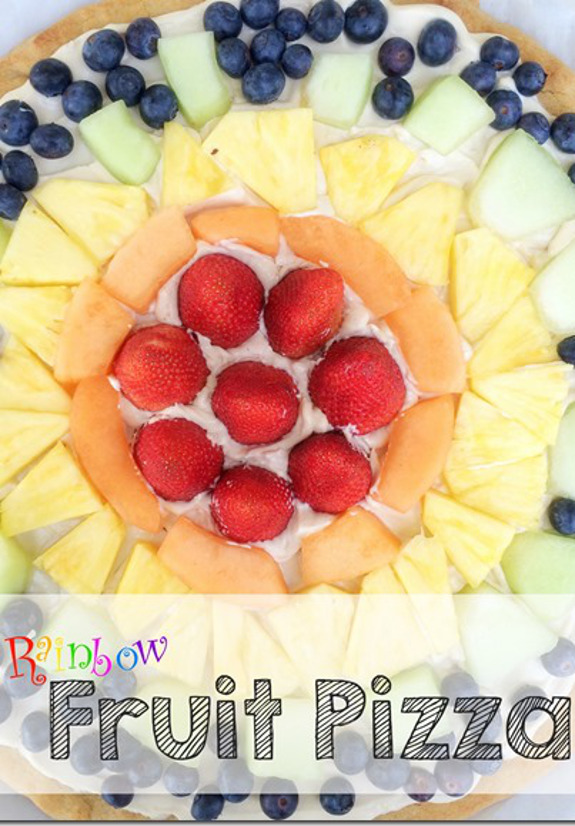 Here's how to make a Rainbow Fruit Pizza
Whole-Wheat Shortbread Crust:
Wet ingredients:
2 sticks of softened butter
1 cup sugar
1 egg
2 teaspoons vanilla
1 tablespoon heavy cream
Dry ingredients:
3 cups whole wheat flour

1 1/2 teaspoons baking powder

1/2 teaspoon salt
Whip the butter and sugar together until it is fluffy.  Add the rest of the wet ingredients and mix well.
Sift the dry ingredients together and add to the wet ingredients little by little until fully incorporated.  If it is too dry, add a little more heavy cream.
Roll the dough between two parchment sheets so the sticky dough doesn't stick to the rolling pin.  When it is flat, place it on a cookie sheet and put it in the fridge for about 30 minutes.
Remove the dough from the fridge and remove the top piece of parchment.  Form the dough into the shape of your pizza.  We made a round pizza, but you can make whatever shape you want!  Bake at 375°F for 10-15 minutes or until the edges are slightly browned and the center is cooked through.  Allow the crust to cool completely before adding toppings.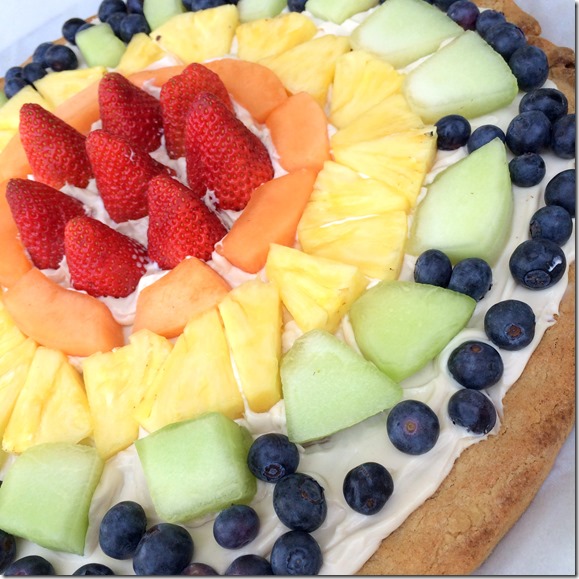 Fruit pizza "sauce":
One package softened cream cheese (8 oz)
1/3 cup sour cream
1/4 cup brown sugar
Combine well and use as "sauce" on the shortbread crust.
Now, add colorful rainbow fruit of your choice.  We loved yummy berries and pineapple on ours!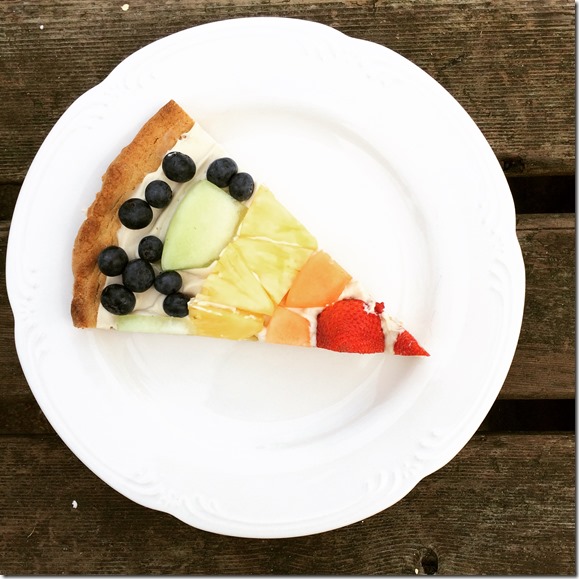 It slices just like a pizza!  You can even pick it up and eat it.  Happy St Patrick's Day!
More St. Patrick's Day Treats: