Aye, Matey! Arrrr ye ready for International Talk Like a Pirate Day? Me thinks it is September 19th every year, me hearties. Shiver me timbers! What a fine day it will be! Herein lies the best Talk Like a Pirate Day activities for lads and lassies to enjoy. Ye landlubbers can take part in the festivities from home. No need to set sail on the high seas. Yo ho ho!!
10 Best Talk Like a Pirate Day Activities for Kids:
1. Hunt for Treasure
Bury some plastic gold coins in the sandbox. Invite the kids to use shovels and sifters to dig for their buried treasure.
2. Decorate Newspaper Pirate Hats
Fold newspaper to make your own paper hats. Use crayons or markers to decorate them however you would like.
3. Complete the Compass Rose
Practice navigating your pirate ship with cardinal directions. (See photo above.) Use the North clues to fill in the other directions of the compass rose.
4. Eat a Pirate Snack!
Be sure to include "shark bait" fish-shaped crackers and "planks" of string cheese. Gummy fish are always a fun treat too!
5. Read a Story Book that Features Pirates
Some of our favorites are Peter Pan and Treasure Island.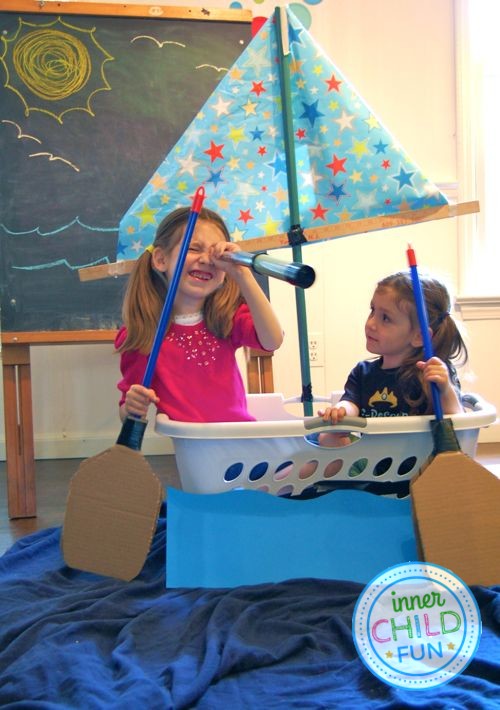 6. Laundry Basket Pirate's Ship
Create an invitation to play with an empty laundry basket and a simple sail made from a wrapping paper tube. Set sail on many adventures!
7. Make a Cardboard Tube Spy Glass
Easy, quick, and super fun! Every good pirate needs a spy glass!
8. Gold Coin Math
Sneak in some early addition and counting practice with a little gold coin Math. Get full details here.
9. Make an Eye Patch
Complete your pirate look with an eye path made from elastic cord and black craft foam.
10. Race Cork Boats in the Tub
These cork boats are simple to make and great fun to race! Get the full tutorial here.
More Pirate Activities to Explore: