This grilled honey lime chicken became one of our favorite Summer recipes in our household! I love that the kids helped to make up the marinade, and they picked fresh green beans from our garden to go along with it. I cooked up a side dish of jasmine rice, and it was all so delicious! Since the kids had an active role in making this chicken dish, and harvesting the vegetables, they were excited to give this new recipe a try. We cooked up two batches of this grilled honey lime chicken so we would have leftovers to thinly slice for Asian Sesame Chicken Salad — yum!!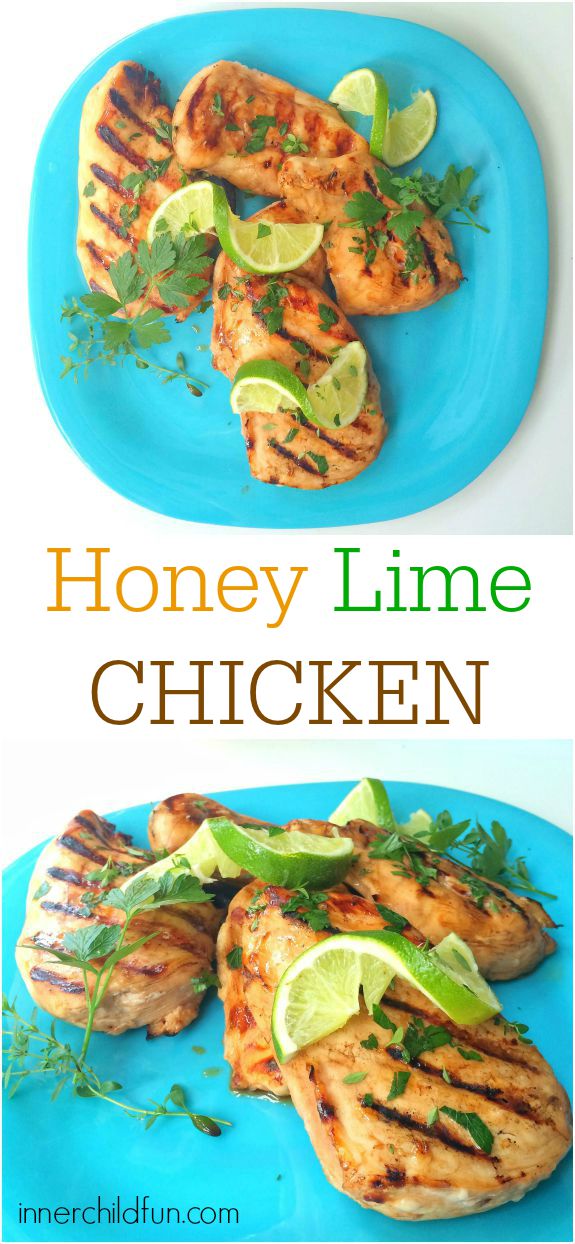 To make honey lime chicken marinade, you will need:
juice from one lime
1 Tbsp honey
1/3 cup low sodium soy sauce
1 Tbsp finely chopped fresh parsley
salt & pepper to taste
Whisk together ingredients listed above and pour over 4-5 boneless skinless chicken breasts in a shallow dish. Refrigerate for about 2 hours.
Heat grill on medium high (375-450 degrees F), and cook chicken for 2-3 minutes on each side, depending on thickness of chicken. Insert an instant-read meat thermometer into the thickest portion of chicken breast, and it should measure 165 degrees F to ensure doneness.
Garnish with slices of lime and fresh sprigs of parsley. Serve with cooked green beans and jasmine rice.
Enjoy!!
Leftovers for Lunch Idea:
Thinly slice the leftover chicken and combine with romaine lettuce, shredded carrots, mandarin oranges, sliced almonds, roasted sesame seeds, and drizzle with Asian Sesame salad dressing. This is one of our favorite ways to enjoy leftovers of this grilled honey lime chicken, but it is delicious in a sandwich or wrap too.
More Favorite Summer Recipes to Try: