The response to the Camp Playful FREE 5 part video series has been amazing! Have you registered yet? If not, click here to register now for instant access to detailed video tutorials for week 1's projects. Join thousands from around the world as we play and craft together this Summer! Camp Playful projects are designed for kids ages 5-12 and use common household materials you probably already have on-hand — classic Summer fun!!
Click Here to Register for Camp Playful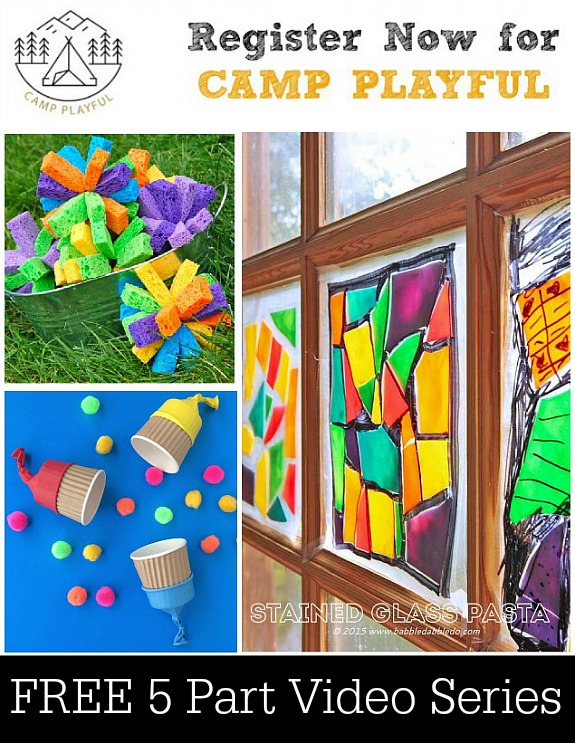 Here is a quick sneak peek at what is coming up for Week 2 of Camp Playful:
Camp Playful is a FREE 5 Part Video series delivered to your email inbox containing video tutorials for 3 inspiring Summer projects each week for 5 weeks. Be sure to register so you don't miss a thing!
These party poppers from Maggy at Red Ted Art are BURSTING with fun!
Ana is sharing a tutorial to make beautiful stained "glass" from pasta. These are stunning!
This week, I'm sharing a tutorial to help you keep cool all Summer long with homemade Sponge Bombs. Fun!!
Don't forget to share photos of your finished projects on Instagram with the hashtag #CampPlayful — we LOVE seeing all the fun!
Here are some of our favorite photos from Week 1:

From left to right: Instagram photos from loriamm, amanda.pearce.96, and napifork.
In case you missed Week 1, you can check out the sneak peek here!
We hope you are enjoying this video series and wish you lots of fun adventures this Summer!