This Spring spelling activity is a simple, easy, and festive way for kids to practice their spelling words! The kids start by saying the word, then match the word on the flower to the corresponding word on the paper, and finally write the word out on a sheet of paper. Added bonus — Read below to see how you can even use the craft foam flower cut outs in the bathtub for more creative learning fun!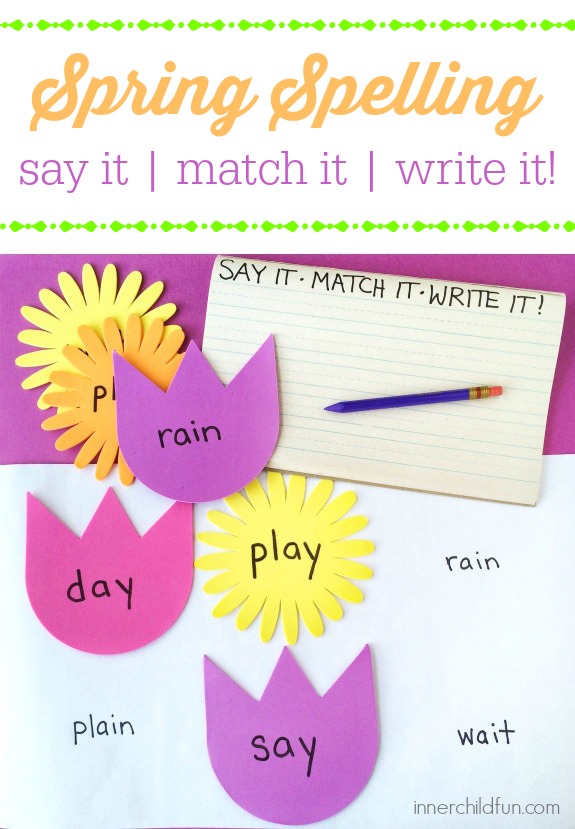 For this Spring spelling activity, you will need:
Step 1 — Prepare the Flowers
Use scissors to cut out flower shapes from craft foam.
Step 2 — Write the Words
Use a permanent marker to write the spelling words on the flower cut out shapes. Arrange the flowers on a piece of butcher's paper so they all fit. Lift up one flower at a time and write the same word on the butcher's paper.
Step 3 — Invite Your Child
Invite your child over to practice their spelling words by first matching the flowers to the correct spot on the paper, and placing it on top. Next, she can use a pencil to write the word on a sheet of writing paper.
Tip — These craft foam flower cut outs will stick to smooth surfaces when dipped in a little water. This activity can be repeated in a bathtub using bathtub crayons along the shower wall, and dipping the shapes into water to stick them on the corresponding words!
More Spelling Activities to Try:
Disclosure — This post contains affiliate links. Thank you for supporting us!