This super quick learning activity for preschoolers is easy to set up and only uses a few materials! It's great for practicing spelling, letter identifcation, phonics, handwriting, and fine-motor skills. My daughter thought this "Build It! Write It!" activity was such a fun way to learn, and I later kept the materials available to her as an open invitation to play and learn throughout the day. I love how she could self-correct her own work! A big thank you to our friends at Melissa & Doug for sponsoring today's playful learning activity to keep kids actively learning throughout the Summer months!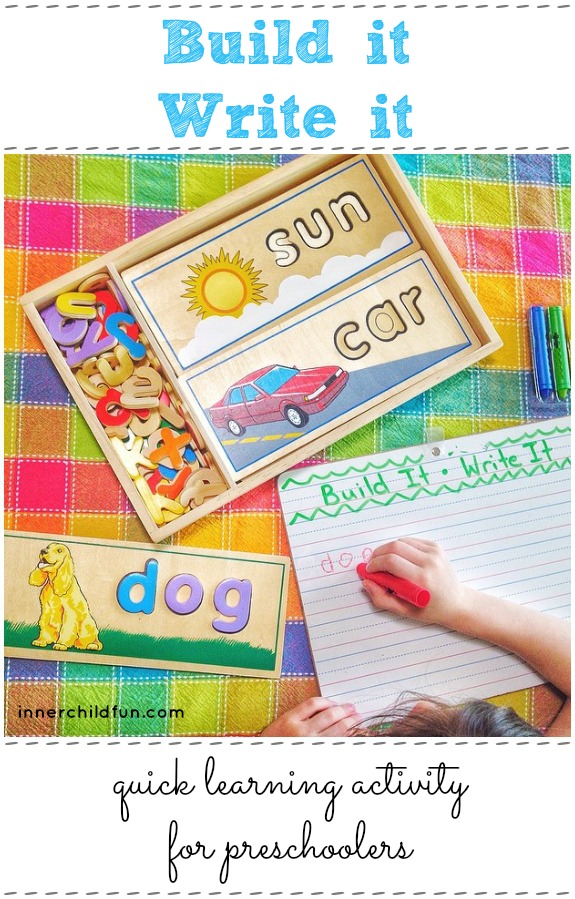 Build It! * Write It!
Materials Needed:
Directions:
1. Build It!
Invite your child to build the words using the See & Spell Puzzle Set. This is a great time to work on letter recognition, and my daughter loved searching for the right letters to build her words! Ask your child to identify each letter and the sound it makes to help develop phonics skills.
2. Write it!
After building each word, encourage your child to write the word with the wipe off crayons on a white board. My daughter loved the novelty of the white board, and it was easy for her to wipe the board clean if she made a mistake along the way. This is a great time to show your child how to double-check their spelling using the See & Spell as a guide!
3. Repeat!
Repeat steps 1 and 2 with another word in the See & Spell set. We used about half of the words in one sitting, and my daughter came back to work on this more on her own later that same afternoon. If conditions allow, you may want to keep the materials out as an open invitation to play and learn throughout the day!
Have fun!
Other Learning Activities to Explore:
Disclosure: This post is sponsored by Melissa & Doug as part of the Melissa & Doug blog ambassador program. All opinions are my own.