Looking for a fun rainy day activity? Do your kids enjoy crafting, but you never seem to have all of the supplies you need on-hand? Exciting news — Seedling, a company based in New Zealand, is bringing their fantastic craft kits to the US! There are over 250 different kits to choose from, and they are perfect for a rainy day activity, or anytime you want to foster creativity in your home. A big thank you to our friends at Seedling for providing us with samples for the purpose of this review and for sponsoring today's creative craft post!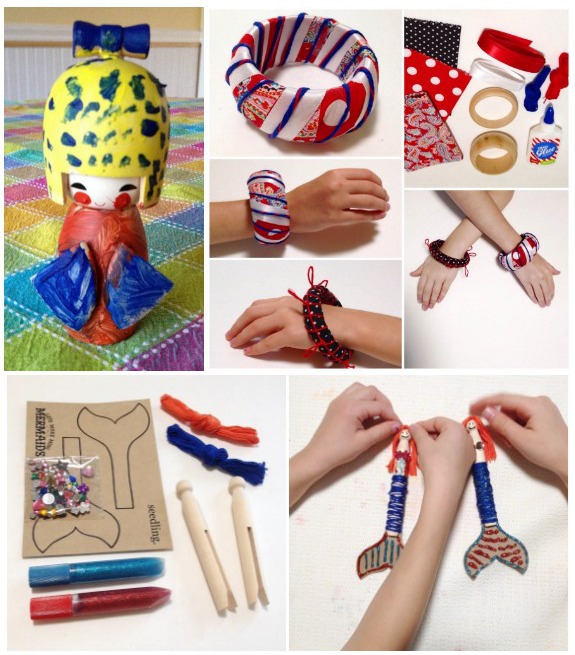 What I love most about Seedling craft kits is that they provide high quality crafting materials, and open-ended projects that give kids the opportunity to experiment with possibilities. Kids can complete the projects however they desire! The packaging for Seedling kits is designed to be environmentally friendly, made with recycled cardboard and the plastic film that is on some product packaging is PET. Some kits, such as the Let's Make Little Mermaids Kit, encourage the reuse of the packaging as part of the crafting process as well.
You won't find strict instructions in a Seedling craft kit, but rather some products contain a gentle guide for how to get started — perhaps with a kind reminder that not every project needs to be done in a single sitting. Others, contain only the quality supplies and tools needed to make a project.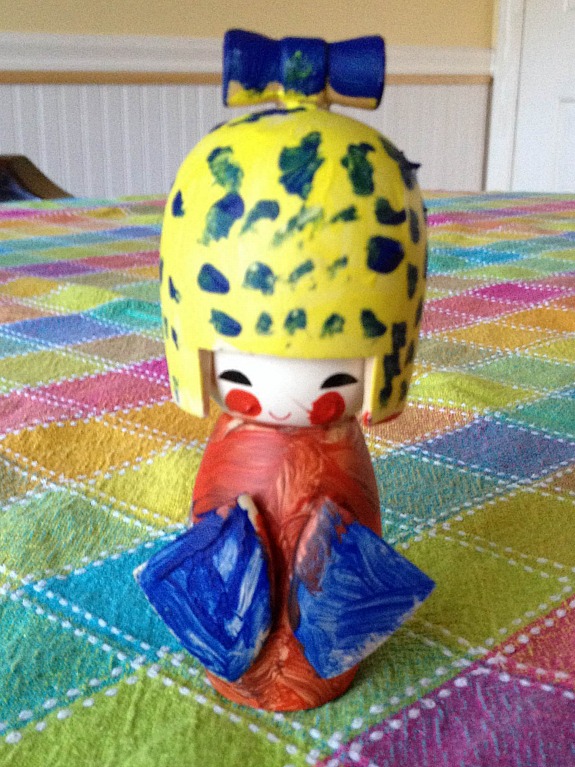 The first kit my 6 year old wanted to complete was the Paint Me Kokeshi Doll Kit. It comes with 3 tubes of acrylic paint (one each of red, blue, and yellow), a paintbrush, and the wooden Kokeshi doll. Clara was happily entertained for a long time while painting her Kokeshi doll! Once the doll was painted and allowed to dry completely, she spent a long time playing with it too. This would be a great stocking stuffer for the holidays, or a fun way to brighten up an otherwise rainy day for a child who loves to paint!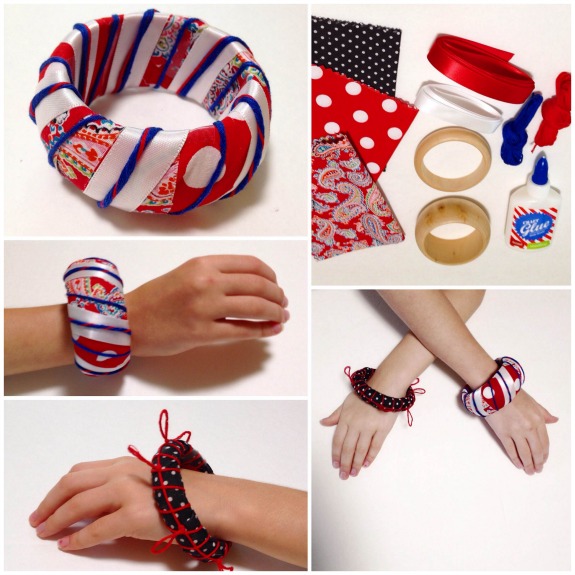 Next, we explored the Make Your Own Indie Bangles Kit, and it did not disappoint! The kit comes with two wooden bangle bracelets, patterned fabric, 2 colors of embroidery floss, 3 colors of ribbon, and glue. We were so happy to have this kit on-hand for a rainy day! Since the girls' grandmother was visiting for the weekend, they enjoyed doing this kit with her. The bangles turned out looking very posh, don't you think?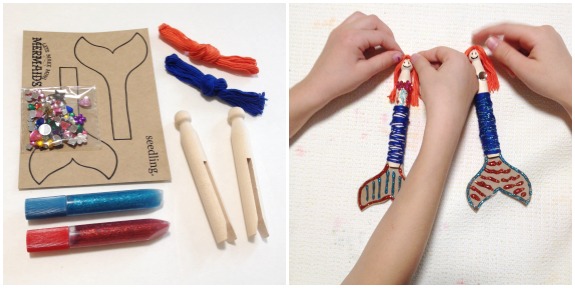 Finally, we enjoyed the Let's Make Little Mermaids Kit with enough materials to make two mermaid peg dolls. The kit comes with two wooden laundry pegs, cardboard tail templates, 2 colors of embroidery floss, 2 tubes of glitter glue, and a pack of sequins. The girls loved the simplicity of this kit, and were very proud of their mermaid doll creations! They even have plans to have the mermaid dolls star in an upcoming stop-animation project!
If you are looking for a simple way to encourage your kids to try open-ended projects and foster their creativity, we found Seedling's DIY kits are a wonderful option!
Seedling encourages parents to upload photos of their kids' creations to the Seedling NZ Facebook Page, or to share them on Instagram — you can tag them @Seedling_NZ
Disclosure — I am a Seedling Blogger Ambassador. This post is part of a sponsored campaign. I received compensation for my participation, but my review and opinions are my own.