These quick and easy after school snacks are a great way to pack in nutrition in a short amount of time — perfect for busy family schedules! A big thank you to
Capri Sun
for sponsoring today's after school snack ideas! I like to have Capri Sun Juice Drinks on-hand for a portable and convenient drink the kids love whenever we are on-the-go. I also love that they are made with no artificial colors, flavors, or preservatives, and now they feature a new clear bottom pouch!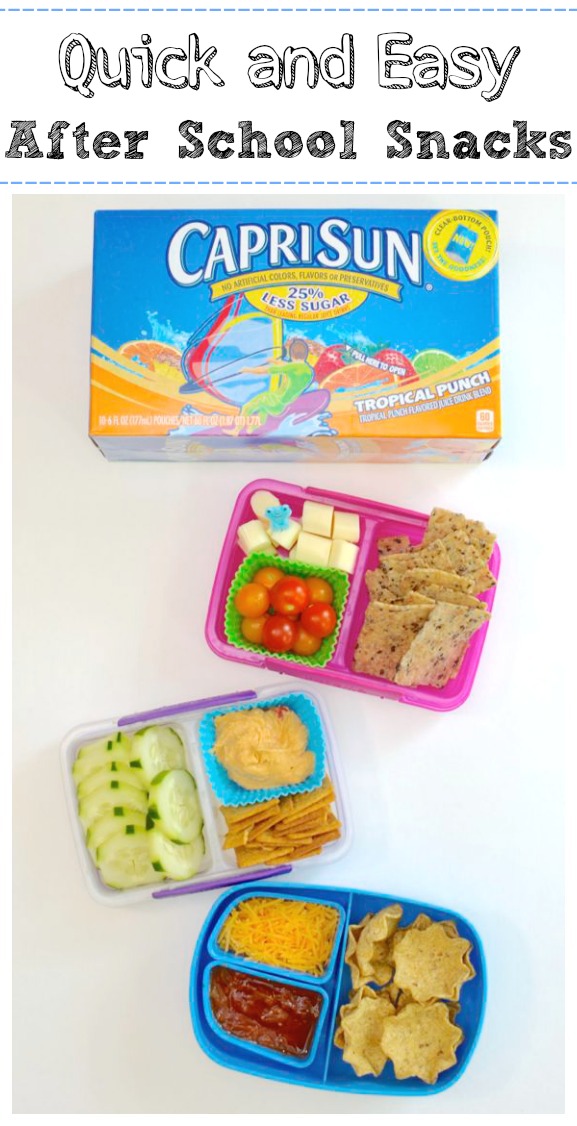 The clear bottom pouches make it easy to check for punctures or leaks, and you can see what a drink with no artificial colors or preservatives looks like. I love that this was a feature requested by many parents, and Capri Sun listened! Any of the Capri Sun Juice Drinks, Capri Sun 100% Juice, or Capri Sun Super V Fruit and Vegetable Juice Drinks would make for a super convenient drink option for any of these quick and easy after school snack ideas!
My kids are always super hungry when they arrive home from a long day at school, so I try to have quick and easy snacks that are ready ahead of time for when they walk in the door. Many of these can be prepared in just a few short minutes, and the kids love to help make them too! I can keep the containers on a lazy susan in the the refrigerator as a self-serve snack tray, so even my little one can access the snacks in the back of the fridge.
Here are some of our favorite quick and easy after school snacks for kids:
Cherry Tomatoes, Mozzarella Cheese Cubes, Whole Grain Rice Crackers
Cucumber Slices, Whole Wheat Crackers, Roasted Red Pepper Hummus
Carrot Sticks with Light Ranch Dressing
Tortilla Cups, Salsa, Shredded Cheddar Cheese
Pretzel Rods, Peanut Butter
Almonds, Grapes, Cheddar Cheese Cubes
Apple Slices, Yogurt, Whole Grain Crackers
Tip — Freeze Capri Sun Juice Drink pouches overnight to help keep packed school lunches cold. They will defrost in time for when your child eats lunch!
You can connect with Capri Sun to learn more on their webpage or on Facebook.
What are some of your kids' favorite after school snacks? Leave a comment and share your ideas with us!