These gifts for kids ages 8-12 are all highly recommended by my 10 year old Emily as some of the best birthday gifts she has ever received and also loves to give. I love that these are all battery free gifts that encourage creativity and plenty of imaginative playtime fun!
Here is a list of 10 gift ideas for kids ages 8-12!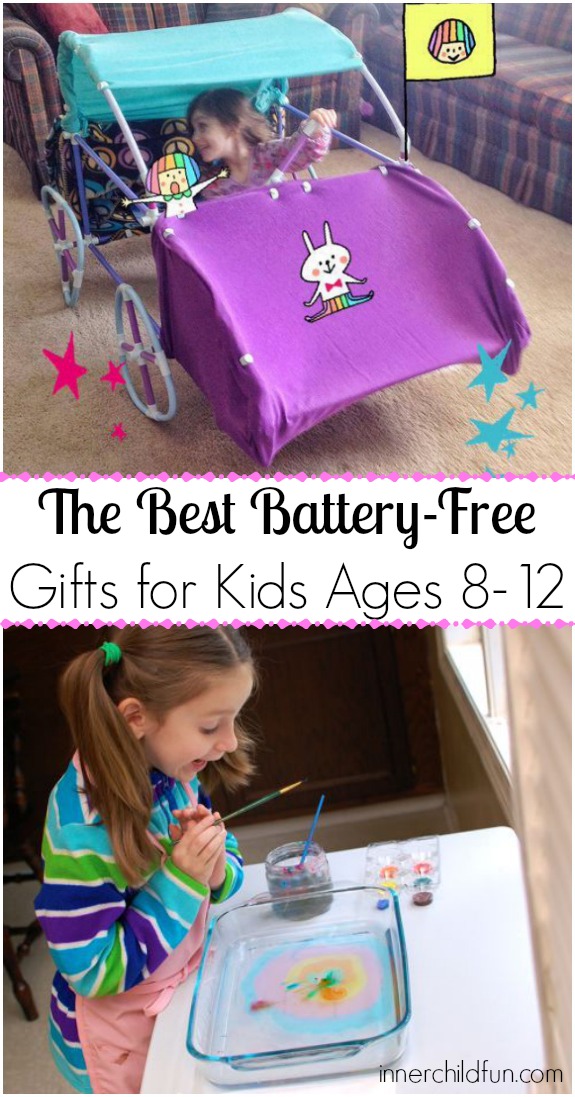 1. Fort Magic Kit
Use your imagination and build whatever you would like with this amazing kit designed for kids ages 5 ½ and up!
2. Pokémon Trading Card Game
Trade, battle, and collect these cards. Perfect for party favors or a small gift for any occasion. You may want to check out the Pokémon collector's binder to keep your collection neat and organized!
3. Rainbow Loom
Join the rainbow loom craze that is sweeping the nation. Makes a great gift for both boys and girls!
4. Harry Potter And The Sorcerer's Stone Book
This book has the power to captivate even the most reluctant readers. Amazing details that will transport book lovers young and old!
5. Tickle Me Plant Deluxe Greenhouse Kit
This touch sensitive plant moves when you tickle it — even the branches move down! This kit contains everything you need to grow your own Tickle Me Plant with containers that can be use and reused again and again.
6. Erector Multi Model 10 Model Set
Foster your child's interest in engineering with Erector sets.
7. Origami Fun Kit for Beginners
Create unique and fun works of art or even simple toys using only paper! Great for working on the importance of following directions.
8. Melissa & Doug Deluxe Magic Set
Prepare for your local talent show and amaze your friends with a little help from this fun magic kit! 
9. Suminagashi Marbling Kit
Create unique works of art using this special paint that is formulated to float on top of water. Very simple and easy to use! No fumes or harmful chemicals.
10. Build A Birdhouse Kit
Foster a love of nature and get the kids actively building with this simple build a bird house kit. The finished bird houses make great gifts for family or friends too!