If you're looking for some great after school snack ideas, we've compiled 10 Healthy After Snack Ideas to get you started.
There are SO many delicious, yet health-conscious ways to prepare snacks for kids, no matter what their age.  Kids don't always want to eat a snack if they know its good for them, but that sweet tooth or salty foods craving can be met in a way that is sure to satisfy both parent and child.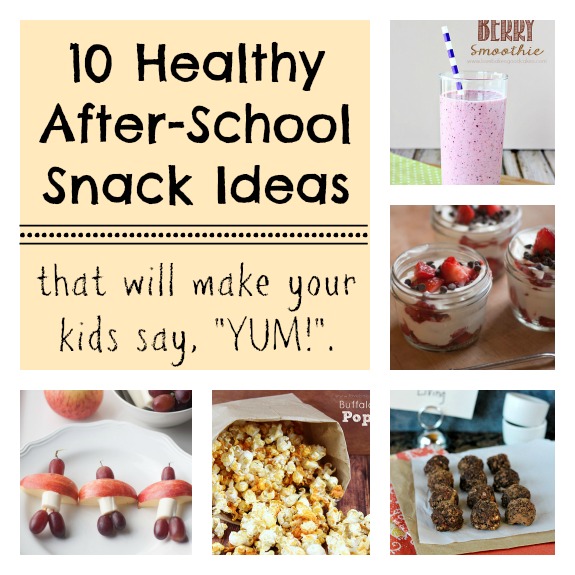 10 Healthy After School Snack Ideas that are good for you and taste good too:
Fruit and Cheese Kabobs– getting in a serving of both fruit and dairy is sure to set your child up for homework success!
Banana Berry Smoothie– sometimes drinking down a snack is the best way to go, and it is the perfect solution for a busy afternoon.  Have one ready to go when you pick your child up from school.  What a special treat!
Buffalo Ranch Popcorn– this spin on traditional popcorn is ideal for the savory snack lover.
Copycat Homemade Larabar Bites– get a big dose of healthy with these little bite-size snack options.
Sinfully Delicious Chocolate Chip Yogurt Parfait– you can't go wrong with yogurt, berries, and a tiny bit of chocolate chips to fuel up.
Ultimate Snack Mix– what a wonderful way to get so many favorite snacks all rolled into one.  Change this recipe up and mix in all your favorite snack ingredients.
Fresh Raw Veggies and Greek yogurt dip- Take your pick.  Which veggies do your kids love?  Have a carrot eater or red pepper lover?  Pick their favorites and have them ready to munch on.  Simple and delicious.
Berries- wash and cut these up early in the week and put in a seal-able container in the refrigerator.  You'll have a grab and go snack that is ready when you are.
Apple Sandwiches– perfect for your Gluten-Free diet, just make sure you're using gluten-free granola.  Yum!
Mini Bagels with Cream Cheese- just the right size snack to tide a hungry tummy over until dinner.
Looking for more snack ideas?  Be sure to check out these Heart Healthy snack ideas!