Between school parties and play dates and special family celebrations, our kids are going to be inundated with sweet treats in the coming days. But, it doesn't take a cookie or a cupcake to be able to say, "I love you" with food. We're excited to bring you these healthy Valentine's Day Treats!
I love all the fantastic snack ideas out there for using strawberries and grapes for Valentine's Day treats, especially since they are the perfect color for the holiday. I decided that in order to counter-balance all that sweetness, I wanted to come up with a snack a little more unusual to surprise my girls.
My three year old is obsessed with princesses right now so I decided that a "Princess Tea Sandwich" would the perfect name for these heart-shaped cucumber & cream cheese goodies. What a fun way to have some Valentine's Day treats!
Pro tip: Spread the cream cheese on the bread before doing the cut out, those edges can be tricky for spreading! A few thin slices of cucumber and a little sprinkle of dill and salt & pepper and we were all set.
As an accompaniment to the princess treat, I decorated her plate with a few freshly sliced carrots. Have you seen this awesome trick?
Wash and peel a large carrot.
Using a paring knife, trim a V-shaped notch along the top.
Use a peeler to round off the top of the heart humps and to flatten out the sides.
Slice with your knife and serve.
I tossed all of the trimmings into a freezer baggie for the next time I need grated carrot for baking. No waste! This is a good thing because once my daughters discovered this fun shape, I've been serving up these Valentine's Day treats all morning!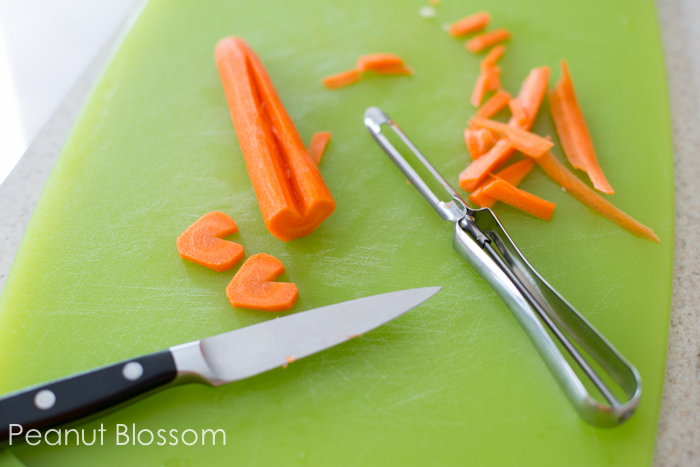 Looking for other fun healthy ideas for snacks? How about one of these fruity recipes?
What are your favorite Valentine's Day treats to serve to your loved ones?
Since we love to share, we are linking up this week with The Mommy Club, Take It On Tuesday, Fluster's Creative Muster, Pinterest Foodie Linky, Homestead Barn Hop, Motivation Monday