Recently, I conducted a quick poll on the Inner Child Fun Facebook page to see what magical story books were the biggest favorites to read aloud to kids, and the recommendations were fantastic! Here's a short summary of ten of the most popular recommendations.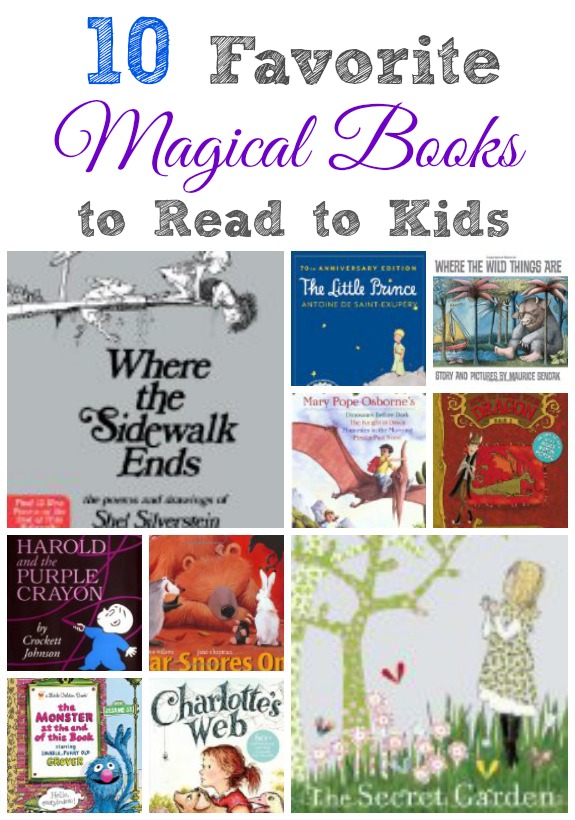 1. The Little Prince by Antoine de Saint Exupery
 — One of the first to be recommended, and a personal favorite, The Little Prince is a sweet tale that is sure to inspire the imagination as it already has for generations.
2. How to Train Your Dragon by Cressida Cowell
 — This is on Emily's reading list and after already seeing the film, she is very excited to get started on this one!!
3. Where the Sidewalk Ends by Shel Silverstein
 — A classic. If you've never read this collection of brilliant creative poems and illustrations by Shel Silverstein, you NEED to read this book.
4. The Secret Garden by Frances Hodgson Burnett
 — This is one of Emily's favorite books of all time.
5. Where the Wild Things Are by Maurice Sendak
 — We own two copies of this book, and both are worn and very well-loved.
6. Harold and the Purple Crayon by Crockett Johnson
 — When the kids were younger, my sister in law gifted them with tickets to see Harold and the Purple Crayon at the local theater, and it became an instant favorite for both of them!
7. Bear Snores On by Karma Wilson
 — This book, and all of the books from its series are a favorite of Clara's. Beautifully illustrated and particularly great for reading aloud.
8. The Monster at the End of This Book by Jon Stone
 — As soon as this book was recommended, I thought of Mark because it was one of his favorite stories when he was a kid. In fact, he saved his copy from his childhood to pass onto the kids!
9. Magic Tree House Series by Mary Pope Osborne
 — This is one of Emily's favorite series, and she frequently reads them aloud for Clara to enjoy too. I love that they are historically inspired, and the non-fiction reading guides to go along with them are very well done!
10. Charlotte's Web by E. B. White
 — I haven't read this book to my kids yet, but they are familiar with the film and love it. I was excited to see this one was recommended and can't wait to share this classic with them!
Do you have a favorite magical story book to read to your kids that I forgot to add? I would love to hear from you! Leave a comment and share your ideas with us, or join in the conversation on our Facebook page to see other great magical book suggestions!!
Have fun!!