Our family is participating in the 100 Acts of Kindness Project  and we are so excited about spreading kindness over the next 4 weeks.  My kids are huge on kindness and always want to give, but sometimes we have to explain that doing certain kindness acts are just out of our budget.  
While I too wish I could give more sometimes, like when a friend ends up with huge medical bills, I really do believe that small acts can make a big difference. Here are 5 ways you and your family can give without any additional cost!
Donate Items You No Longer Need.
Don't throw away old toys or clothing, donate it to a group that can use them in your area.  This one not only doesn't cost you anything it also helps clear the clutter out of your house. Win win!
Clip Coupons for Good
Scour the flyers for coupons for free items and then donate them.  Buy one get one free deals, a gift card with purchase, and combining coupons are all good ways to get free things that can be donated to food pantries or shelters.
Sign Up for Store Rewards
Stores love to give back and many of them will let you chose a local organization for the money to go to.  For example 1% of the money I spend at Target goes directly to my kids elementary school.
Take Advantage of Company Matching
Do you already have giving planned for your favorite charities this year? Check to see if you or your spouse's company will match your donation! It's an easy way to double your giving with just a form.
Grow for Giving
Plant some fruits and veggies in your garden this year to share with others.  When they are ripe take them to a food pantry or soup kitchen.  Just a few extra seeds can yield enough vegetables for a hungry family to enjoy.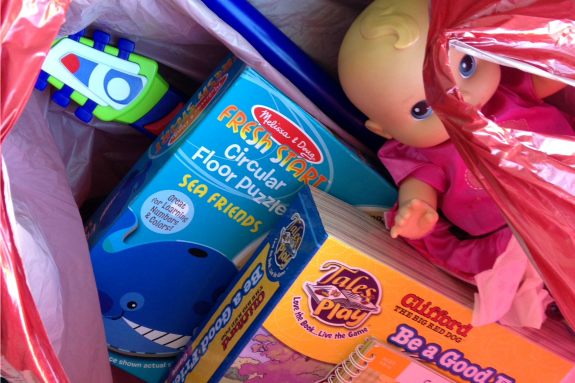 There are many ways to give to others without an additional cost to you.  What can you add to the list?  We'd love to hear what you and your family is doing!