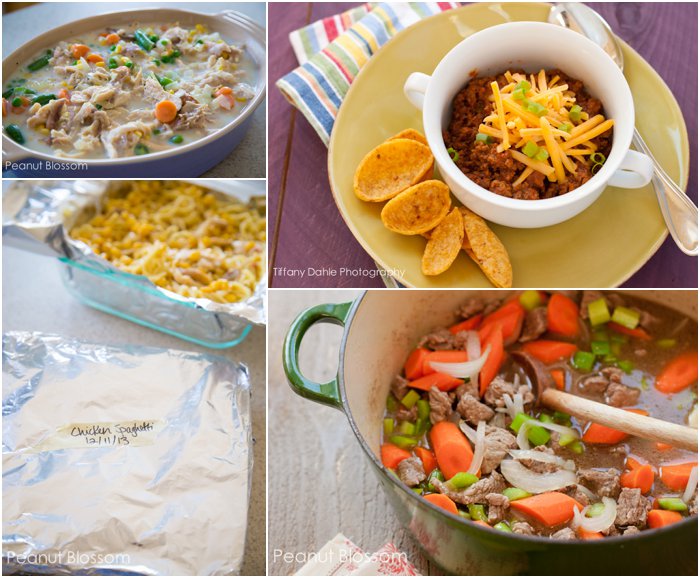 It's game time! We are in the fast-paced countdown to the end of the year. You are being pulled in every direction: school concerts, cookie exchanges, gift shopping and wrapping, visits to Santa, but who's in charge of dinner? Oh yeah, that'd be you too. Freezer meals to the rescue!
If you're anything like me, you're going to want to "Slow The Heck Down" during the last week of the year. Wouldn't it be nice to have a few dinners ready to go as freezer meals? This week I've been following a meal plan of easy get-it-to-the-table-fast meals that has allowed me to also stock my freezer with a few extras so I can skip cooking altogether in the fog of exhaustion that I know will follow Dec. 25th.
To save you even more time, I'm sharing our complete grocery list and links to all the recipes. Be sure to check out my favorite storage tips for these freezer meals, too!

The Meal Plan:
1. Lighter Chicken Pot Pie
2. Sweet & Sour Meatballs with bell pepper & pineapple
3. Chicken Spaghetti
4. Perfect Chili
5. Old-fashioned Beef Stew
The Strategy:
Night 1: Chicken Pot Pie
Method: Shop once, split the ingredients for two meals
The chicken pot pie is one of my favorite freezer meals staples. All the ingredients are on hand and ready to go when you are for a fresh from the oven casserole.
Shred both rotisserie chickens. Use one to make the first pot pie along with one of the two sleeves of phyllo dough from your package. Store the other chicken (shredded in a ziptop baggie) and the other sleeve of phyllo dough in the freezer along with the second bag of mixed veggies and you have everything you need for an easy meal another night.
Not a phyllo dough fan? Make the filling and top with refrigerator biscuits instead!
Night 2: Sweet and Sour Meatballs
This crockpot meal is super easy and will buy you time for working ahead on Night 3, or will give you a day off. Leftovers do not freeze well, this is a dish better made fresh from your frozen & pantry ingredients. Serve the meatballs over fresh rice.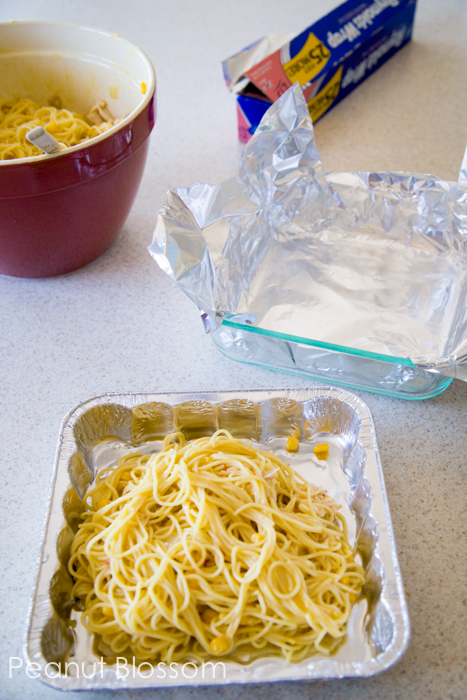 Night 3: Chicken Spaghetti
Method: Cook once, eat twice. Assemble two casseroles at once–one for tonight and one for another night.
This dish uses one of my favorite freezer meals tricks. I take a large casserole recipe that is too much for my family in one night and split it into 2 8×8 pans so we aren't drowning in leftovers. If you have a large family of hearty appetites, you may want to double the ingredients and make 2 9×13 pans instead.
You can use disposable casserole pans for the freezer OR this handy trick: Line the pan with tin foil, fill with the assembled dish, flash freeze overnight. Pop it out of the pan and wrap tightly in another layer of tin foil and put back in the freezer. This frees up your pan for another use and your casserole will fit right back in it when you want to cook.
Night 4: Perfect Chili
Method: Double batch!
I love to make a big batch of this all at once and the store in 1 or 2 cup portions in the freezer. It's a hearty chili and a little goes a long way. Serve with corn chips for an indulgence or use as a baked potato topper with sour cream and cheddar cheese!
Night 5: old fashioned beef stew
Method: Double batch!
This is a seriously easy recipe and the leftovers freeze really well. I double batch it and then store in individual servings for my husband to bring to work. But, you could easily store another serving for a whole meal another time.
The Grocery List:
Note: You likely have many of these items in your pantry anyway. We just wanted to give you a handy reference!
Meat:
2 rotisserie chickens, shredded (Should give you 8 cups. Use 3 for each pot pie, and 2 for chicken spaghetti.)
1 package of frozen meatballs (We love the chicken teriyaki ones, but anything will do.)
4 pounds beef stew meat
2 pounds ground beef
Freezer:
2 bags of mixed veggies (peas, corn, green beans, carrots)
1 package of phyllo dough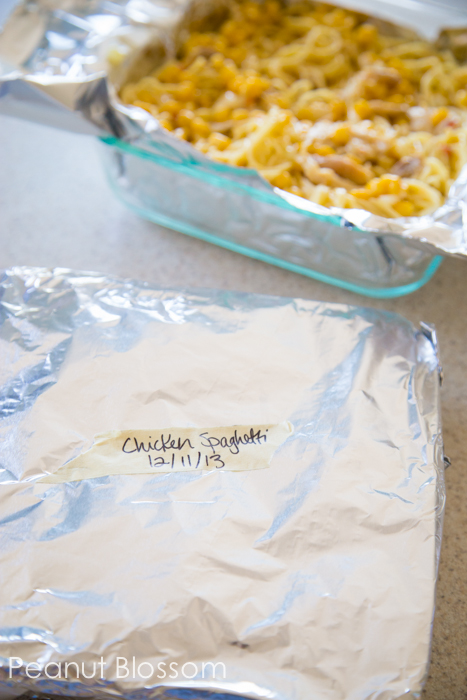 Pantry:
1 box of pasta (thin spaghetti)
rice
1 can pineapple chunks
2 cans Mexicorn (the kind with the chopped bell peppers)
2 cans cream of chicken (or mushroom) soup
1 can Rotel tomatoes
1 can tomato sauce
Masa (corn flour, in Mexican section.) It makes a difference in thickening the chili, but is not absolutely essential if you don't want an odd ingredient in your pantry.
Chicken broth
Soy sauce
Rice vinegar
Brown sugar
Sesame oil
Cornstarch
Dairy:
milk
shredded cheddar
canister of refrigerator biscuits
Produce:
1 bunch carrots
1 bunch celery
3-4 onions
1 bag of red potatoes
garlic
Seasonings: 
oregano
cumin
cayenne pepper
chili powder
Lawry's seasoning
crushed red pepper
So, what are your favorite freezer meals to make? Which one of these will you make first?
Like this post? Pin it!: