Are your foodie kids looking for a pretend sandwich set how to?
This pretend sandwich set is so quick and easy for the kids to make, and it is made from dollar store items (which you may already have on-hand). Imaginative play is an important part of kids' development and this pretend sandwich set certainly fits the bill. My kids loved how they look so realistic, and could not wait to craft up several of these so they could open a pretend sandwich shop! Yay for simple crafts that promote hours of imaginative playtime fun!! They are also a perfect way to keep the kids busy in their pretend kitchens while you whip up all of the upcoming holiday meals in the real life kitchen.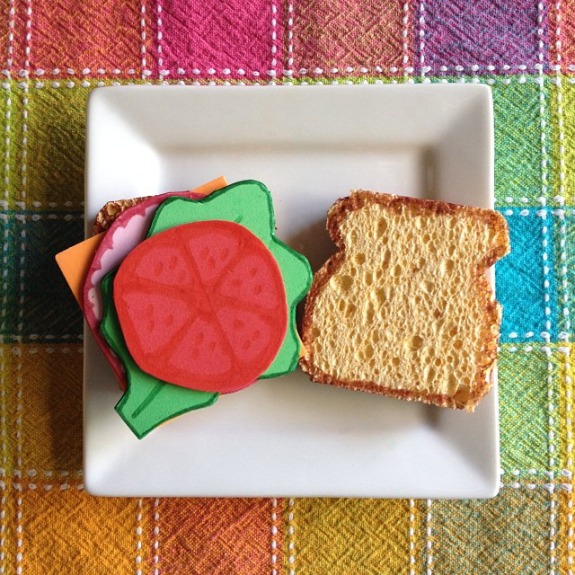 To make your own pretend sandwich set, you will need:
craft foam (green for lettuce, pink for ham, red for tomato, yellow for cheese)
a yellow or off-white sponge
some markers
Step 1
Cut the sponge in half and then cut each half into bread-shaped pieces. Invite the kids to cut out leaf shapes from green craft foam to make the lettuce, circles from red craft foam to make the tomatoes, squares from yellow craft foam to make the cheese, and ovals from pink craft foam to make the ham.
Step 2
Use brown marker to color the outer crust of the slices of bread. Add other details with markers — ie. draw leaf veins on the lettuce with green marker, add seeds to the tomatoes with a red marker, etc.
Step 3
Open a pretend sandwich shop, and take orders to build custom sandwiches!
If you are looking for other pretend food items to make check out our posts on Felt Pasta, DIY cookies and our DIY Pretend Food Roundup.
Have fun!!