It's time for another FUN giveaway, and this one comes courtesy of our friends at Staples for a Google Nexus 7 Tablet (32GB)!! Staples also provided me with a Nexus 7 for the purposes of this review. After having reviewed the Nexus 7 for the past week and half, I am very impressed with it! There are certain features, in particular, that make the Nexus 7 a fantastic device for back-to-school.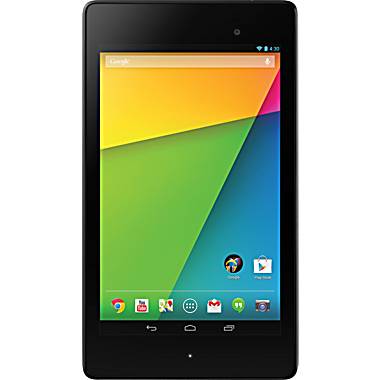 Here's what I love about the Google Nexus 7 Tablet —
Multiple User Profiles —
If you are looking for a family-friendly tablet, this is a great feature. The kids can have their apps on their user profiles, and I can have my apps separate from theirs. You can create up to eight different user profiles with completely customized parental controls (more on this later).
High Resolution Screen —
I am truly impressed with the brightness and clarity of the high resolution display on the Nexus 7. I also found the responsiveness to the touch screen to be smooth and virtually instant.
Google Apps Preloaded —
Many of Google's apps come pre-installed on the Nexus 7 (Chrome, YouTube, Gmail, Google Maps, Hangouts, etc.) The Google Play store gives access to MANY more — including games, Amazon's Kindle app, NetFlix, Skitch, and Evernote.
Web Browsing —
I found the Nexus 7 to be easy to hold, even for little ones. Great for browsing the web with the pre-installed Chrome browser!
Parental Control Features —
The Nexus features completely customized parental controls enabling parents to choose which apps are available for each child, as well as enabling or disabling the built-in camera and Chrome web browser, setting maturity filters, and more.
Now the FUN part —
One very lucky Inner Child Fun reader will win a Google Nexus 7 Tablet (32GB) of their own courtesy of Staples!!! To enter for your chance to win, follow the prompts on the Rafflecopter below. Giveaway is open to US residents only, and winner will be chosen at random using the Rafflecopter service. (See Official Giveaway Rules.)
Good luck!!!