Fall is here and Butternut Squash will be abundant shortly.  Yay! Butternut is one of our very favorite veggies and I'm always looking for a new way to feed it to my family since it is high in Vitamin A and C.
Soup has got to be one of the easiest ways to prepare it and when we want to jazz it up a bit, we add a bit of spice and make it Mexi-Style!  If we want to put an Italian twist, we add some Italian herbs and noodles.
For any variation of Butternut Squash Soup, I start with my basic recipe.  Then, I add to it with different seasonings.  Today, I'm going to share with you my basic recipe and then tell you how you can switch it up.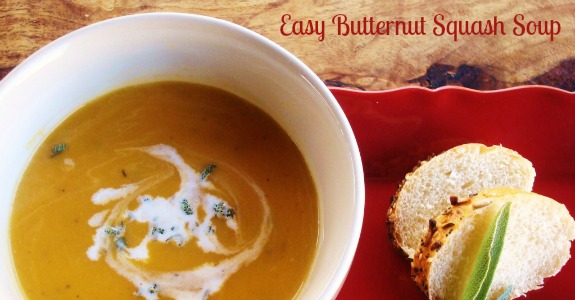 Basic Squash Soup Recipe and Easy Variations
A easy and basic butternut sqaush soup recipe that can be made in different ways.
Ingredients
1 Medium Butternut Squash
2 Cloves of Garlic
3 TBSP Butter
13 oz. Milk (or coconut milk to make vegan)
3 Cups Chicken or Vegetable Broth
¼ tsp Ground Pepper
¼ tsp Salt
Instructions
Cut squash in half and remove seeds. Place with inside facing up in baking dish.
Brush with 1 TBSP of melted butter.
Place 1 clove of garlic in each half and spinkle with pepper.
Roast at 350 degrees partially covered until tender (approx 45 minutes).
Peel skin while warm.
Combine roasted squash (with garlic), 2 TBSP butter, and milk in blender and puree.
Bring broth to a low boil.
Add squash puree in until smooth.
Add herbs, spices, noodles or rice depending on your variation.
Simmer on low for 10 minutes.
My Family Favorite Version: 
Add at step 9:
1 Cup Cooked Wild Rice
2 TBSP Fresh Sage (or 1 tsp dried)
1 TBSP Fresh Rosemarty (or 1 tsp dried)
Mexican Version:
Add at step 9:  (*you can also use prepackaged taco seasoning to spice)
Sauteed Onion – diced
Sauteed Red Peppers – diced
1 tsp paprika
1 tsp chipotle powder
dash of cayenne pepper or tobasco if you prefer spicy
diced fresh tomato
Add a dollop of sour cream
top with cilantro
Italian Version: 
Add at step 9:
2 tsp Oregano
2 tsp Basil (fresh or dried)
Cooked spaghetti noodles
Top with Parmesan Cheese
What is YOUR favorite version?